This marks the fifth year of CircleUp25, our awards recognizing the most innovative consumer and retail brands of the year. CircleUp25 is decided on by our expert judges and Helio, CircleUp's internal data science platform for evaluating consumer brands. The competition was more fierce this year than ever before due to so many inspiring finalists.
This year, CircleUp25 saw a record number of overall nominees (over 1,000), as well as an all-time high number of such highly qualified brands spread across each consumer category. Perhaps this stiff competition should come as no surprise: over the past 5 years, 90 of the top 100 brands have lost market share, and 62% have declining revenues—as small brands experience tailwinds of growth.
Often just as interesting as the final list of winners is the themes unveiled throughout the process. The finalists and winners this year pronounce a few indicators about where innovation in consumer is heading. Notably, we saw:
A boom in personal care: Last year was all about a boom in functional beverages, a category still seeing very healthy growth, but personal care and beauty are now center-stage in the innovation spotlight. For decades, personal care and beauty targeted either a very mature or very young audience, but today, there are a host of brands catering perfectly to millennials with unique products and online marketing and distribution. Nearly 30% of the 2017 winners are in personal care and beauty.
A flatline in boutique fitness: In years past, we've always had a standout boutique fitness brand, like SoulCycle, Barry's Bootcamp or Tough Mudder. Boutique fitness continues to be massively popularity with consumers, but this year didn't show a single new breakout star within the category.
Women-led innovation: The consumer industry has long benefited from the leadership of inspiring women, and the 2017 winners reflect their impact. We're excited to see 48% of the winning brands with all women-led founding teams, and 60% of winners with women co-founders and/or current CEOs.
Now, let's recap how we arrived at the final 25, then celebrate the winners.
The Selection Process:
After opening the call for submissions, we ran the 1,000+ nominees through Helio, our internal data science platform that analyzes 1.2 million consumer businesses to predict future success, to surface the top performing brands as finalists. For each company, Helio draws on thousands of measurements, for analyses that represent over a billion data points. We also used Helio to surface new candidates, querying it to find fast-growth companies scoring well across brand, team, distribution, product quality and financial performance, to make sure we didn't miss any strong contenders in the call for submissions.
Once Helio narrowed down the nominees, we arrived at a list of finalists for our judges to vote on. A big thank you to our judges for their time and effort. The all-star judges panel includes:
Wayne Wu, Managing Director at VMG Partners
Alexia Bonatsos, Former Editor-In-Chief of TechCrunch
John Foraker, Founder and President of Annie's Organics
Kristen Green, Partner at Forerunner Ventures
Jacqueline Loken, VP at CAVU Ventures
Brad Barnhorn, Board Member and Advisor at Silverwood Partners
Rebecca Kaden, Partner at Maveron
Brian Tockman, Principal at General Mills 301 INC
Gigi Lee Chang, Founder of Plum Organics and Managing Director of FoodFutureCo
Nick Giannuzzi, Founder and Partner of Giannuzzi & Co
Janica Lane, Managing Director, Piper Jaffray
Deb Hannah, Director of Retail Brand Partnerships at Starbucks
Elly Truesdall, Global Product Innovation & Development, Whole Foods
Josh Goldin, Co-Founder of Alliance Consumer Growth
Jed Wang, Head of strategic Initiatives of Amazon Launchpad
Arif Fazal, Founder and Managing Director of Blueberry Ventures
Kevin Murphy, Managing Director of Encore Consumer Capital
Josh Wand, Founder of Force Brands
Anna Ohlsson-Baskerville, Director of Unilever Ventures
Brian Krumrei, Angel Investor & Advisor
Karen Kenworthy, Partner at Stripes Group
Simon Burton, Managing Director, eighteen94 capital, Kellogg
Finally, thank to the CircleUp25 winners and the nominees, and the countless other consumer industry entrepreneurs working tirelessly to change some of the most personal products we have for the better.
Without further ado, we present the CircleUp25 winners of 2017.
The Winners: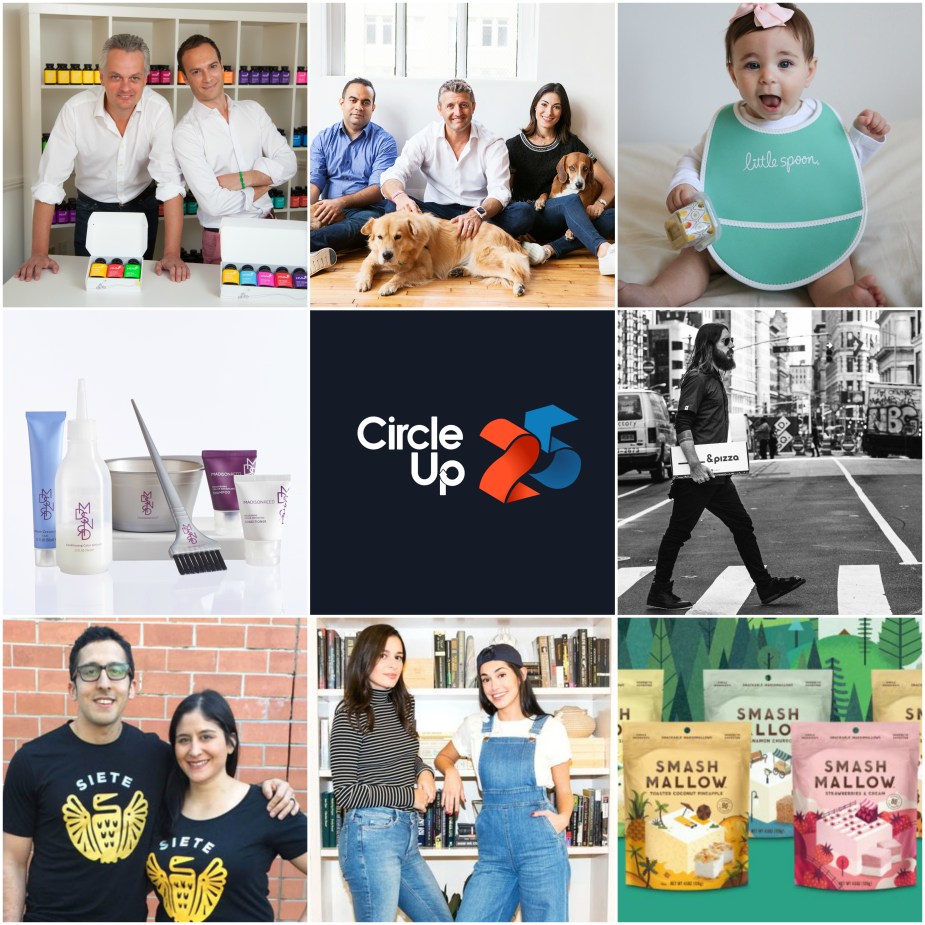 1. Anomalie | San Francisco, CA
Why? Anomalie is disrupting the wedding dress industry by making an expensive product – that (typically) you only wear once – more affordable. By streamlining the production process and opting for a direct-to-consumer model, Anomalie cuts the cost of wedding dresses, and is an apparel brand to watch.
Founder: Leslie Voorhees
Investors: Maveron
Why? Fast-casual, high quality pizza is a rising trend in the U.S. &pizza is a clear leader in the category with its fresh ingredients, welcoming and positive customer experience, and commitment to building an inclusive workplace culture that pays and treats employees well.
Founder: Michael Lastoria
Investor: AVALT, Fifth Down Capital.
Why? Before Away, we may have never guessed we'd see a luggage brand with a cult following. With the tagline, "first class luggage at a coach price," the radically modern brand just launched a travel magazine called Here, and a superior product feature with a unique built in charger. According to Away, Away's 2016 revenue was over $10 million.
Founders: Stephanie Korey, Jen Rubio
Investors: Forerunner Ventures, Global Founders Capital, Accel Partners
Why? Banza, most famously known for its chickpea pasta, had a rocky start trying to familiarize the mainstream with its unorthodox pasta, but managed to gain the acceptance after touting its healthier philosophy. According to Banza, the brand has expanded to 5,000 stores nationwide since launching in 2014, has seen 500% year-over-year growth in Whole Foods, and is the fastest growing pasta company in the U.S.
Founders: Brian Rudolph, Scott Rudolph
Investors: Beachwood Ventures, Strand Equity Partners, RSE Ventures
Why? With its edgy packaging, exclusive distribution method via text message, and unique enhancing ingredients like activated charcoal, Dirty Lemon stands out from the pack of functional beverages by combining the beverage and personal care categories. It's fanbase of A-list of influencers and celebrities helped it rise to popularity, making it a millennial "it" product. According to Dirty Lemon, it's grown about 400% year over year.
Founder: Zak Normandin, Sommer Carroll
Investors: Greycroft Partners, GGV Capital, TGZ Capital, Betaworks, Base Ventures, Lakehouse Ventures, Imaginary Ventures
6. Drunk Elephant | San Francisco, CA
Why? Drunk Elephant is one of the fastest growing skincare brands in Sephora, according to Forbes, with sales growing 600% to an estimated $30 million last year. Started by a mother of four looking to make extra profits after the recession, Drunk Elephant has become a monster success because of its its non-toxic, premium quality skin care products.
Founder: Tiffany Masterson
Investors: VMG Partners, Leandra Medine (Blogger) from Man Repeller
7. EatingEvolved | East Setauket, New York
Why? With the tagline, "Chocolate: It's Food, Not Candy", this line of chocolate-based products features cocoa in its finest, purest form—all dairy-free, gluten-free, refined sugar free, organic, paleo, and vegan. Featuring Bacon Sea Salt Dark Chocolate Truffles and Hot Chocolate w/ Grass-Fed Collagen, EatingEvolved is spreading like wildfire within health-conscious communities.
Founders: Rick Gusmano, Christine Cusano
Investors: Undisclosed
Why? It's hard to imagine a list of the most innovative consumer brands and not think of Glossier. The brand is literally taking the personal care and beauty industry by storm. When it launches a new product, expect a 10,000 waitlist, with products reaching a combined 60,000 wait list last year. The brand encourages women to highlight their features instead of mask their flaws with a "skin first, makeup second approach."
Founder: Emily Weiss
Investors: Forerunner Ventures, Thrive Capital
Why? Typically low-cal, "lite" versions of indulgent products don't see the best reception with consumers, but Halo Top is different. The guilt-free ice cream is seeing unbelieveable growth from its fanatical following, reporting a 2,500% jump in sales in 2016 from 2015. They are also now the best selling pint in America, according to IRI.
Founder: Justin Woolverton
Investors: Undisclosed
10. Hippeas | Los Angeles, CA
Why? Hippeas is winning over snackers with clever branding and its unexpected key ingredient: chickpeas. Hippeas features a variety of different flavors and significant nutritional value, which people are eating up (literally)—it was reportedly expected to be one of the fastest growing snacks of 2016, according to Forbes.
Founder: Livio Bisterzo
Investors: Strand Equity Partners, Leonardo DiCaprio
11. Hum Nutrition | Los Angeles, CA
Why? The supplements and nutrition category has long been dominated by lofty marketing campaigns, but Hum Nutrition takes a different approach. Formulated nutritionist and researchers with premium ingredients and a rich social media presence fueling growth, Hum has amassed a cult following of fans praising the sheer impact of its products. According to the Hum Nutrition, quarterly growth for the past 12 quarters has averaged 30%
Founders: Walter Faulstroh, Chris Coleridge
Investors: Undisclosed
12. Juice Beauty | San Rafael, CA
Why? Juice Beauty's laser focus on sustainability and clean products is its key advantage, and attracted the actress and entrepreneur Gwyneth Paltrow, who joined forces with the brand as Creative Director. According to the Juice Beauty, net revenue grew 35% two years ago, and grew 37% last year.
Founder: Karen Behnke
Investors: Invus Group, Gwyneth Paltrow
13. Little Spoon | San Francisco, CA
Why? Little Spoon is innovating the baby food, a category that hasn't seen enough innovation over the decades, despite it being so important. Little Spoon's solve is a baby food delivery service providing fresh, healthy products, convenient for its very busy demographic—new parents. According to Little Spoon, there's currently an invite-only waiting list of more than 5000 people waiting to get Little Spoon.
Founders: Ben Lewis, Angela Vranich, Michelle Muller, Lisa Barnett
Investors: Chobani co-founder Kyle O'Brien and Tinder co-founders Sean Rad and Justin Mateen.
14 Madison-Reed | New York, New York
Why? Often deemed the Warby Parker of hair dye, Madison-Reed consolidates the supply chain in hair-dye with a direct-to-consumer product that's modern and affordable. It includes low-chemical dye and a professional colorist on-demand. Madison Reed reports doubling revenue in 2016 and began opening retail locations this year.
Founder: Amy Errett, Sabrina Riddle
Investors: Norwest Venture Partners, True Ventures, Maveron, Comcast Ventures, Shea Ventures
15. Milk Makeup | New York, New York
Why? When it comes to millennial-focused make up, it's hard to overlook Milk Makeup, distributed through Urban Outfitters, Sephora and Birchbox. Milk Makeup, launched by the creative agency Milk Studios, sports fun packaging, lightweight, sheer textures, pops of color and plenty of glitter.
Founders: Mazdack Rassi Zanna Roberts Rassi, Dianna Ruth, Georgie Greville
Investors: Main Post Partners
16. Ollie | San Francisco, CA
Why? Ollie is the dog food subscription service providing healthy, nutritious dog food. It customizes recipes based on a dog's unique needs, recommends the perfect portion, and delivers the food to customers' doors. According to the brand, it's served over a million meals served since launching last years and has delivered to every state.
Founders: Gabby Slome, Alex Douzet, Randy Jimenez
Investor: Lerer Hippeau Ventures, Primary Venture Partners, Canaan Partners, WME Ventures
17. Outdoor Voices | Boulder, CO
Why? Outdoor Voices makes athleisure wear highlighting simple, functional aesthetic to make individuals feel confident and comfortable when active. With leaders hailing from Calvin Klein, Alexander Wang and LuluLemon, the brand reports quadrupling sales growth in 2016 from 2015, and plans to open five retail locations this year.
Founder: Tyler Hanney
Investor: General Catalyst, Forerunner Ventures, Collaborative Fund, 14W
Why? REBBL is a line of coconut milk based drinks including ethically sourced herbs and adaptogens known to reduce stress and improve mood. As a B Corp, REBBL donates partial profits to Not For Sale, an initiative addressing human trafficking, on top of committing to fair-trade sourcing of its ingredients.
Founder: Palo Hawken (current CEO is Sheryl O'Loughlin)
Investors: Boulder Investment Group, Powerplant Ventures LP, John Foraker, Blueberry Ventures and CircleUp
Why? Protein bars are generally assumed to be candy bars disguised by marketing—so athletes, health nuts and anyone looking a protein boost love RXBAR, one of the healthiest, most transparent bars to hit the market. With only four ingredients, RXBAR flies off the shelves at Target, Safeway, Whole Foods and many other retailers.
Founders: Peter Rahal, Jarrod Smith
Investors: Undisclosed
Why? Siete Foods is a family business passionate about sharing real food, advocating for healthier lifestyles among Latino families with its grain-free Mexican food products. The authenticity of the products and story have made it a huge hit sold through most all major retailers.
Founders: Veronica Garza, Miguel Garza
Investors: Undisclosed
Why? The yogurt category may have benefited from ample innovation over the past decades, but Siggi's is showing the industry there's room for another pioneer in this category. Its icelandic yogurt is thick and creamy, low in sugar and high in protein, making it the fastest growing yogurt in America last year, according to Forbes.
Founder: Siggi Hilmarsson
Investors: Undisclosed
Why? Former KRAVE Jerky entrepreneur, Jon Sebastiani saw a gap in the marshmallow industry and created Smashmallow, a gourmet, healthier product featuring exciting flavors. According to Business Insider, the brand just reached its first $1 million month.
Founders: Jon Sebastiani
Investors: Sonoma Brands
23. Supergoop! | San Antonio, TX
Why? Supergoop is making sunscreen cool and lovable. Founded by a mother and former teacher, the brand is a favorite amongst those with active, healthy lifestyles, and is expected to land in classrooms later this year, helping address melanoma early. According to Forbes, Supergoop is projected to do $20M this year.
Founder: Holly Thaggard
Investors: Grace Beauty Capital, Green Park, Golf Ventures and CircleUp
24. The Reformation | Los Angeles, CA
Why? Reformation has quickly become the ultimate cool girl brand, with eco-friendly production adhering to the most aggressive sustainability goals. Most recently, moved its online-born brand to brick and mortar with a few retail locations reimagining clothing shopping to clutter-free, technology-driven and easy.
Founder: Yael Aflalo
Investors: Stripes Group, Supermodel Karlie Kloss, 14W
Why? The Wing was born out of the belief that women need and deserve a multi-purpose space to support them and make their lives easier. This popular social club, a bit like a women-only "WeWork meets SoHo House" is expanding to more New York neighborhoods as well as Washington, DC.
Founders: Audrey Gelman, Lauren Kassan
Investors: New Enterprise Associates, Kleiner Perkins Cauffman Byers, BBG Ventures, SoulCycle Founders Julie Rice and Elizabeth Cutler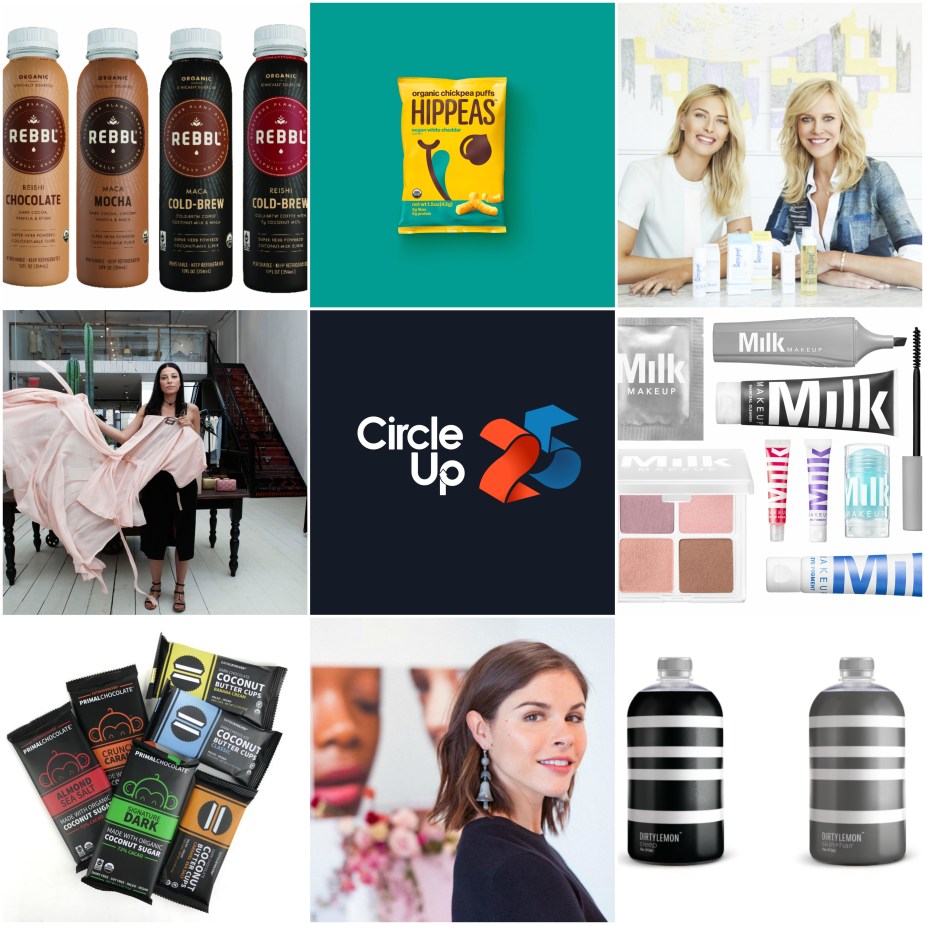 Notable Mentions:
Brands that score extremely well in Helio, were popular with judges and are beloved by many.
Disclaimer: This year we allowed companies who have raised on CircleUp to be eligible for the award.
This post initially appeared in Forbes.