The Coronavirus and resulting economic consequences have already ended an 11-year bull market and it is likely to push us into a global economic recession. At a time like this, it is appropriate for investors to focus on how specific asset classes perform during downturns.
A few months ago we addressed this topic for the consumer packaged goods (CPG) industry by looking at another recent recession, the Great Financial Crisis from 2008-2011. Of course no two downturns are identical, but we believe many of our findings from the last downturn are still relevant today.
For context, CircleUp takes a data driven and systematic approach to private market investing by leveraging Helio, our technology platform that systematically identifies, classifies, and evaluates emerging CPG brands using machine learning. We are focused on this segment of the market because it is inefficient, data rich, and massive. More on that here.
PUBLIC MARKETS AS A BENCHMARK
To benchmark downturn performance, we turn to the public market during the 2008 recession. In the chart below, the orange line represents the overall market, the blue line represents the Consumer Staples Sector ETF (e.g., food, beverage, personal products), and the grey line represents the Consumer Discretionary Sector ETF (e.g., entertainment, household durables, automobiles). Staples are much most resilient in a recession because people continue to eat, drink, feed their dogs, and use shampoo. Per the graph below, the overall market saw significant losses with negative growth from 2008 – 2011 while our data sources show that CPG companies saw 12% sales growth in the same period.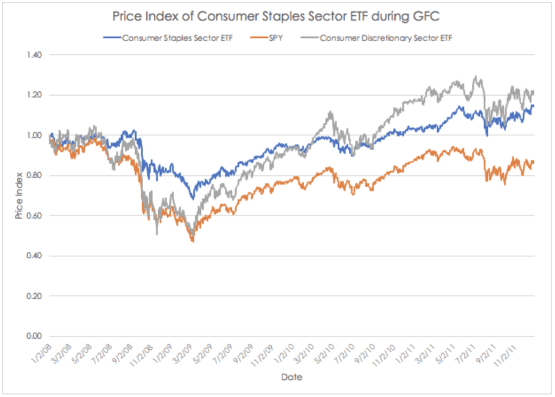 It is well understood that Consumer Staples performs relatively well in a recession with a low-price-point and high repeat purchase rate. In fact, BLS data shows that from 2006 – 2009 there was a 3% increase in meals eaten at home. When people have less disposable income, they spend less money eating out, which leads to the purchase of more CPG staples.
PERFORMANCE OF EMERGING BRANDS
Moving outside of the public markets, we look to understand how smaller CPG brands have been performing since 2007. Based on a sample of retail scanner data spanning 35k stores, we find that between 2007 – 2011 large brands (>$20M revenue) actually lose market share while small brands (<$20M revenue) gain market share.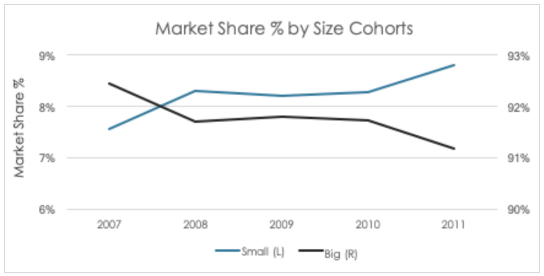 The secular tailwinds for emerging consumer brands have been strong as barriers to entry have gone down. Historically, distributing through large retailers required high upfront costs but with the introduction of e-commerce and the elimination of slotting fees in some cases, it has become easier to get on a shelf (digital or physical). Similarly, historically fixed marketing costs have become more variable through targeted campaigns. Finally, consumer tastes continue to fragment, driving demand for a broader range of products.
To increase store traffic retailers look to win customers by offering a broader assortment of emerging brands. With such tight margins, retailers can't afford to simply compete on price. As such, market share continues to shift away from incumbents. Emerging CPG brands have been capturing market share from large brands, even during the last recession. These trends have created a new breed of consumer staples and there is no sign that these consumer shifts will reverse, especially given the pressure on retailers.
BACKTESTING OUR MODELS
Finally, we explore how our investing strategy would have performed during a recession by backtesting our models. Backtesting is an approach used in the public markets to test investing strategies on historical time-series data. If a strategy's backtest generates strong ex-post returns, it gives the portfolio manager (and investors) the confidence to invest real dollars in that rules-based approach. At CircleUp, we are backtesting algorithmically generated portfolios in the private markets. More on our backtesting approach here.
We find that our factor-driven systematic approach demonstrated strong performance during the 2008 recession. We constructed a portfolio of 333 companies with revenue <$20M in January of 2008 using only data from that date and earlier. When we track the selected companies going forward we find that the weighted average sales growth from 2008 to 2011 is 4.7x. We estimated that the 5-year Net MOIC is 2.1x based on conservative assumptions of valuation multiple compression (blended 25%) and ownership dilution (33%). These results suggest that, while performance takes a hit, in line with the overall economy, our models can still identify successful companies during a downturn.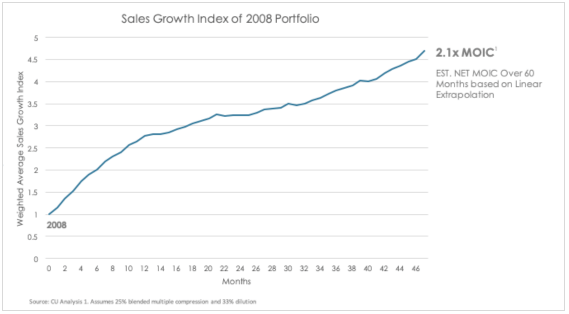 The 2008 backtest picked up impressive brands including Food Should Taste Good (acquired by General Mills in 2012), Mighty Leaf (acquired by Peet's Coffee in 2014), and Angie's BOOMCHICKAPOP (acquired by Conagra in 2017).
In summary, (1) Consumer Staples performs relatively well across market cycles, (2) over the last 15 years there has been a marked shift in market share away from large brands and this shift continued unabated through the Great Financial Crisis, and (3) during the recession our models were effective at identifying high growth brands. Our conclusion is that investing into emerging CPG brands can be a viable strategy even in a downturn.