On the back label of beautifully packaged faces, behind the concealer of marketing jargon, what does clean beauty mean?

Combing through the marketing jargon using CircleUp's machine learning technology, Helio, we've identified the most common terms used to describe clean beauty products. Initially, we focused on the skincare sector for the purposes of narrowing in on a large and increasingly fragmented beauty market.
What clean brands have in common is ironically a lack of definition—an ambiguity that becomes apparent when we dissect the meaning of words that brands use to describe themselves.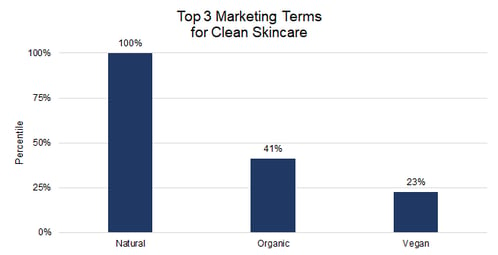 Our data indicate that natural is the leading descriptor of skincare brands marketed as clean. However, the FDA hasn't defined natural and doesn't regulate its use. A product with a low percentage of natural ingredients can still be marketed as such.
The second most common word associated with clean skincare is organic, which can be ambiguous as well. Skincare products labeled as "made with organic ingredients" must contain at least 70% of organic content. However, products with less than 70% of organic content may still identify the specific ingredients that are USDA certified as organically produced on the ingredients list (just not on the main display panel).
Finally, vegan, ranked third on the list of top terms, refers to free-of animal products. That said, vegan products, like products partially comprised of organic ingredients, could very well contain synthetic preservatives and other chemicals.
While there is ambiguity associated with descriptors of clean, there is also an opportunity for key players in the industry to set their own clean beauty standards.
Indeed, brands and retailers have begun to step in where regulation has not, creating their own definitions of clean. Consider Sephora's excluded ingredients list versus Credo's Clean Standard, for example.
Many beauty players are anchoring on what it means to be dirty (e.g., includes dirty ingredients such as parabens, sulfates, phthalates) in order to define clean.
We'd posit that a product's ingredients list gives clearer meaning to the term clean than its front label marketing, and that both the inclusion and exclusion of certain contents serves as a major point of differentiation for brands. With ingredient transparency, consumers can zero in on a product's composition for a better understanding of clean. The brands that communicate openly with consumers about ingredients and their efficacy are more likely to engender loyalty. As investors, we expect the dynamism of the term clean to fuel innovation in the beauty space.