A year ago we shared our findings on the performance of consumer packaged goods (CPG) in recessionary environments. As COVID-19 ended an 11-year bull market, it was unclear whether CPG would follow that same path. Now, having analyzed the data, the unique COVID environment has proved to be the best historic example of CPG outperforming in a recessionary period.
CPG Performance in Core Categories
CircleUp's five core investment categories performed remarkably well during the COVID period – beverage (alcoholic +16%, non-alcoholic +10%), food (+11%), household (+15%), personal care (+11%), pet (+12%).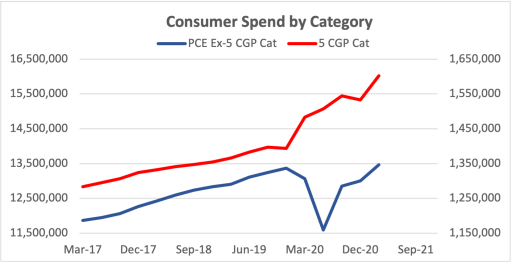 Source: Federal Reserve Economic Data; PCE Spending by Category
In Home vs Out-of-Home Dining
Though we saw a temporary reduction in on-premise consumption which impacted brands who were distributed through restaurants, work places, and some retail accounts, this reverted back to the norm within 2 quarters. This bounce back has not impacted the growth of in-home food and beverage spend, which continues to grow, supporting an omni-channel across retail outlets.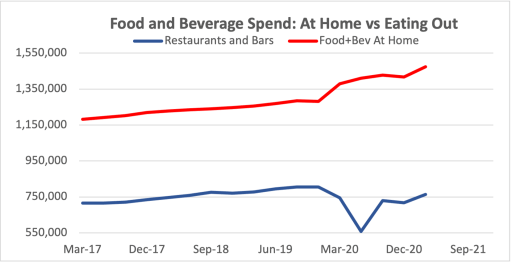 Source: Federal Reserve Economic Data; PCE Spending by Category
Emerging Brand Performance
Leveraging Helio, we analyzed retail sales data to isolate the top 5% of highest growth CPG companies in both emerging brands ($1-20M topline) and established brands (>$20M topline) to shine a light on relative performance by company stage.
Emerging brands posted higher median growth across core categories, while established brands grew much slower. For example, within Pet Products, established brands were nearly flat in 2020, while emerging brands grew sales >15x.
Going forward, we predict sales growth will remain strong in emerging brands which more heavily index towards better-for-you (BFY) products, sustainability, and wellness. And we continue to see consumer preference shift towards brands whose attributes and values reflect their own.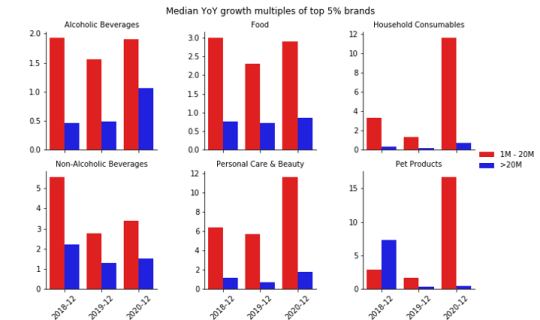 Source: Helio; Company growth of emerging brands ($1-20M) vs established brands (>$20M)
E-commerce
E-commerce had an unprecedented year of growth, but still represents just 14% market share compared to brick and mortar. Though many publications reported a 5-year e-commerce acceleration due to COVID-19, this appears to have been a temporary spike (based on recent Census data).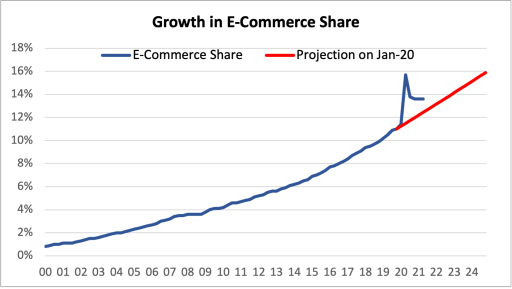 Source: US Census report; Share of retail sales online vs. physical stores
In summary, the outperformance of emerging brands during recession periods, including COVID-19, supports our conviction in the large market opportunity for investment. We strongly believe in the power of omni-channel businesses that meet consumer needs in differentiated ways and look forward to continuing to partner with the entrepreneurs fueling this growth.