CircleUp's Inner Circle is a community for entrepreneurs at high-growth, private consumer brands to learn, grow and connect. Brands can join Inner Circle for free, gaining access to resources, insights, and online experiences. This post is the first in a series we have created to help amplify the voices of our diverse community of entrepreneurs.
---
CircleUp spoke with Lauren Schulte Wang, Founder & CEO of The Flex Co., to learn more about her founder journey and how the Flex brand came to be. Flex is on a mission to provide sustainable, alternative period products that prioritize comfort, support an active lifestyle, and lend a hand to Mother Earth.
About Lauren
Before founding Flex, Lauren had spent over a decade building leading consumer brands for companies including Coca-Cola, Upwork, and IBM. Lauren frequently speaks on the topics of women's health and entrepreneurship, and has been featured in TechCrunch, OZY, The New Yorker, WIRED, The Washington Post, and NPR. Lauren was the first in her family to graduate college, working full-time while earning her business degree from Georgia State University. You can follow her on Twitter at @lmschulte and Instagram at @laurenschultewang.
CircleUp: What passions led you to become a founder and launch Flex?
Lauren: My background is in marketing so I've always had a passion for understanding what makes people tick and consumer behavior. I had no intention of becoming a founder, to tell you the truth. I was suffering from yeast infections for 15 years of my life. Every month I would get my period for a week then the following week I would get a terrible yeast infection, which is extremely disruptive, you can't exercise, it is really hard at work, and it messes up your sex life. [It took] 15 years of this problem before a doctor told me that she would not write another prescription for yeast infection medication until I quit using tampons and pads. That sent me on a multi-year journey of researching different period products from all over the world only to discover they are all basically the same thing made by the same manufacturers—just reboxed and rebranded, then sold to consumers as something new and innovative. It was my marketing passion that made me so curious about why brands were saying this is "new" and "different" and "innovative" if they really aren't. When I found out there had been no innovation in this space in nearly 100 years, I just started talking to people and people started asking me to make a product for them. Long story short, I feel like the company chose me more than I chose the company. I was a reluctant founder and entrepreneur.
CircleUp: In the early days, did you meet with customers, or host different types of events to understand what people were going through? How did that shape your understanding?
Lauren: I never really talked to anyone about my yeast infections, except my doctor, because it was embarrassing. When I learned that tampons and pads are all the same I started talking to my menstruating friends and asking them "hey, did you know about this? Do you get infections too?" What I heard over and over again is that people don't necessarily have a problem with their period product the way I did, but people generally really hate their periods. So we started getting groups of people together in my 400 square foot San Francisco apartment, and we would drink wine and dish on periods. These dinners became super popular. People would refer their friends and it became a small intimate group event where people would talk about all their period problems.
I walked away from that experience with the realization that consumers really don't have a say in the design of their products and for something like a period product that we are using for 25% of our lives. It feels a shame that these products are causing odor, leaking, cramping, infections. Essentially a lot of the things we associate with a negative period experience can be tied back to a negative product experience. It was with that thesis in my head, I started getting texts from fourth-degree strangers. I remember this one woman saying "I'm a bartender in Florida. I'm on my feet all day and I heard you're making a new period product. Can you make something for me?" I was aghast and the lightbulb kind of went off for me at that moment: "Oh gosh this isn't just a problem I have. I have the opportunity to co-design and co-create the next generation of period products, a totally new category of products that are not only incrementally better or not just about cooler branding or marketing, but a product that has the potential to genuinely impact people's lives … 25% of their lives."
CircleUp: Your website really describes period products in a different way. Could you share a little on the thinking behind that, the process, and how you reached that point?
Lauren: I am originally from a really small town in Georgia, and sexual health education isn't mandated. In fact, it is only mandated in 29 states currently, so a lot of people don't have basic language to be able to name their body parts or understand what's going on. I think it's from that moment when we first learn about our periods and about menstruation that we're taught [that] it's embarrassing: "Hide your tampon, hide your pad." Even if they are getting sex education, the girls are separated from the boys. It was really important that I could bring people like the young Lauren along for the ride. And I think as a queer woman I didn't see a lot of myself in the brands that were available. Everything was pink and purple when I started the company. I wanted a product and brand that, regardless of your gender identity, or where you come from, or who you are, that anyone would feel comfortable picking up the box and checking out. Not even just checking out at a store, but leaving it out on a counter and not hiding it underneath the sink, and just saying "yeah I'm on my period who cares?"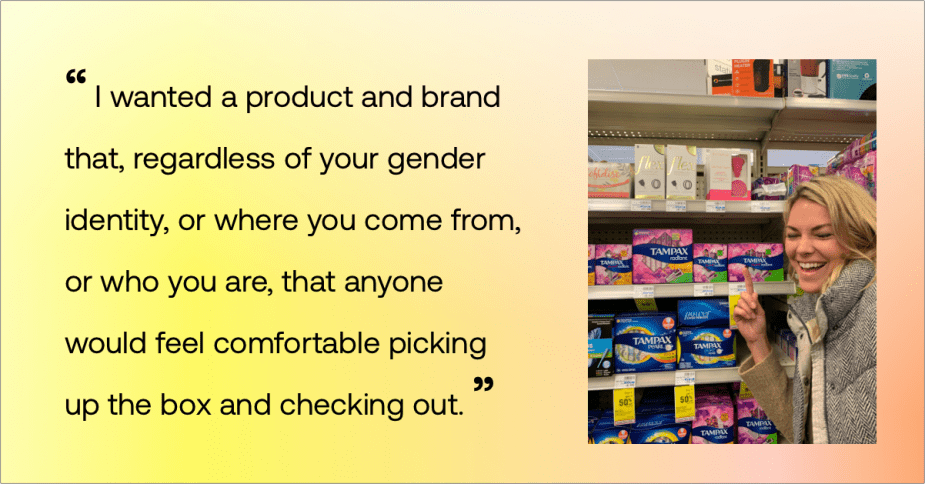 CircleUp: This really connects with what I read in Flex's values. Could you share a little bit on how your values and mission were formulated? Was there a moment you can think of where you chose to put this out into the world and take this stance?
Lauren: I do believe the values very much came from the way that I was grounding myself in the beginning. Coming from a place where I didn't know other entrepreneurs, I didn't know venture capitalists, I had no idea what I was embarking on. What I did know at the time [was that there] were the things in my heart that were true to me—the way I want to live and breathe and act and be in the world. I knew [that] if I operated from that place, I would always be on the right track no matter what happened to the company. I knew [that] the likelihood of the company getting off the ground was less than 5%, maybe even more slim. I learned in those early days to talk about my yeast infections and to talk about period sex as a bisexual woman and to have these moments of genuine connection with other people. My co-founder and I made the decision super early on to codify those values and use them as something we would rally people behind. Not just our customers, but also our team, our employees. Everyone knows our core values by heart, we talk about them every day. They aren't just something written on a wall. They are the way we act and interact with each other and the way we make critical business decisions.
One really quick example, "choose love over fear" is one of our core values and that was born out of me being so terrified to start this company. I really didn't want to do it. I was super afraid of failure, but every single day I told myself you are here to serve your customers. That is why you exist, and that is why this company exists. That is choosing love no matter what! I think about failure; I had to put myself out there. My marketing team, just before our conversation today, gave me a presentation on our new marketing plan and totally rethinking KPIs and the structure of marketing we've done for the last five years. In the presentation, they said [that] this is us choosing love over fear. This is just one example of a value that might seem soft and not appropriate for work, [but] that actually does help drive business decisions.
CircleUp: That's so powerful, I loved hearing the example. I've seen a few media spots recently that Flex has put out into the world. Could you speak a little bit about those media pieces?
Lauren: The vulva gallery is a throwback to our very first instructions for use that came in the packaging. I commissioned an artist to do a painting of all different types of vulvas, this was before the popularization on Instagram and social media [of content] about vulvas. At the time I remember my little sister came to me and was thinking about getting a labiaplasty because she was told by someone she was seeing that her labia wasn't normal. It was a very shocking moment when this happened. I had this platform and I wanted to use it as an opportunity to help people feel comfortable with their bodies and know that as different as we look up here, we all look different "downstairs". Even though that original painting isn't in each box anymore, we wanted an interactive visual representation of how people would react when they saw a lineup of vulva illustrations. Could they even choose their own? It was a very eye-opening, emotional experience.
For the shorter campaigns, we have three spokespeople who are meant to be allies, not menstruators, but people you would meet out in the world. We had Suze, Aunt Marie, and Fishin' Dad. Part of our mission is around sparking conversations and change doesn't happen just from the people who are menstruating and need to see it, change is happening through allies, and advocates, and people being more comfortable using regular language to alleviate the stigma and shame around periods.
Space: why not! I'm such a space nerd and always have been. When NASA sent up a woman with over 100 tampons to space we were like, "What!? Why?!" It was this really hilarious moment, and I got to live out my fantasy of being an astronaut through the ad. We imagined this alternate future where women in space are using Flex, because why wouldn't you?
CircleUp: Can you share how your blog has evolved and explain the decision to add an educational component?
Lauren: There are a lot of things written targeting women (not all of our customers are women, but a majority are). When I was starting the company it was really difficult, other than medical research papers, to get raw research, fact-based articles about our bodies, about menstruation, PCOS, endometriosis, you name it. Our intention for the blog was really about creating a resource where people could go and get factual information. The team has always been known for education. We have a team of trained "Flexperts": you can text them, call them, whatever, and those people have a wealth of knowledge.
CircleUp: Flex has launched new SKUs and some changes to the packaging—could you share a little about this process?
Lauren: Last year we had two new SKUs, the biodegradable, flushable wipes and foaming cup wash. Both are plant-based. We have two new "hero" products coming out next year. Aligned with those new product launches, it was really important to us to take a hard look at our carbon footprint and start investing in packaging that is fully recyclable or compostable. We just unveiled our new packaging, produces zero waste: it's renewable, compostable & 100% recyclable, made with renewable eucalyptus fiber. And Flex Discs now come in a paper wrapper instead of plastic. The disc creates 60% less waste than tampons and pads, but we wanted to embed sustainability throughout the life cycle of the entire product. We wanted to be and are the very first period care brand ever in history to have fully recyclable packaging and we are very proud of that!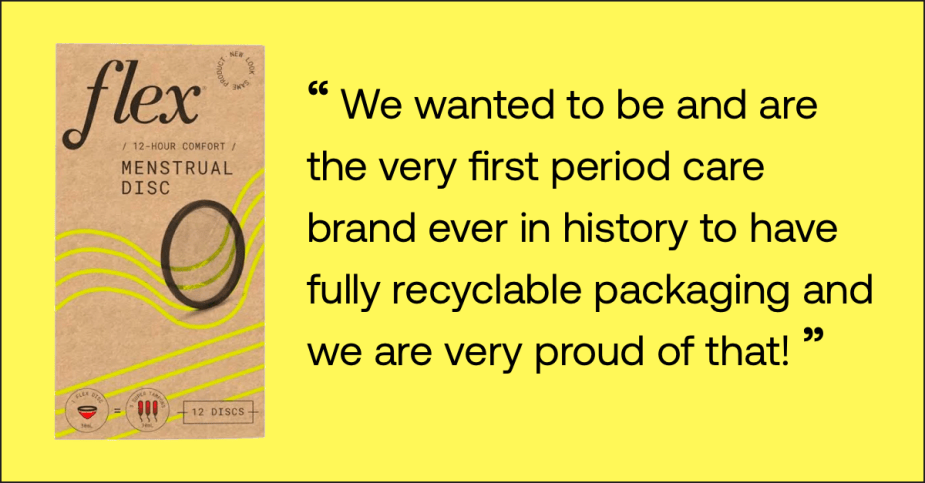 CircleUp: We would be remiss not to ask, what have you found valuable about working with CircleUp?
Lauren: CircleUp has really shown up for Flex in two ways. The first way is on the credit side: Back in 2018 we were growing way too quickly on the direct-to-consumer side, and at the same time we got a massive order from Target. Basically, from a cash flow perspective, I had raised only venture capital [not yet from CircleUp] to be able to invest in inventory. The payment terms don't work out the same for retailers as they do for direct-to-consumer, and we were constantly having to choose where we wanted to put inventory. Our growth was capped because we didn't have access to capital. CircleUp Credit Advisors really stood out to me from the other lenders we were talking to because of the flexibility to draw down cash when I needed to, aligned with our accounts receivable. The company wouldn't be what it is today without CircleUp Credit.
On the venture side, Karen Howland is on our board, [and] she and I have built a really close trusting relationship. I talk to her every other week. She is always a strong sounding board for me. She also tells me the hard truth if I need to hear it. We've built a lot of trust and rapport in that way. She connects me to other founders, companies, and resources. The community of CircleUp entrepreneurs is super unique because there is no other place I can think of where you have all these omni-channel founders who are dealing with the same problems, trying to hire the same types of people, trying to scale, and figure out all of the complexities that come with a CPG product. I am super grateful to everyone on the CircleUp team who works hard to make that possible.