We are excited to introduce "Helio Highlights" – our new series of CPG insights from our proprietary data platform, Helio. As we find interesting data in Helio, we want to share some quick insights to benefit the broader CPG community of founders, investors and retailers. We hope you enjoy the series, share the content and engage with us on Twitter!
As we enter the new decade, we wanted to capture a CPG megatrend surfaced by Helio data:
From farm to table to your skin, we see the convergence of food and beauty trends as we move into 2020. We see trends start in food then take off in beauty products, from the adaptation of plant-based positioning to specific ingredients including collagen and turmeric.
*Note: The plots below have been normalized to reflect growth without showing absolute numbers
Plant-Based Positioning
Consumers have become increasingly aware of plant-based diets, with an expanding option set including alternative meats. Alongside the food industry, the clean beauty sector is catching on to similar positioning, often marketing products to consumers as "vegan."
Consumer curiosity about plant-based food/beverage is on the rise, with beauty following the same trend.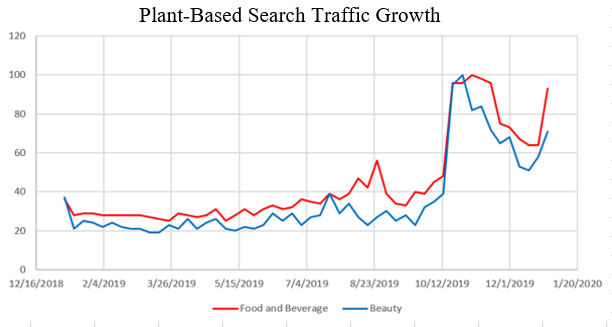 The interest has been slowly increasing over the past year, with rapid growth in the past few months.
We are able to explore this convergence deeper with our proprietary data platform, Helio. Social media engagement around plant-based foods has been increasing and now the interest in plant-based beauty has also taken off.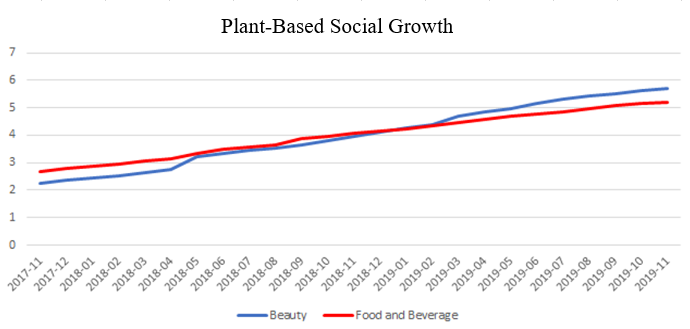 The interest extends beyond online signals. We see growth in the wholesale distribution of plant-based products in both food and beauty. Retailers driven by consumer interest are increasing the number of stores that carry plant-based products.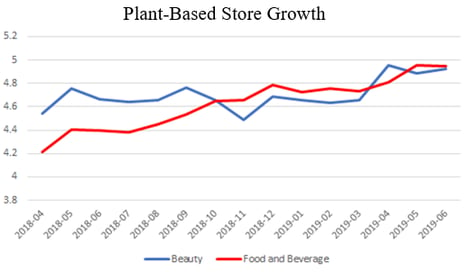 Ingredients
"You are what you eat," and now, you are what you put on your skin. Beauty industries have tapped into this saying by adapting the ingredients used for foods that became popular for their health benefits. We see consumers buying food items with the same ingredients that are now making their way into beauty products. There are a lot of shared ingredients but we are focusing on two that are at the core of the intersection of food and beauty.
Collagen is the main protein responsible for skin elasticity; hence, beauty brands have incorporated collagen into skin care products. Food and beverage brands are leading the charge and are increasingly formulating products that boost collagen protein production.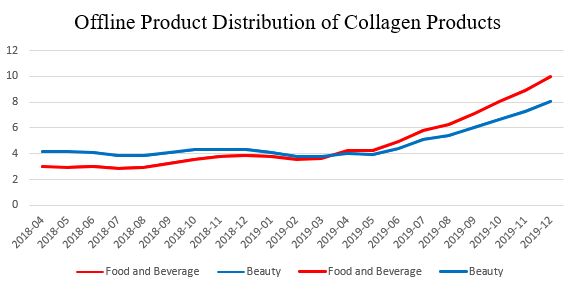 Turmeric is another ingredient on the rise due to its anti-inflammatory properties. It gained popularity in foods and drinks first in the midst of golden lattes. Beauty products have adapted the ingredient with gusto.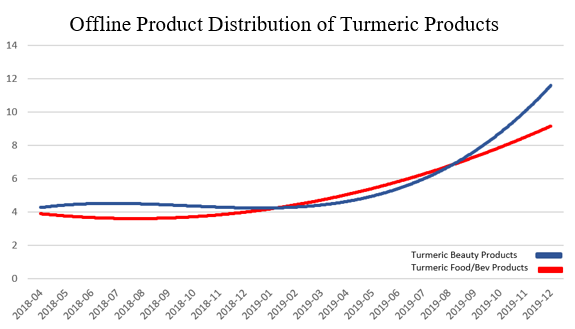 We predict that we'll continue to see the line between the food and beauty industries blur as we move into the new decade.
Food is beauty. Beauty is food.
And we are excited to be able to see the convergence in our data. We look forward to sharing more insights in the coming weeks to further unpack CPG.