In early-stage consumer, clean beauty is one of the most commonly discussed topics today. There are a lot of investors, strategics, and consumers interested in clean beauty. The past year has seen some high-profile investments and acquisitions in clean beauty, including CircleUp Growth Partners' portfolio company, Kosas, which announced a Series B raise led by Stripes Group last week. On the strategic side, Unilever paid $500M to acquire Tatcha, and Shiseido paid $845M for its acquisition of Drunk Elephant.
Investor and strategic activity is ultimately driven by customer interest. With growing awareness of toxic ingredients, yet limited oversight of ingredients in personal care products, consumers are increasingly looking to trusted brands for better-for-you products.
For these reasons, clean beauty is a very attractive segment for venture investment. But, looking at the past is easy. How can we predict whether clean beauty will continue to be an attractive sector? That's where Helio comes in. Today's Helio Highlight shows us that clean beauty is poised for continued growth in the near-term.
Our research shows that social media performance matters more in beauty than in other sectors – it's a shareable experience and consumers utilize online content for brand discovery and engagement. Overall, beauty is a high-growth category when it comes to social engagement.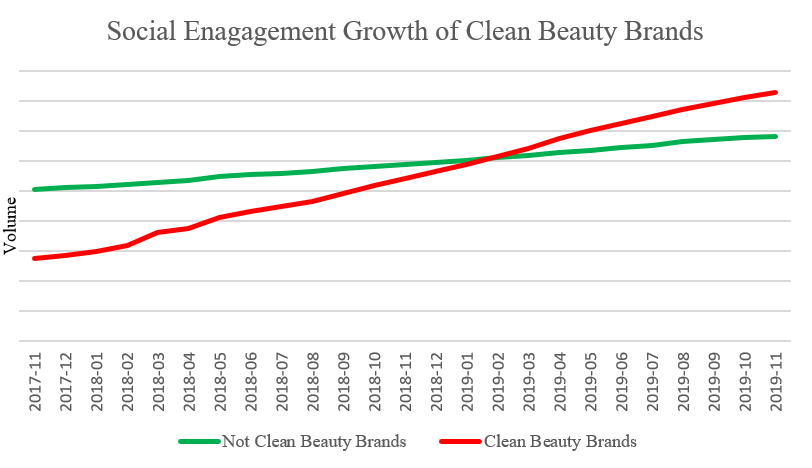 What's more interesting is that the brands that describe themselves as "clean" in the beauty segment are growing much faster. The social growth of "clean" beauty brands surpassed the growth of all other brands in November 2018 (i.e. fairly recently).
Even with engagement levels for clean beauty brands surpassing non-clean brands, clean beauty is still a fairly small percentage of the market – only 8% based on Helio data.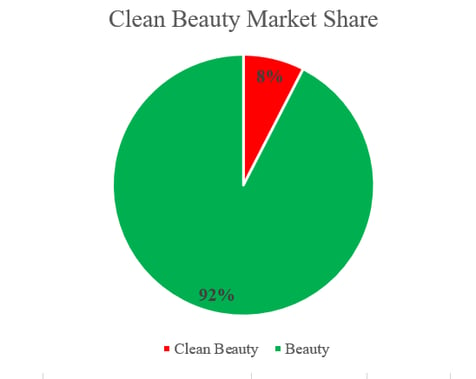 Yet, most of the conversation and social engagement within the beauty category is happening in and around clean beauty brands. In the future, there's opportunity for clean beauty sales to reflect clean beauty engagement.
With that in mind, here are three clean beauty brands with high social engagement (according to Helio) that are doing some very exciting things!
Herbivore Botanicals: founded by a couple that was looking for solutions to eczema, Herbivore is built around plant-based ingredients. Their newest product, Prism, an exfoliating treatment, includes sugar cane glycolic acid and bilberry lactic acid. It's high performance, but still clean beauty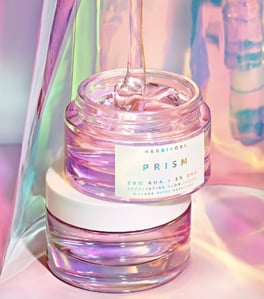 Moon Juice: relatively new to the skincare world, Moon Juice started by building a cult following of its Los Angeles juice bar, selling juices & superfoods. The company then expanded to herbs and supplements, and in December, Moon Juice launched a Milk Cleanse and Cosmic Cream. As Tanmayi Sai pointed out in our first Helio Highlight, "Food is Beauty. Beauty is Food." This is Moon Juice.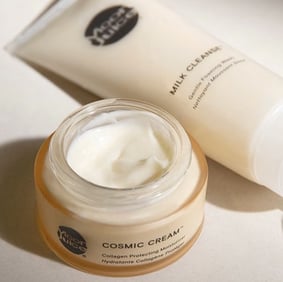 Tata Harper: founded by a woman who couldn't find 100% natural products, Tata Harper is using its growth and social performance to educate customers – a Tata Harper Beauty Class is available in several cities in 2020. As clean becomes table-stakes, brands need to engage customers in unique ways, both online and offline.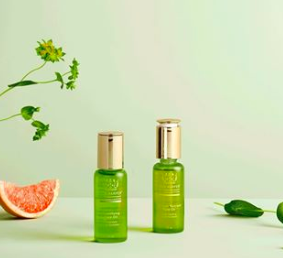 Interested in additional Helio Highlights? Check out Growth in Adaptogens.