The Helio Insights series uses our machine learning platform Helio to shine a spotlight on interesting products and brands in the consumer goods sector.
What is Sustainable Seafood?
"Sustainable seafood" is seafood that is farmed in such a way that the long-term health of the species is preserved and the

overall ecosystem

is intact.

Overfishing is a big problem and a global issue – 90% of the world's fish stocks

are fully fished or overfished

.

In response to this trend, sustainable seafood has been on the rise in the U.S. The
percent of fisheries in the US that are overfished has

decreased by more than half

since 2006.

A Financial Opportunity?
Seafood companies are tapping into this trend. According to our machine learning platform

Helio

, there are currently 145 seafood companies that have "sustainable" as a primary attribute, which measures the way these brands describe themselves across a variety of channels.

Growth has been relatively steady for the more prominent of these upstart sustainable seafood brands, as seen below on our

Consumer Reach Index

, which measures how likely a consumer is to encounter a particular brand

or product across a variety of different channels.
Consumer Reach Index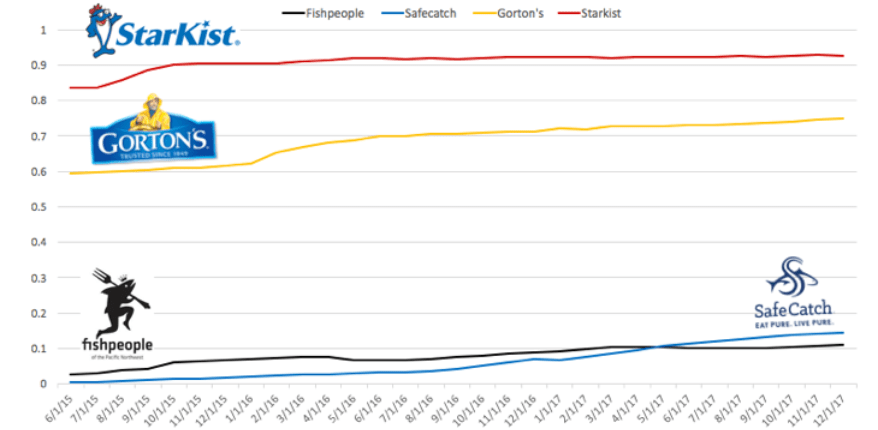 The ceiling for canned fish is set by Starkist and the ceiling for prepared seafood is set by Gorton's, so the smaller brands have a lot of runway.

That being said, these brands haven't seen the same meteoric success that upstart plant-based brands like Beyond Meat have seen, as witnessed below.
Consumer Reach Index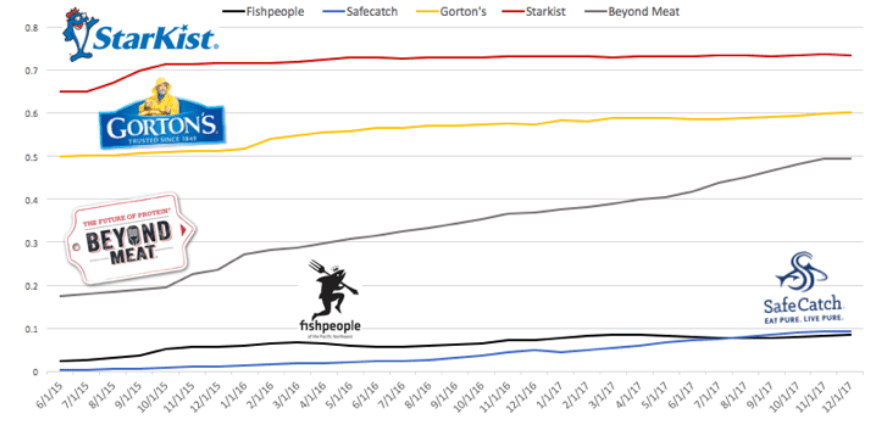 What's the Problem?
Part of this slower growth may be due to the fact that consumers still aren't really sure what sustainable seafood is – and no

clear definition

exists.

A consumer understands right away what plant-based meat is, but trying to figure out what overfishing is and how it relates to sustainable seafood is not as intuitive.

"Sustainable" is also a harder point for seafood companies to differentiate themselves on because most US seafood companies can say they farm in a sustainable way- Starkist even has a

Sustainability Knowledge Center

.
Where Does Sustainable Seafood Go From Here?
In order for upstart sustainable seafood brands to be successful, they have to do a better job of emphasizing why they are different than incumbent seafood companies.

Fishpeople allows consumers to easily track where their seafood comes from and see a profile of the fisherman who caught it, but efforts like these alone likely aren't sufficient.

One option for sustainable seafood brands to consider would be going on the offensive and calling into question the sustainability claims of companies like Starkist.

There is no shortage of data to use against these incumbents. For example, environmental group Greenpeace has given the three biggest canned tuna companies in the US, including Starkist,

failing grades

in sustainability. Shining a spotlight on these types of reports will give the smaller, more sustainable brands a much better point of differentiation and strengthen their position going forward.