When Mia Melon's CEO, Todd Listwin, joined Mia Melon the company was making women's apparel. The company was doing OK, but not great.
Listwin wanted to change things up, to make a splash. Drawing on his experience in snowboarding apparel, he took Mia Melon's flagship fashion jackets, made them weatherproof, and began marketing to a new customer — a customer who weighed function hand in hand with fashion.
These days Mia Melon is mission focused on this market. "When I came on board, we did make some fashion jackets and we had the look down," Listwin says. "But I thought, why not put a membrane in there to weatherproof them? Then you have a jacket that's waterproof and windproof but looks better than anything else out there."
The membrane Mia Melon uses is thin and breathable; it can be layered between the soft, fleecy lining and the coat's shell, so it's also completely undetectable. "You can go out, and buy a camping jacket," Listwin says. "And it might keep you warm and dry, but it's rubbery and bulky, and somehow always a terribly bright yellow or dingy brown color." Not at Mia Melon.
Their coats are designed with flattering cuts, rich colors, and the best part: comfortable fabrics. None of that plastic raincoat material. Mia Melon's technology enables them to make coats with natural fabrics that would normally soak up an entire rainstorm — instead, the water just beads up and rolls right off.
Customers have responded with fervent loyalty. Since the first two weatherproof fashion coats launched in 2011, the company's growth has been strong, with demand surpassing the company's expectations year after year — the stock sometimes selling out within days. But as every entrepreneur knows, the hardest part isn't coming up with a desirable product, it's everything that happens after.
And Mia Melon has been tested every step of the way. Since releasing its first weatherproof line, the company has dealt with a slew of challenges — from ill-fitting and unusable samples to lackadaisical PR firms. And yet each time Mia Melon has risen to the occasion, finding ways to fund and promote by turning to their growing, and devoted customer base.
Listwin recently sat down with CircleUp and shared his company's story, from the business's sharp pivot in 2011, to their big plans for next season (and beyond).
What Kind of Fabrics Are You Using With These Coats?
We can do just about anything you would find on any other fashion coat: cotton, wool blends, rayon, anything really. In addition to the membrane in the middle, we also do a special heat treatment on the outside to help the water bead. So, if you're in a big downpour, the water runs right off and the fabric doesn't soak up any of it. We use the same technology for all the different fabrics and we stay away from anything that's sporty looking, or shiny, or tacky, or rubbery. We stick with fabrics that you would like to wear in a fashion coat.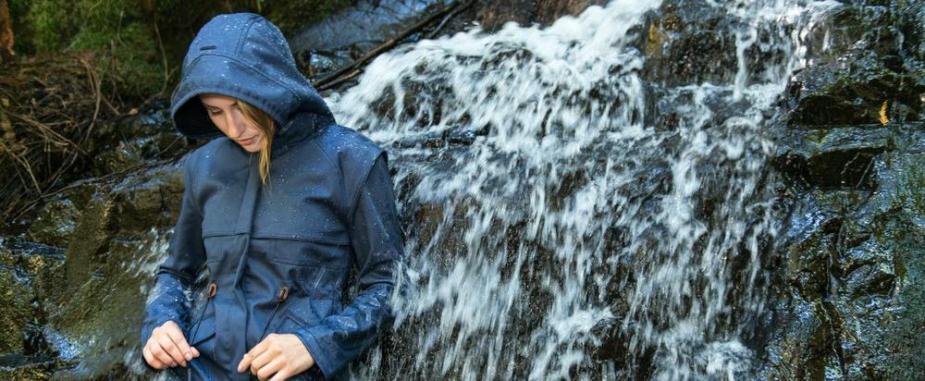 The First Line of Coats Only Had Two Styles, Is That Correct?
Yes. In 2011 we did two coats. For our fall 2012 season, we did two coats again, and then for 2013 we had three or four coats, and one poncho. This year we're launching a weather proof fashion fleece for guys and girls along with a men's coat label called, One Man Weather Wear.
A Men's Line?
After we launched the women's line, I started getting emails from guys, saying they wanted the same thing. Some men go to Urban Outfitters or whatnot, but their choices aren't great. We're making coats a guy could wear out on a first date and stay warm and dry in any weather.
And What Kind of Response Have You Gotten From This Unique Idea?
We've been growing fast — almost three times the sales every single year. For the fall of 2013 I bought a 100% more coats. I was a little worried that I ordered too many coats, because I usually order 10% more than the year before. We sold our whole winter stock in 10 days. That was with two styles. I said, "Why are we wasting our times with dresses and tops? Let's just do coats."
So I brought on a new consulting designer to design 10 coats. But when the samples came they were awful. They didn't fit right, they looked terrible. Meanwhile, I had the most high-profile, influential showrooms in Atlanta, Chicago, Dallas, LA, Toronto, and Montreal. I took the designs for the five top coats, got them re-sampled so they looked amazing, and then went on the road myself. I got enough funding for production, and rounded it out with a Kickstarter campaign. I ended up having the fourth most successful Kickstarter campaign in Canada. By dropping all the ready-to-wear business and focusing only on five coats, we had a record year and our first profit.
Why Isn't Anyone Else Doing This With Fashion Coats?
The best answer I can give is everyone else is concentrating on one aspect. If you don't care about fashion, the snowboarding coats are going to be better for cold weather sports. You wear one of our coats you are going to be warm and dry, but you may want not to climb Mt. Everest in our coats. Other companies are all about the fashion side. We are both. It's an urban coat for people who want to be comfortable in rain and snow but also be able to go out to dinner and look great.
Let's Talk About the Most Recent Kickstarter Campaign. What Was the Impetus for It?
I had a PR company working for us, and they said that they could get stories in big publications, you know, Maxim, Huffington Post, Elle, Glamour. They said they would get all these write ups for us and they didn't do anything. They didn't get us a single story. We turned to Kickstarter again and we were able to surpass our goal.
You've Innovated the Fashion Coat—What's Next?
Well, we're launching the men's line and expanding into other types of clothes — like weatherproof hoodies. Can you imagine your favorite hoodie being waterproof? We need to market the brand and the products, so our demographics know about our coats. That's the biggest hurdle. And we want to do this on a global scale. Because, while our online sales grew everywhere 800% from month to month, last year to this year, a lot of our online sales are international. Germany, England, Ireland are all big customers.