Many early-stage CPG companies could be characterized as "strapped" – strapped for time, strapped for cash, boot-strapped. Alongside lean and tenacious teams, entrepreneurs must juggle responsibilities across the business ranging from FP&A to inventory management. Founders recognize that data can serve a range of needs, and they're hungry for access to insights that characterize shifting category dynamics or product-level data to inform their product development pipeline. Entrepreneurs look for inspiration from brands like Zara which helped pioneer consumption and analysis of data to optimize its supply chain, and Stitch Fix, where exploration through data science is core to the company's DNA.
I speak with talented entrepreneurs every day, and have learned through discussions that even though founders are acutely aware of the power of data, there's a laundry list of ways they prioritize putting dollars to work before discretionary spend on analytics or insights. Even if founders can get access to sell-through data from their retailers, they often can't afford to devote time each week to data analysis, because this tears their attention away from key functions like managing working capital or leading sales and marketing efforts. Enter Insights & Connections.
Here at CircleUp, our mission is to help entrepreneurs thrive by getting them the capital and resources they need. Our new Insights & Connections team is dedicated to producing actionable insights that help CEOs make decisions to better guide the trajectory of their businesses' growth. We extract these insights from our machine learning platform Helio which aggregates and analyzes billions of data points across the landscape of early-stage CPG companies. The preponderance of data available in the consumer sector, unique for the early-stage, enables predictive models built by our data science and engineering teams to pinpoint indicators of future success. We can share prescriptive insights that arise from these models with entrepreneurs to identify opportunities for growth. We're not referring to conventional point-of-sale data entrepreneurs already have or could get access to, but rather non-redundant alternative data that can be layered on top. Since retailers will arrive at a pitch meeting with sell-through data, the ability to share interpretable and novel insights can empower you to truly differentiate and position your brand.
One primary area of focus for companies we've worked with is brand presence. We've developed a Helio model to assess "brand rank" and evaluate a brand's social engagement and social presence relative to companies within the same category. Why does this matter? When predicting a company's propensity for future revenue growth, we've found a positive correlation between a higher brand rank and the likelihood a company will grow; companies with a top decile Helio brand rank experienced growth 2.9x greater than those in the median decile. With regards to offline distribution, more and more retailers are turning to social media as an indicator of performance potential when deciding whether to take on a new brand.

Helio's brand rank can be interpreted through distinct sub-scores which measure components of the brand presence such as social content volume, positive engagement volume, and growth of following. By breaking down the metric into more granular components, we can showcase a brand's areas of strength and opportunities for improvement relative to competitors. This breakout can help inform where to put marketing dollars to work. For example, often times, we'll encounter brands with strong follower growth and a high volume of content produced without paralleled levels of engagement. In this scenario, a marketing team focused on heightening engagement may see a corresponding improvement in customer retention.
With brand rank as one lens into the presence of a brand, Helio enables us to quantify how a brand has scaled its reach over time against unique competitive sets provided by entrepreneurs. The Consumer Reach Index (or CRI) combines retail distribution data with social performance into a single measure to give a view of the likelihood a consumer will encounter a brand across a variety of channels. The metric gives a time-series view of the growth of a brand's online and offline presence and reveals inflection points where competitors either broke out of the pack or lost momentum.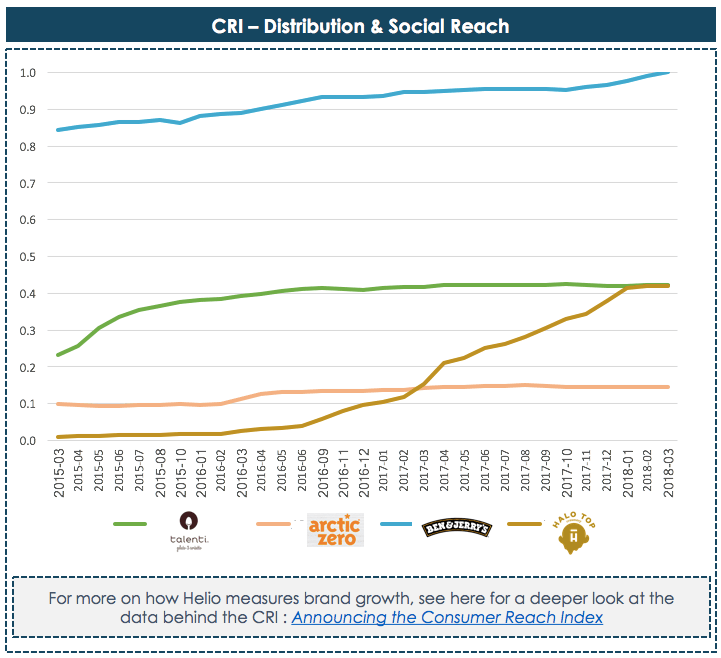 By tracking their brand's presence over time against a set of competitors, founders can benchmark their performance and identify which key players are growing while gauging which tactics they might want to prioritize. For example, a spike in a competitor's CRI in the three months following a new product release may turn a brand to focus on product development and innovation. Similarly, a competitor's inflection point following significant marketing efforts may prompt interest from potential buyers, motivating a brand to invest in partnering with a PR agency.
The aforementioned diagnostic and prescriptive data are just a few snapshots of the analyses currently in development as our Insights & Connections team works to build out a repository of materials that empower early-stage entrepreneurs. If you're interested in learning more, please check out our website or contact us at insights@circleup.com – we look forward to connecting with you!