In 2012, when CircleUp's founders were raising a seed round, many VCs scoffed at the idea of a consumer-focused (food, beverage, personal care, pet, etc.) investment play. One tech VC even said "I don't even know what consumer is, I literally can't think of a single CPG product." Another well known VC scoffed at our market size estimate saying, "I bet that the entire market of consumer investing would be a few hundred million at most per year."
Six years later, now that CircleUp is taking on systematic private investing, we're dealing with new skepticism. Many institutional investors feel that "private markets" and "scale" shouldn't be used in the same sentence.
Naysayers abound, but we have a different take on the market opportunity in CPG & retail (I'll refer to as "consumer" throughout) and the future of private markets. To cut to the chase, the consumer market is absolutely massive. We will take for granted that the asset class performs extremely well (22% average IRR from 2000-2012 according to Cambridge Associates).
The industry is almost 20% of US GDP according to the U.S. Bureau of Economic Analysis and 3x the size of tech in terms of trailing twelve months (LTM) revenue. Not to mention that our technology – Helio – tracks 1.4M unique companies. Not convinced? Just walk into a Costco, Home Depot, or Whole Foods; log into Amazon or watch QVC. These products are everywhere. Food Marketing Institute reported that the number of products in a supermarket went from an average of 8,948 in 1975 to almost 47,000 products in 2008. And that is just food, beverage, and some personal care.
And there is private capital backing this massive sector. A conservative estimate suggests there is $80B in venture capital and private equity assets under management (AuM) and an additional $70B in private debt, which excludes semi-private and syndicated debt. In the U.S. alone, that is a total of $150B in AuM. Globally it's closer to $3.4T in AuM.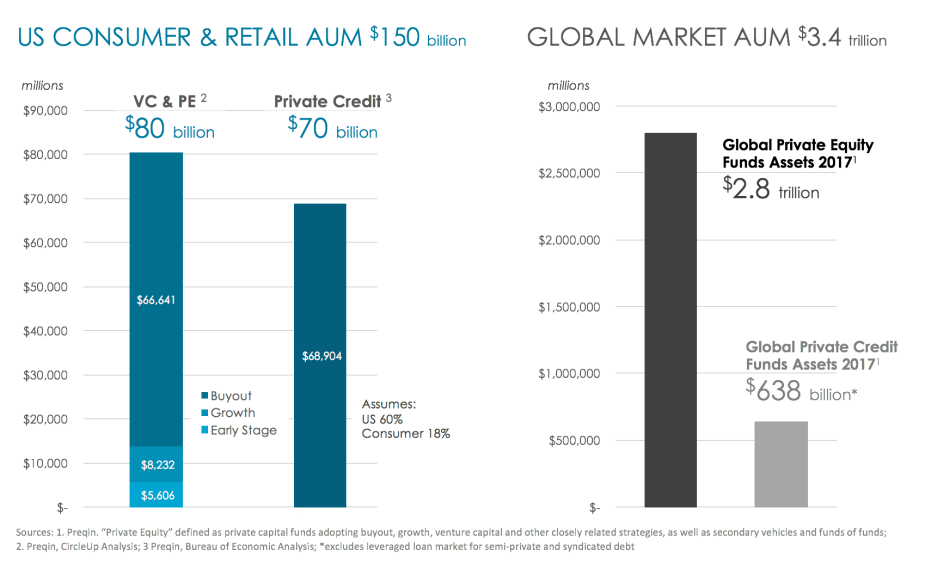 As emerging consumer brands gain traction with investors, the entry market continues to swell, demonstrated by NVCA and PitchBook below. The last 10 years have seen tremendous growth – Compound Annual Growth Rate (CAGR) of 18% for $ deal volume into the entry market, which just includes early-stage venture. We expect this trajectory to continue as returns are realized and the attractiveness of the sector (risk-adjusted returns) are surfaced and fully understood by early-stage investors.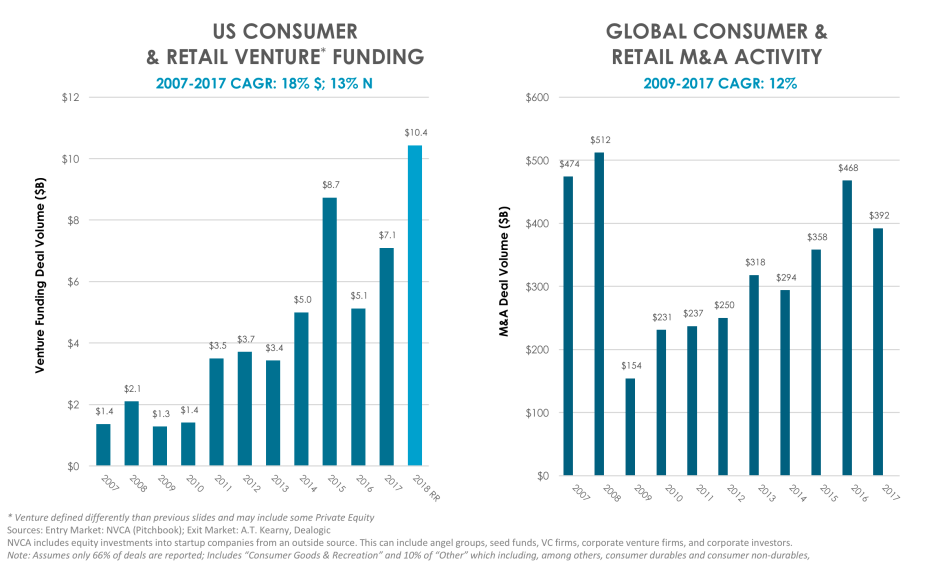 The exit market is similarly up-and-to-the-right – CAGR of 12% for transaction $ since 2009. As the market fragments and big-CPG struggles to retain consumers, innovation through acquisition is likely to accelerate. Furthermore, according to PitchBook, consumer is making up an increasing portion of venture investments, moving from <4% in 2008 to close to 10% in 2017.
At CircleUp, we see an opportunity to put $1B to work per year in emerging consumer without scope creep. Easily. 100+ new portfolio companies per year is not out of reach given the current market trajectory. And remember, this entry market is just venture, just in consumer & retail, and just in North America.
If you have been pummeled with enough stats and now agree that consumer is enormous, stay tuned for a piece on our conviction in the future potential of the private markets more broadly.