By: CircleUp
What's a product that the majority of people use every day, that can be made more sustainable and environmentally friendly?
The founders of The Goodwell Company, Patrick Triato and Aaron Feiger, asked themselves this question as they ruminated over their next business venture. The answer they came to: the humble toothbrush.
Oral care is an enormously profitable industry, with sales revenues expected to reach $6 billion by 2017. Yet it's been slow to innovate since the first consumer version hit the market more than than two centuries ago in 1780. Companies design and release new variations often, but the differences from one to the next are miniscule at best. After all, the industry, historically dominated by a few large brands, doesn't have to be innovative to get us to buy new toothbrushes — buying a new toothbrush every three months is something most dentists instruct us all to do.
This practice may be good for our teeth, but not for our landfills. According to Triato and Feiger, Americans throw away 50 million pounds worth of old toothbrushes every year, contributing another large heap to The Great Pacific Garbage Patch, a series of swirling, plastic masses that stretch from the West Coast of North America to the shores of Japan.
Triato and Feiger founded Goodwell to deliver what they believe to be a solution: a series of compostable oral care tools—including toothbrush heads, tongue scrapers, and flossers—that connect to an open source steel handle. You can purchase the biodegradable toothbrush heads from Goodwell individually or go with a monthly subscription. You can also buy their compostable, on-the-go flossers, which are cleverly constructed as four-packs that easily fit in your wallet like a credit card.
Goodwell has ambitious growth plans. Not only do they offer an impressively wide product line for such a young company, they have plans to expand their product mix to includes new tools, like a data tracker and a vibration module that can fit inside the handle.
All the while the company is raising growth capital on CircleUp. We asked Triato about how they acquired their first customers, the acquisition channels they're most excited about, and what they do to keep the cofounder relationship healthy.
How Did You Determine The Pricing For Your Subscription Service?
Basically we had two major factors to determine: what it costs us to make our attachment parts and what the logistics (like shipping) look like. We have a projected customer lifetime value — based on six months of traction — but nothing is set in stone yet.
Price point was really determined by the existing market and the actual cost of goods. We don't skimp on our materials and we make 90% of our products locally.
Young Brands Often Encounter Manufacturing Challenges. Did You Experience Any Manufacturing Setbacks Getting Your Product to Market?
I wanted to have as small a carbon footprint as possible. Finding local manufacturers was a huge learning curve in prototyping. The material that we used in the compostable component is a proprietary blend of bamboo and other vegetable based starches. Figuring that out was a big chunk of trial and error. Then we used an activated charcoal bristle which was something that we had to work on as far as manufacturing and sourcing.
As You Expand Your Product Line, How Does This Affect Your Customer Acquisition Cost (Cac)?
Our product roadmap will definitely affect our CAC, recently we were featured on uncrate.com for our Goodfloss product, and overnight we gained 500 customers. Right now customer acquisition costs are pretty high, we are a/b testing and trying all sorts of things to get these costs where they need to be.
Right now our CAC is about $4.50. It's higher than we'd like. (Which is usually the case for a new brand.) But we're optimizing it aggressively, trying new channels and new tactics all the time. Our CAC has declined meaningfully in the past couple months thanks to our Uncrate.com exposure and launch of our Goodfloss product.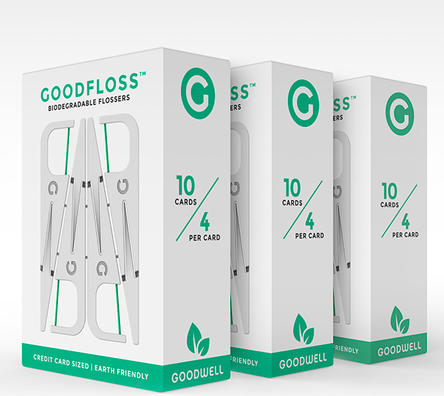 Moving on to the Product — How Quickly Does the Toothbrush Head Compost?
In the tests that we've done, it's pretty much all broken down within a year.
You've Had an Impressive Amount of Press for a Company So Young. How Did You Manage This?
We did it by cold emailing editors. We looked at the top publications in each of the areas that would interested in our product—tech, sustainability, and design—and then we looked for contacts in the top 10 blogs for those three areas. We emailed them our press release and told them why our product is special.
What Other Acquisition Channels / Strategies Are You Investing In?
We're dabbling in ads and other things. We did an ad-roll campaign, which is like a re-targeting campaign. If somebody comes to the site, they'll see Goodwell ads on sites that they go after that. We're talking to this company called Crushpath, they take over your marketing for you and they do all sorts of things, Google Analytics and all social channels and retargeting and targeting. Our biggest thing is we want to acquire customers, so we're just trying to figure out which marketing campaign gives us the most turn on investment for that.
What Brought You to Circleup This Round?
That's the part of running a company that I have the least experience with, fundraising. It's definitely been a goal of mine to achieve that in some way. I heard about CircleUp in an article, I think. The team at CircleUp is very experienced. They take you baby steps the whole way.
What Are Your Primary Uses of Capital for This Round?
We've got a ton of R&D that we have to kick into gear. We've got a product road map that's pretty intense. We're going to fill out the line of oral care with a toothpaste. We've got a cool, biodegradable little flosser that's ready for pre-order. We're going to launch a vibration unit that goes into the back of the housing of the toothbrush handle we already have. We've got a clever idea for sustainable toothpaste that we're pretty excited about too.
Direct-to-Consumer vs. Retail: How Do You Think About This?
Yeah, our direct consumers are mostly just on our website, but then we have a few other online retailers that we've given product to. Amazon is actually really interested in carrying the product and they've got this new thing geared towards entrepreneurs and small business. They feature companies on Amazon and Amazon Prime and they give you an A+ rating and they put you on their vine program and all this other incentive stuff. We're in talks with them right now.
Have Plans to Enter Retail?
Our products line doesn't really lend itself well to larger retail stores like CVS. But we're talking to the Whole Foods and New Seasons of the world. Our product will definitely appeal to their target consumers.
What's Been the Most Surprising Challenge So Far?
In my mind the marketing and raising investment capital has been the largest challenge we've faced. I've read books that talk about how hard it is to raise capital — you know, how you're going to talk to 100 VCs before one says yes. Getting the first is a massive challenge. That's why I was really curious about CircleUp, because if that can alleviate my time and effort put into running around and around going to VC meetings.
How Do You Guys Divvy Up Work as Co-Founders?
Aaron is mostly the marketing and digital branding. He built the website and all the digital assets. I'm more of the physical product design and engineering and manufacturing and that end of things. We definitely collaborate on new ideas and we split up the shipping duties, so boxing product up and shipping it out.
What Advice Do You Have for Creating a Healthy and Thriving Co-Founder Relationship?
One thing we did up front was sign a divorce before we signed a marriage.
Kind of Like a Prenup?
Yeah, it's a total prenup, exactly. We both know what we're going into and what we're leaving with. From everything I've read and heard about break-up stories and businesses failing due to co-founders fighting, we were very transparent about that up front. Just saying we're going to do this and have fun with it. If it goes south then this is how it's going to break up.
Ten Years From Now… What Change Do You Want to Affect in the Oral Care Space?
If we capture 5% of the oral care market we'll have removed massive amounts of plastic out of landfills, and out of the ocean. That's the goal. We use these products every day… so why not make them better? And then we have plans to branch out and expand into personal care.
That's why we didn't name the company after something specifically oral — we have every intention of branching out.