Once the butt of culinary-minded jokes, the rise of vegan or plant-based foods has become one of the defining consumer packaged goods (CPG) trends of the last decade. While vegan-lifestyle staples have always been popular among the self-aware, animal ethicist set, the recent unflagging momentum of this craze is largely due to (1) growing awareness of animal-based foods taxing impact on the environment and concomitant role in climate change, and (2) plant-based food substitutes are simply getting pretty damn tasty. The latter point shouldn't be understated. Impossible Burgers have gained traction among vegetarians and self-proclaimed meat lovers alike. Vegan butter-alternatives have become a preferred industry-standard rather than a spread-of-last resort relegated to dieters, and plant-based milks and yogurts have become sought out by both vegans and omnivores for their unique flavor profiles.
Sounds interesting? Schedule a quick demo with us!
However, along with the well-earned ubiquity of plant-based meats, milks, yogurts, dips, sauces, and butters, there's a curd-shaped vacuum that's persisted in spite of the generalized receptivity and appreciation for all things vegan. Where's the boom in vegan cheese?
Leveraging CircleUp's proprietary machine learning platform Helio, we set out to understand the consumer sentiment around plant-based dairy alternatives by compiling over 25,000 reviews across 7 major retailers covering almost 50 unique brands. The tepid reception to vegan cheese can be seen in review data conferring more nuanced information as to the degree to which consumer's sentiment regarding plant-based cheese offerings differs from that of other neighboring categories.
Figure 1 ) Plant-Based Dairy Rating Distribution by Category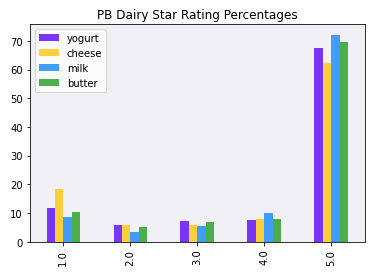 Source: Helio as of June 2021
As seen in Figure 1, compared to yogurt, milk, and butter, the star rating distribution of plant-based cheeses reveals a pronounced discrepancy in consumer dissatisfaction: One and two star ratings for plant-based cheese products comprise 18.3% and 5.7% of all reviews, respectively. This means that nearly a quarter of all plant-based cheese reviewers had a decidedly negative experience, a statistic nearly double that of plant-based milk and butter. On the flipside, far fewer consumers have had a positive experience with vegan cheese, as evidenced by a decrease in the percentage of reviews earning 4 or 5 star ratings compared to the other product types. With 4 and 5 star reviews often mirroring sales numbers, it's no surprise that vegan cheese has failed to produce a cash-cow brand on par with Oatly and Impossible foods (as recently covered by Vox).
Figure 2) Plant-Based Rating Averages Overtime

Source: Helio
A look at rating averages over time in Figure 2 further concedes this underperformance with plant-based cheese failing to reach the ratings highs of other plant-based dairy categories, despite relative gains in recent years.
Figure 3-A) Plant-Based Milk Rating Distribution Overtime

Source: Helio
Figure 3-B) Plant-Based Yogurt Rating Distribution Overtime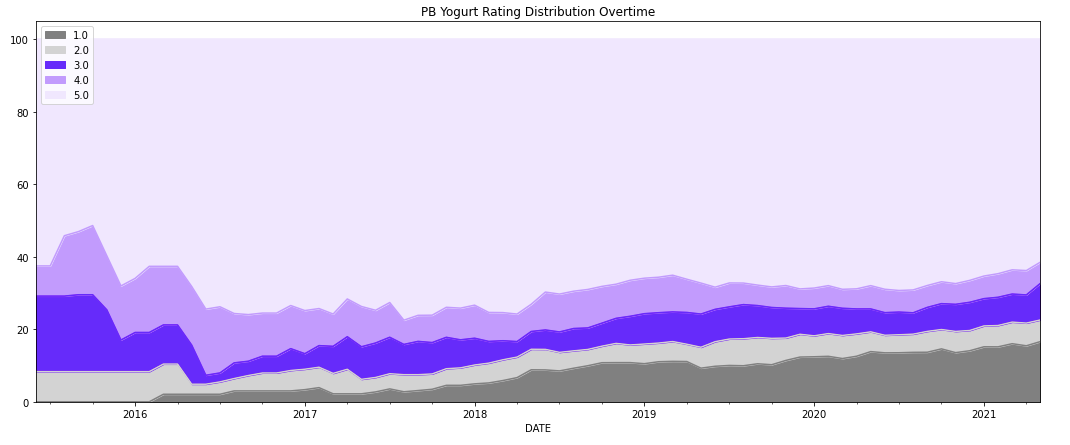 Source: Helio
Figure 3-C) Plant-Based Butter Rating Distribution Overtime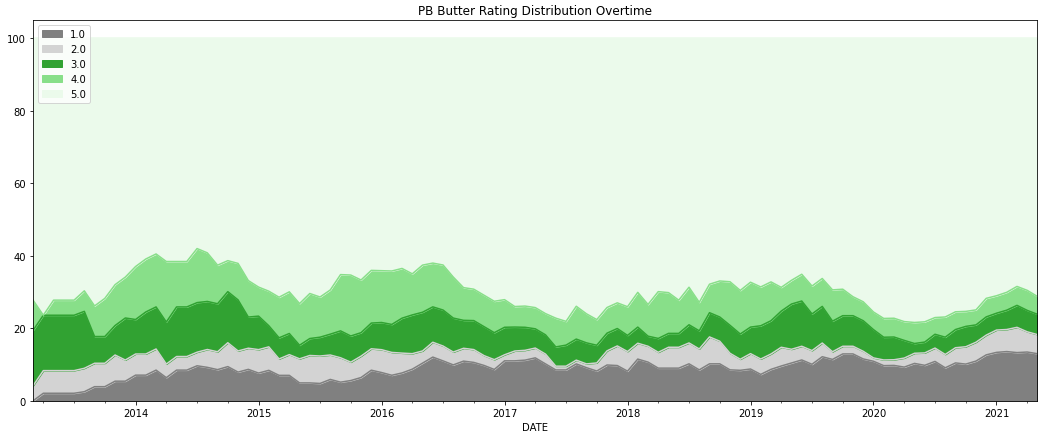 Source: Helio
Figure 3-D) Plant-Based Cheese Rating Distribution Overtime

Source: Helio
In addition to currently skewing negative compared to other plant-based dairy products, an analysis of plant-based cheese ratings over time in Figure 3D reveal a veritable rocky road of nominal progress. In particular, the jump in 1 and 2 star reviews seen in 2015-2016 can be largely attributed to the poor nutritional profile of products from one of the industry's major players; a time before vegan cheese ingredients became more sophisticated and healthy. We can see that even though plant-based cheese has rebounded from the 2015-2016 rough-patch where consumer dissatisfaction approached 50%, the current levels of 1 and 2 star ratings have held steady at roughly 1/4 of all reviewers. While a recent 2021 up-tick in 4-star ratings might signal progress, it nonetheless appears that current plant-based cheese offerings leave much to be desired.
To learn the nuance behind the numbers, we used advanced text analytics to investigate the content of product reviews in aggregate for each category. This analysis involves coupling natural language processing with a generative statistical model known as Latent Dirichlet Allocation (LDA). This method ultimately produces a "topic model" that reveals the overarching and pervasive themes and sub-themes within bodies of text. Practically speaking, this approach allows us to comprehensively and equitably parse and summarize the contents of thousands of product reviews to reveal poignant topics that show up throughout. Furthermore, retrospective topic-brand imprint mapping can reveal the degree to which different brands and products contribute to topic formation. Ultimately, this customized, proprietary process can reveal both the sweeping product attributes and performance quality metrics consumers care about the most, and the degree to which different products in the review corpus perform along those metrics.
Figure 4) Plant-Based Milk Purchase Criteria Landscape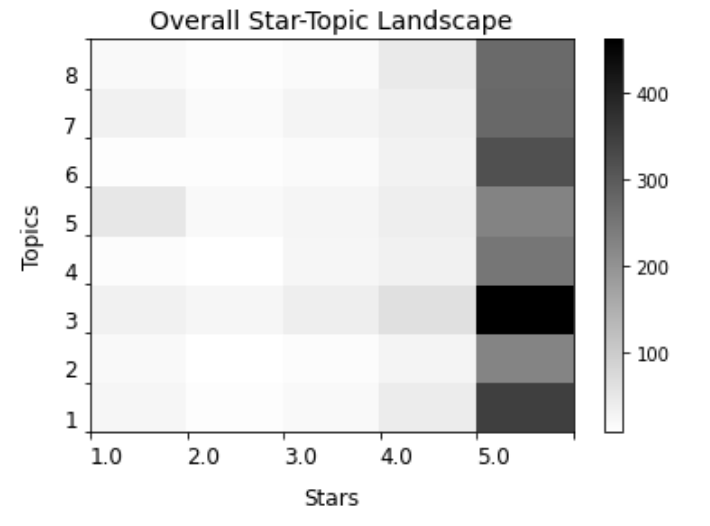 Source: Helio as of June 2021
The top 8 (unranked) topics discussed in plant-based milk reviews are numbered in Figure 4, with the heatmap illustrating the degree to which each topic (or purchase criteria) was mentioned in 1 to 5 star reviews. This figure underscores that consumers are generally satisfied with their plant-based milk experience as each of the key 8 topic criteria predominate in 5-star reviews. The most salient area of improvement is in "Price/Value" as numerous 1-star reviews mention this subject, suggesting that a significant portion of consumers might like their plant-based milk, but just don't think they're getting enough bang for their buck. From a business standpoint this finding suggests that all things being equal, there's still room for plant-based milk brands to compete on price.
Figure 5) Plant-Based Cheese Purchase Criteria Landscape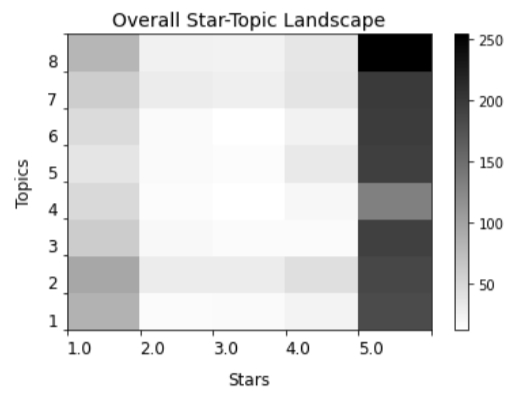 Sounds interesting? Schedule a quick demo with us!
Source: Helio as of June 2021
In contrast to that of plant-based milk, the plant-based cheese topic heatmap shown in Figure 5 reveals that consumers are largely polarized along all 8 of the purchase criteria discussed. This suggests that consumers generally have a "love it or hate it" relationship with these key purchase criteria. While using the product in macaroni & cheese might be the least divisive of the 8, the sentiment spread that this heatmap represents for the other key product attributes like "Taste & Smell" and "Meltability" underscore that there is substantial room for improvement in the plant-based cheese space. For those with an entrepreneurial mindset, this analysis demonstrates that there exists an opportunistic vacuum for new product market entry across a number of dimensions. Taken together, Figures 4 and 5 put forward that more market opportunity for new product entrants exists in the plant-based cheese category compared to plant-based milk where consumers can more universally find current products that satisfy all the major criteria mentioned.
To learn more about how Helio can help you understand consumers' purchase criteria, contact us.