By Amanda Wood and Jessica Kwok
At CircleUp Credit Advisors we are obsessively focused on financing working capital for great consumer companies to help them grow their businesses and build out their products. To date, we've issued more than 400 loans. Our machine learning platform Helio gives us a data-driven view of the consumer landscape that is second to none.
Today, Helio helps us identify and engage with consumer companies in a way that is unparalleled in the sector. Whereas other lenders have to rely on costly tactics such as buying leads from brokers or blunt outreach, we are able to leverage Helio's data on 1.4 million brands to identify prospects at scale. We're able to filter by things like company size, growth, industry, retail distribution, projected future retail distribution, and much more, yielding hundreds of thousands of prospects. Helio also helps us in the underwriting process as it brings in data on things like retailer verification, distribution growth, and social media engagement. Many of the outputs from Helio can serve as initial vetting, allowing our business development and underwriting teams to move quickly and with conviction. This saves the entrepreneurs from a lot of the back and forth that is traditionally associated with obtaining working capital loans, and in the future we think it will lead to a lower cost of capital and more loan availability. This will help us do even more to live out our mission of helping entrepreneurs thrive by getting them the capital and resources they need.
Helio already helps us in many aspects of our work, but today we want to touch on another powerful application that Helio will soon unlock: credit risk monitoring. For many lenders in this space, the monitoring process can be very slow and laborious. Often times, you have to manually look through the companies in your portfolio and make educated guesses based on metrics that may not paint a holistic picture. Lenders may look at things like outstanding balance and last payment date, but not fully understand a company's propensity for future revenue growth. Helio is changing that for us.
We currently have a portfolio risk tracker that monitors all of our borrowers and incorporates Helio metrics to identify correlations between credit risk and things like door count, revenue, brand score, and more. This tracker is still in its early days, but as we build it out and Helio gets stronger, we will be able to be more aggressive in our pricing and move even more quickly on closing loans. The tracker will allow us to identify strong borrowers in our own portfolio and offer them additional funding availability under their line of credit to propel their growth. It will also enable us to quickly identify a scenario in which an existing borrower is struggling and thus may no longer be a fit for our portfolio, ultimately reducing risk exposure for our overall business, resulting in lower defaults and then, ultimately, lower interest rates for all other borrowers.
As we move up the four stages of data analytics, our competitive advantage grows and our ability to help entrepreneurs increases.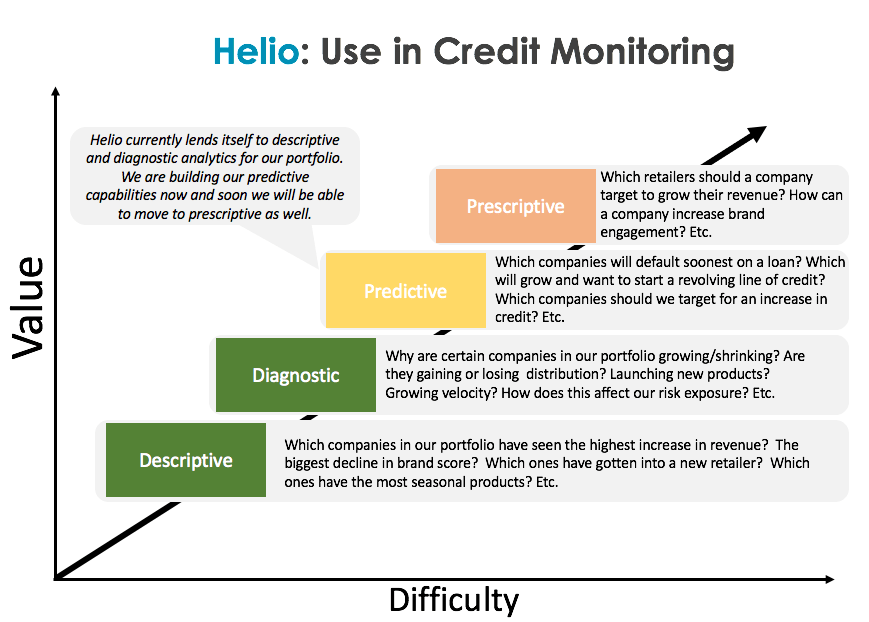 Once we build a predictive model that works on our own portfolio, the next step would be to apply that model to all applicants for our credit products. We will be able to use Helio to build a credit risk model and assign every potential applicant a risk score. When we are able to identify risk-based metrics that are accessible with Helio, we can start scaling even faster and extending credit to many more great consumer companies.
Imagine a future where, with a few clicks of a mouse and a short application, an entrepreneur is able to instantly get a pre-approval and an interest rate quote at much more attractive terms than what might be offered by other lenders. This would save a huge amount of time for entrepreneurs and meaningfully reduce friction, allowing them to focus on what they do best- growing their businesses. This is the future we are building. Helio will help take us there.