Summer's here which means so are long weekend trips to wine country. Most of us have our favorite types of wines and our favorite wine regions. Here in San Francisco, a lot of folks will take the drive out to Napa while others argue that Sonoma is superior. Others point to wineries in Washington, or Oregon, or Virginia as the best over claims the regions produce better wines without the tourist crowds of California.
The fight over which region produces the best wine has been waging for hundreds of years and we certainly don't endeavor to decide it here. What we do hope to do is apply a little bit of data to a debate that has long been dominated by critics, palettes, and preferences.
At CircleUp, we take a data-driven approach to looking at trends in the consumer sector. Our machine learning platform, Helio, lets us analyze 1.3 million companies operating in North America. Helio uses models to evaluate companies across an array of different dimensions; including distribution, revenue, growth, and brand.
The brand model measures the growth, reach, and intensity of a brand across a variety of factors. We have found brand score to be a metric that is very predictive of the future revenue growth of a company. You can read more about our brand model here. So because it's summer and we have weekend trips to wine country on our minds, we recently applied the model to wineries to see which regions surfaced as having some of the best brands. In order to ensure the sample size was large enough, we limited the analysis to regions that had 30 or more wineries headquartered in them.
And the winner is… drum roll please…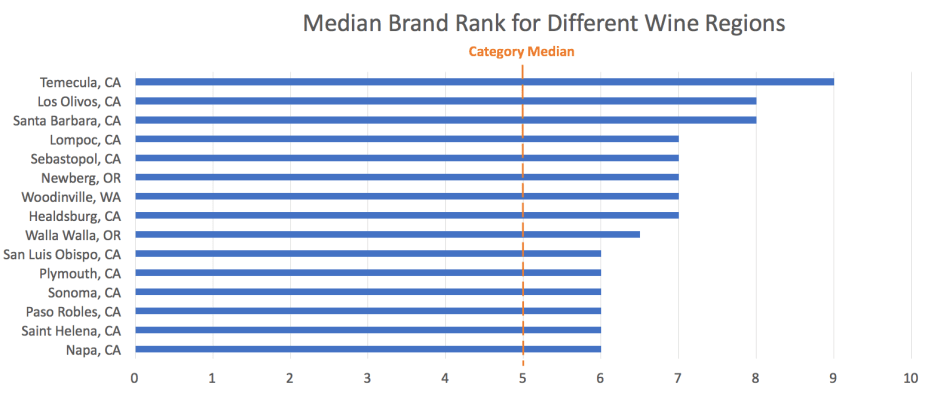 Temecula. The wine region, located in Southern California, had the highest median brand score of any wine region in the country. The area is home to around 40 wineries and produces around 50 different varietals of wine. Our brand model picked up the very strong ways in which Temecula's wineries resonate with consumers, including things like the great followings these wineries have on social media and positive engagement with content they share. Temecula has often been overlooked as a serious wine region in California, so the data should come as a nice validation to the area's winemakers.
Some other interesting takeaways are that every one of the top 15 regions are located on the west coast and 12/15 are located in California. We often hear about up and coming wine regions in other states but the data shows that California is still king. It's also interesting that Napa ranked 15th on the list, perhaps lower than might be expected given its foothold as a prominent wine region in the US.
Our hope is that this data will give you something to think about as you plan your next trip. If you do end up in Temecula, be sure to tell all the winemakers that Helio sent you!