Today it was announced that French dairy giant Lactalis is acquiring Siggi's Icelandic Yogurt for an undisclosed amount. The industry has been anticipating this acquisition for a while. In August of 2017, Siggi's was highlighted as one of the consumer industry's most innovative brands, and the company hasn't slowed since. On the heels of the acquisition, we thought it would be interesting to explore some of the data around Siggi's success.
Using our machine learning platform, Helio, we looked at Siggi's growth on the Consumer Reach Index (CRI), a new tool we built within Helio. The CRI measures how likely a consumer is to encounter a particular product, based on both online branding (e.g. social media) and offline distribution (e.g. grocery stores). A value of 1 is the peak point in a brand's history. As seen below, the consumer reach of Siggi's has more than doubled over the last 2 ½ years. What led to Siggi's success and where does the brand go from here?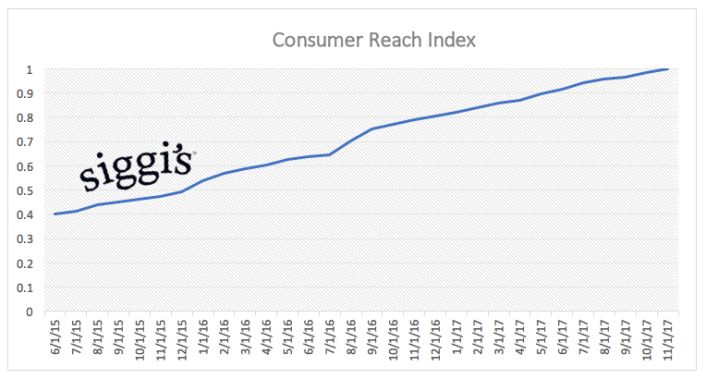 Thinking About Different Differently
If there has been a dominant theme in CPG over the past several years, it's that consumers often crave something different. Some brands think that being different means doing more of the same in different ways. For example, an established yogurt incumbent might launch an unexpected new flavor in an effort to tap into this yearning for the new. But oftentimes big brands can miss the forest for the trees. Consumers don't always just want a new flavor, sometimes they want an entirely new product. This craving for the new is what led to the spectacular success of Chobani Greek yogurt, and Siggi's taps into some of the same sentiment.
Siggi's founder, Siggi Hilmarsson, didn't conduct surveys or tastings before launching. He knew that skyr yogurt was something he enjoyed from childhood in Iceland and thought Americans might enjoy it too – and they did. Siggi's started off by being sold in 15 stores in the New York area and is now available nationwide.
From the beginning, what set the brand apart from others was not wacky flavors (to this day, Siggi's only comes in simple flavors), but the yogurt itself. Skyr is thick, like Greek yogurt, but much milder and packs a ton of protein.
With the simple favors came a simple label. Where many yogurts try to be as bright and flashy as possible to catch a potential customer's eye, Siggi's opts for a minimalist approach. One of our models in Helio draws colors from packaging to determine what colors are most noticeable, assigning weights to colors based on their prominence. Siggi's label is far simpler, and has far fewer colors (4 in this example) than other yogurt labels. In this analysis, we looked at Fage's pineapple yogurt (13 colors) for comparison.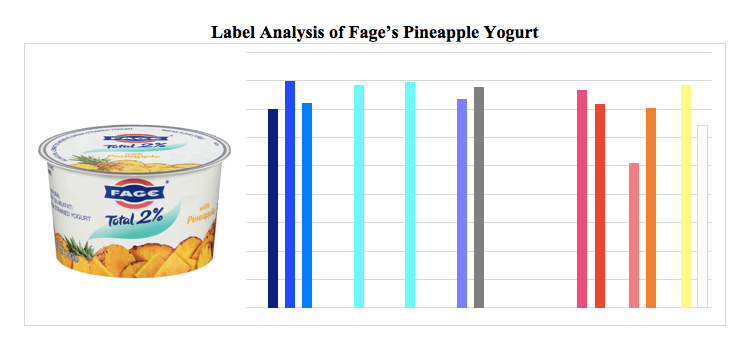 Siggi's label also prominently displays the brand's value propositions: low sugar, high protein, low calories.
Nowhere To Go But Up
Despite Siggi's rapid success, the company still has a lot of room to grow. The ceiling for yogurt is currently set by giants like Yoplait and Chobani. As can been seen below, Siggi's still only has about ¼ the consumer reach of these brands, indicating that there is a lot of potential for further growth.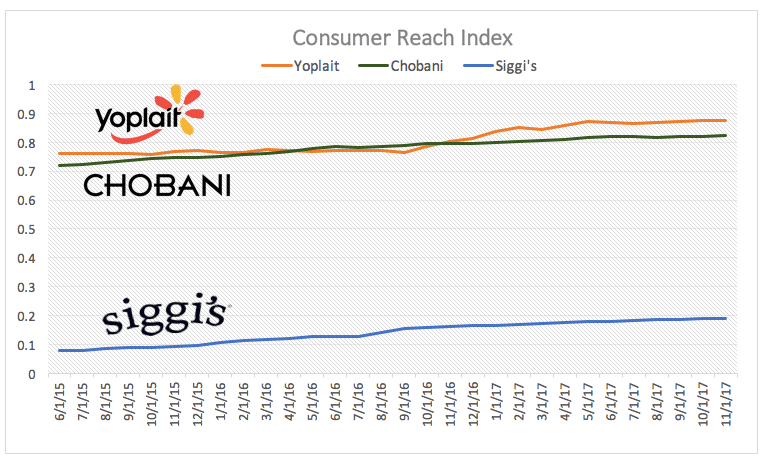 Although the yogurt market was valued at over $11 billion in 2015, there are only 216 yogurt companies in operation. This may at first sound like a lot, but for comparison, there are 1,129 nut and trail mix companies in operation and the market is worth only $1.5 billion. The reason there are relatively few yogurt companies is because the leading players hold nearly 75% of the market share. Once a brand develops a competitive advantage in making a particular type of yogurt, it's often hard for competitors to catch up. Siggi's is currently the clear leader in skyr and no competitors even come close. It's possible that brands like Yoplait or Dannon may try launching a skyr product, but previous lackluster attempts to launch Greek yogurts to compete with Chobani make this unlikely.
If You Can't Beat 'Em, Buy 'Em
Near the end of 2017 there were rumblings that Siggi's CEO was working with JP Morgan to explore a possible sale of Siggi's so this acquisition doesn't come as a complete surprise. The monster acquisitions of companies like RXBAR ($600 million), Amplify Snack Brands ($1.6 billion), and Native Deodorant ($100 million) demonstrate that Big CPG is willing to pay up to purchase breakout brands. It will be interesting to see how much more Siggi's grows with the additional distribution power of Lactalis and whether the brand begins to venture into international markets.