How leading Strategy teams are using Helio to drive strategic decision making
As Chief Strategy Officer, it is easy for people to misunderstand your critical role in driving the strategy of a leading Consumer Goods Business forward.
We know that over the course of a week, you'll spend time moving the needle on the most critical aspects of the business – whether that's spending time on:
Consumer innovation
Acquisitions
Strategic business process outsourcing
Financial structure
International expansion
Communications
And while most people in today's functionally oriented career paths don't have the experience to address so many diverse challenges at once, you do.
One of the things we love about working with Chief Strategy Officers is that you don't shy away from trying out new methods, technologies or partners in order to move the needle and the business forward.
Whether you've grown up within the walls of your company or recruited for outside experience, you have the ability to influence people across the entire organization; it's what you do. Your broad mix of skills and experience is rare, which makes you highly valuable to the organization.
Working with Chief Strategy Officers, we often hear that Helio is the perfect match for their top priorities of 1) consumer innovation 2) strategic acquisitions and 3) strategic business process outsourcing.
Our CPG data technology pulls in data from a diverse range of sources (over 200) so that our F500 CPG customers can get a universal perspective of what brands and trends are emerging in today's market. To support of their consumer innovation efforts, we can help answer questions as broad as "what key attributes are emerging right now that will influence our category one year, two years and three years from now" to something as specific as "what are Gen Z's talking about on Tik Tok in the beverage category."
As Helio is the largest database of emerging consumer brands in the market (we have >2.5M consumer brands), we not only help CSOs answer more macro, theme-related questions, but we also help them identify brands that their teams can either invest in, learn from or otherwise partner with for growth. In just a few mouse strokes, you (or your team) can get as specific as asking Helio to find in its 2.5M brands "
Beverage

brands doing

<$20M

in revenue with

minority founders

and with

DTC + E-Commerce strategies

and distribution in

Whole Foods

."

At the end of the day, we know the role of a CSO is complex, different day to day and requires integrated problem solving. The best CSOs we know are driven by data both from internal assets and external ones to move their business and teams forward. Helio data is here to help you and your teams invest, innovate and grow your business with confidence.

At CircleUp we've spent 10 years acquiring data on the long tail of CPG brands enabling us to spot emerging trends and brands as they are coming up so we ourselves could invest in them, support their growth and help them optimize their strategies from Liquid IV (Unilever) to Supergoop (Blackstone) to 4505 (Benestar).

As a CSO you could spend a decade trying to internally organize and produce a data asset such as Helio, or you could leverage ours!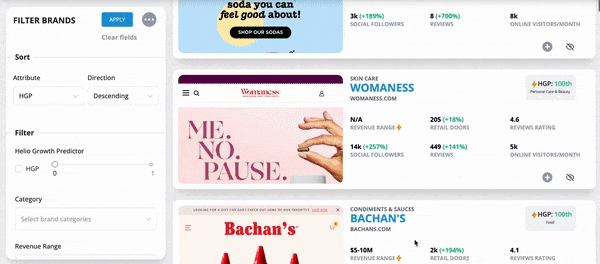 Chief Strategy Officers require data as agile as their roles and with Helio they've found a data partner that can help them make an impact and move the need across their most strategic initiatives.
Interested in learning how Helio can help your team? Reach out today!