Before Duane Myko was the Founder of Everything Legendary, he was a child in the school cafeteria that none of the other students wanted to trade snacks with at lunch. Why? Duane grew up eating plant-based, adopting the same diet as his mother who suffered from lupus and found it beneficial to her condition. Unfortunately, at the time the rest of the world wasn't ready for a plant-based movement, but times have changed.
Everything Legendary is an entirely black-owned and operated manufacturer of plant-based foods based in the DC Metro area. Today it is one of the fastest-growing new entrants to the plant-based category, bringing a focus on flavor, unique branding and community to the sector. Since bursting onto the scene with a Shark Tank appearance in February of 2021 (and a $300k investment from Mark Cuban), the growth hasn't slowed and the opportunities continue to mount for Duane and his co-founder Danita Claytor.
CircleUp Growth Partners is proud to announce our partnership with Everything Legendary as they continue their quest to disrupt the plant-based meat market.
Red-Hot Plant-Based Market
The plant-based protein category exploded during the height of the COVID-19 pandemic and has continued to grow thereafter. As Americans focus more on their health and prioritize the quality of what they eat, the benefits of a plant-based diet continue to become more mainstream. We've seen plant-based options offered in notoriously unhealthy fast food chains, superstar athletes attribute their physical performance to a plant-based lifestyle and continued research supporting its impact on health (and even the reversal of some conditions). We believe that Everything Legendary is positioned nicely to capitalize on these tailwinds with their current and future products. African Americans are the fastest growing group of vegans in the U.S., a trend that Everything Legendary can benefit from as a black-owned business when it comes to building brand credibility and trust with consumers.
Nielsen Plant-Based Meat Sales (in billions)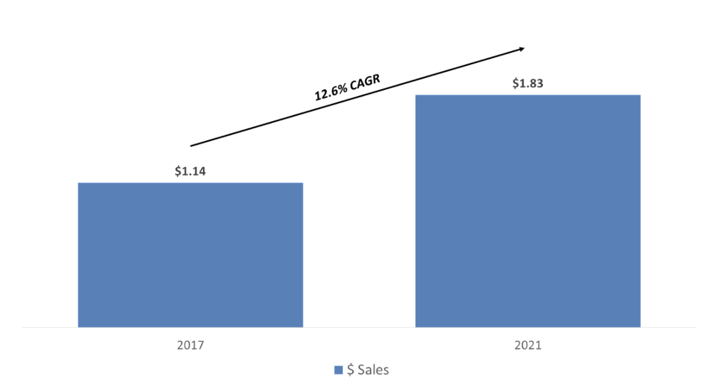 Source: Nielsen

Annual sales for the leaders in the plant-based meat categories are experiencing rapid growth, per Nielsen
Differentiated Product (that matters to consumers)
Impossible Foods & Beyond Meat dominate the plant-based meat market. They each were early movers and created products that offered consumers something new. However, consumers are now demanding more from their plant-based options. It's no longer enough just to offer something that checks the box, consumers want better taste and they are willing to pay up for it. Everything Legendary currently sells premium plant-based burger patties and ground meat that stands out from the crowd due to their taste and wide range of flavors. All Everything Legendary products come pre-seasoned with a proprietary blend of herbs and spices, using fewer artificial ingredients than their competitors. This increased emphasis on taste along with their exuberant, vibrant branding offers plant-based consumers something fun and different. Buyers in the category who we've spoken to also predict continued premiumization of the category and a growing emphasis on flavor. Everything Legendary also puts their team photo and story right on the packaging, making it easy for the consumer to buy into their great story, which is paramount as we see consumers increasingly demonstrate loyalty to the brands that align with their values. The differentiation doesn't stop there: Everything Legendary currently offers the only vegan-cheese-infused burger and has many more innovations in the pipeline that have been historically absent from the market. We feel that Everything Legendary has created something that the consumer wants that is different, with ample white space to expand beyond just burgers.
Helio Data
Key Purchase Criteria for Select Meat Alternative Brands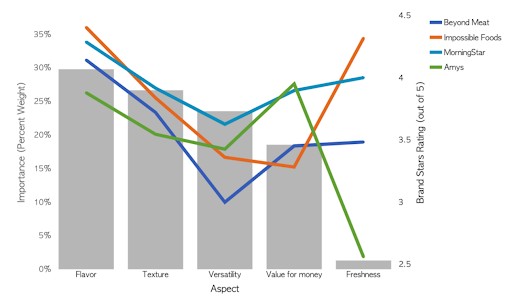 Source: Helio
Analysis of Key Purchase Criteria from our Helio database to get a feel for what consumers care about in Plant-Based meat (answer = flavor!)
Strong Performance in Retail
Retail Data
Taste and branding can be subjective, which is why we look at the data, including sales dollars, sales velocity, and distribution, to see if consumers are truly enjoying the product and driving retailer demand. Prior to the full team ever even trying the product (which we now all of course love), this data, in combination with our use of Helio, helped us develop real conviction in the product market fit of the brand. Since airing on Shark Tank in late February of 2021, Everything Legendary has expanded from zero to approximately 1,500 doors in under one year (including major retail presence in Target, Safeway / Albertson's, Giant Food, Publix / Ralph's, and more) and has received consistent reorders.
Impossible vs. Everything Legendary Launch (Doors)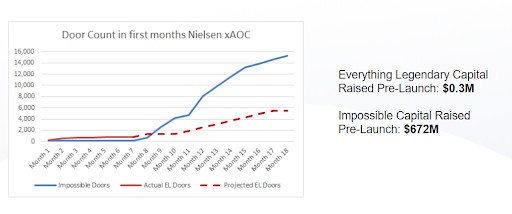 Source: Helio
Depiction of Everything Legendary's strong start in retail vs. the path of category giant Impossible Foods
In addition to gaining access to these doors, their velocities are above the category's upper quartile vs. other plant-based meat substitutes. These strong velocity numbers provide reassurance to us that they are resonating with consumers on the shelf, consumers are coming back to buy again, and that the retailers they are in are thrilled to be adding Everything Legendary to their plant-based assortment. It's worth noting that many of the brands on par or ahead of them in terms of sales have raised millions of dollars in VC financing to spend on marketing and brand building, some have even gone public—Everything Legendary is succeeding purely with $300K from Mark Cuban, the strength of their product, and the hustle of their team. We are optimistic about what their performance can look like as they invest in themselves, expand their retail footprint, and move into new channels and markets.
How Big Can Plant-Based Get?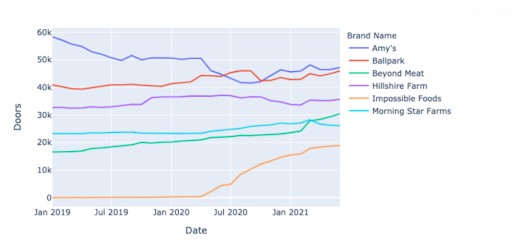 Source: Helio
Everything Legendary has room to grow in retail
Ground: ALBSCO Mid-Atlantic Total TA ($ Velocity)
Source: Helio
Everything Legendary has demonstrated top quartile velocity from a dollar standpoint for their patties in their largest retailer, Safeway / Albertson's. Their Ground Meat SKU is performing well too.
Team & Timing
The team's energy and passion cannot be understated and we believe that this is a strong positive indicator of success. They possess an unfair competitive advantage when it comes to determination and hustle, which has helped them run through all walls they've encountered to date. Duane and the broader team truly stand by their belief that they have the "best burger in the world" and that it would be a disservice to not get it in the hands of as many consumers as possible. Flying across the U.S. to build relationships with store managers, not leaving a store until they've persuaded dozens of customers to try the burger, and launching pop-ups wherever and whenever are the norm at Everything Legendary. As the first institutional investor in the business, we view this as an exciting opportunity to pour gas on the fire the executive team has created and build a self-sustaining sales and marketing (currently they've had no marketing budget) team to broaden the awareness of Everything Legendary across the world.