As one of the thousands of certified B Corporations in America today, Greyston Bakery's mission is simple.
"We don't hire people to bake brownies," they say, "We bake brownies to hire people."
B Corporations are for-profit companies, certified by a nonprofit called B Lab. In order to earn the certification, companies must achieve an 80/200 score on B Lab's assessment, which is split into four parts — Governance, Workers, Community, and Environment. The company must be able to show how it practices transparent business, looks after its employees, helps make its community a better place, and actively tries to preserve the environment.
Once certified, companies can put the B stamp on their products, showing customers that they've been shown to be ethical and sustainable.
B Corporations aren't non-profits—they are not dependent on donations. They're for-profit enterprises, built on the model of social enterprise, changing the world through the way they run businesses.
Let's look back at the history of the B Corporation to see how this model emerged; then we'll talk about how the certification process works and how to get started.
A Short History of the B Corporation Movement
The growing wave of companies certifying as B Corporations has been labeled "a movement." Like many political movements, the B Corp revolution got started on the ground. It was actually founded by the creators of an apparel brand.
From basketball brand to non-profit. Jay Gilbert and Bart Houlahan founded sports brand AND 1, which was highly successful and sold in 2005. With the insights they'd gained from running the socially-responsible company, the team formed B Lab, a non-profit bringing ethically-minded companies together.
The first B Corp. The first company to put the B Corp logo on their packaging was King Arthur Flour in 2007. The company was over 200 years old, and made other companies sit up and take notice.
State by state recognition. Gradually more companies joined, and in 2010 Maryland was the first U.S. state to sign B Corp legislation into law. All other states followed over the next year. The B Corp movement grew in legitimacy and reputation.
Growing an international movement. Gradually companies overseas heard about B Corps and became certified. There are now 42 countries represented in the community.
Big B's. Natura recently became the first publicly-traded B Corp. B Lab is calling this next era of B Corps "Big B's." The B Corp movement has grown up and now has some hefty weight behind it. It's a good time to join the community, because you now get access an international network and people all over the world are becoming familiar with the stamp.
Benefit Corporation or B Corporation?
Incorporating as a benefit corporation means legally designating your company, much like an LLC or a C Corp. The legal designation states your company is a for-profit entity and publishing a report of social and environmental performance—but the performance is self-reported.
Many companies complete this legal step without certifying as a B Corp through B Lab, but getting the certification is super valuable — it shows that you've passed a rigorous third party assessment. It also connects you to the B Corp community (read on to see the particular advantages this can offer your business).
We're going to focus on getting certified as a B Corp — it's the one that actually combs through your organization and validates your values.
What Does it Mean To Be A B Corp?
To become a B Corp, a company has to complete an assessment of its governance, how it treats employees, its environmental impact, and its effect on the local community. The assessment favors companies that practice fair, inclusive employment, are environmentally and socially minded, and transparent in the way they conduct business.
When you become a B Corp, you also opt into this declaration: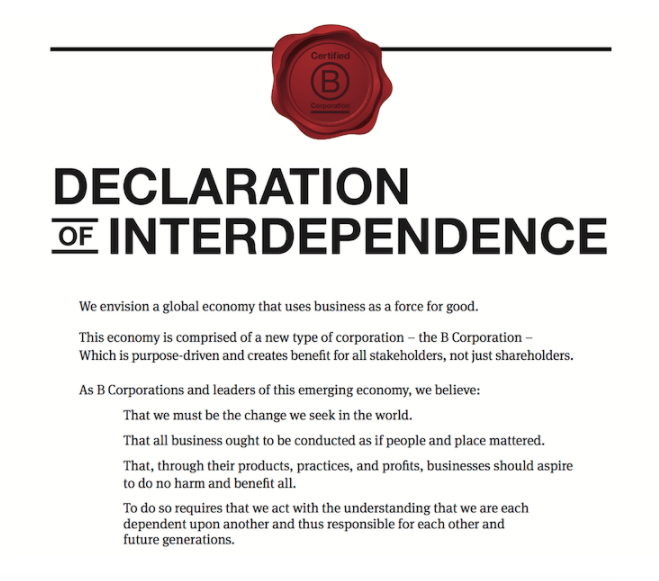 Source: B Corp website
Practically, certification means you get to put the B Corp stamp on your products and brand materials. It tells customers and shareholders they can trust your practices and it puts you in a community of forward-thinking companies adapting to a more socially conscious business world.
How to Become a B Corporation
If you want to become a B Corp, here's how to make happen:
Take the B Impact Assessment. An evaluation of your company's impact based on your answers to a questionnaire, with sections on your Governance, Workers, Community, Environment, and Customers.
Submit supporting documentation. If the results of your assessment look good, you'll receive a request for further proof of the ethical practices you mentioned and be asked to schedule a review call with a member of the B Lab team.
Have a call with B Lab (about an hour long). Here, you'll go over your documentation, clarify anything that's unclear.
Submit some additional supporting docs. If your score is above 80 out of 200, you'll be invited to submit final docs verifying the processes and practices you mentioned on the call.
Complete the "Disclosure Questionnaire." A chance to be transparent about any "sensitive issues" your company may have.
Final background checks. Your company and its members will be checked out, Googled, public records reviewed, and you should be good to go.
Visit B Lab's website to get your certification started.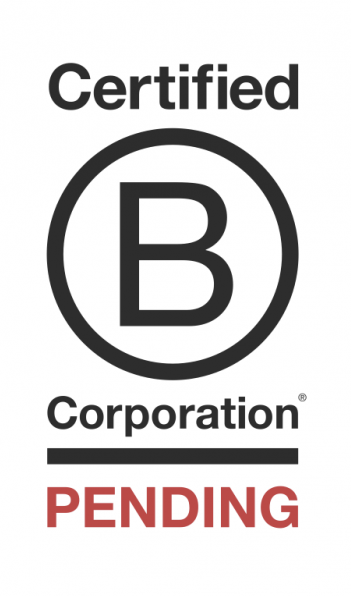 Three Advantages of Becoming a B Corp
Going through the certification process and getting your B Corp stamp could make your brand much richer, in several senses of the word.
Make your values official for customers and shareholders It's easy to make a slide or a packaging blurb listing out philanthropic adjectives to attach them to your brand, but the B Corp stamp is the real, third-party proof. Your company will join other innovative companies who have made this vow and are leading the change, like Method, Etsy and Warby Parker. The certification speaks a thousand words to customers, shareholders and other potential partners, because it makes your commitment in social good tangible.
Hire passion-aligned (and talented) people Talented young professionals are actively searching for ethical and socially active companies in their job searches, and 91% of Millennialshave preferences for brands associated with a cause. As a B Corp, you'll attract these candidates who already have a level of social engagement or interest. Value alignment is crucial for employee retention, helping keep churn healthier, especially since B Corps are known for better treatment of workers.
Put a fire under your collaboration If you've been meaning to connect with like-minded brands, becoming a B Corp will push that along. The B Corp community is vibrant. You can connect with other B Corps through the "Find a B Corp" feature or through networking events, or share out your news via the B Corp blog or through B the Change, B Corp's media company.
Where Will the B Corp Stamp Go From Here?
The world of B Corporations is growing fast. Since getting B Corps set up across the globe, the next stage of growth for the community is increased familiarity with customers. As more (and bigger) companies across the world become B Corps, people will soon know the difference, and you want to be on the right side of that judgment.