Consumers are hungry for innovation. Disruptive innovation. That means more than simply labeling an old product "All Natural." Making a product natural or organic is often a great thing, but not disruptive innovation.
Here's a story. In 2010, passing through the Denver airport, I stopped to eat. Four years later, I'm still telling people about Itza Wrap! Itza Bowl! In the ensuing four years, I've been through a lot of airports and eaten at a lot of restaurants, and I still remember that experience—it was that good. It's not that the food was amazing. It was that good because it fulfills what many business travelers want: quick, healthy food. And that is exceptionally rare.
How is it possible that we still can't get healthy food at 80% of the airports in this country? Because, in a market dominated by large players—either those that own the retailers or rent the space—there is little innovation at the top.
This is just one example of large companies failing to provide the innovation that consumers are crying out for. Where is the portable protein that is actually good for you? Where are more gluten-free options? What about a skincare product that has a value proposition other than "the best ingredients?"
How is it possible there is not a dish soap that is actually effective but also edible? Is that really crazy? Was Uber's goal of on-demand transportation less radical? My wife and I recently had a baby, and we are not the first to wonder aloud: "Why is there nothing on the market to calm a crying baby?" Nothing.
In my role as the founder and CEO of CircleUp, I recently spoke with a Fortune 500 company that was doing a huge initiative to spur innovation internally. A company representative said: "We are looking to create innovation internally and would love your help in spurring that innovation. But we really only want to make bets on products or brands that we think will be billiondollar ideas at the outset." I asked: "How many have you seen like that in the past five years?"
The answer: "None."
Consumer Demand Is Clearly There
In Booz & Company's analysis of the food and beverage industry (Good Things Come in Small Sizes | PDF) it found that small players with sales of less than $1 billion are outperforming larger competitors in 18 of the top 25 categories, including the largest ones, such as bakery, dairy, snacks and ready meals.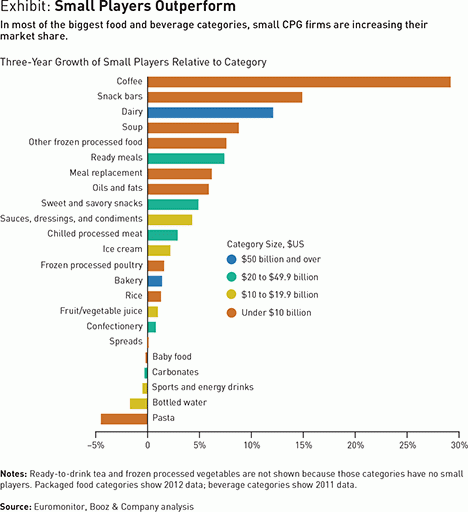 Smaller, younger, more creative businesses are seeing opportunities among consumers and moving quickly to meet the need. Comparing large companies' brand creation and that of companies with less than $2 billion in revenue, Gamechanger found that those small companies have created six times more new brands since 2000.
This Is Why Large Consumer and Retail Companies Are So Acquisitive
They are acquiring innovation. Just look at Coca-Cola, which has acquired brands such as Glaceau (vitaminwater), Fuze, and specialty drinks Odwalla, Honest Tea, Innocent, and Zico.
The value of consumer-retail deals in 2013 actually exceeded the value of technology M&A. In consumer and retail, there were 126 deals last year with a total value of $107 billion and 129 deals worth $81 billion in 2012, according to data on publicly disclosed transactions in PriceWaterhouseCooper's US Retail & Consumer M&A Insights for 2013 (PDF).
Strategics—the major public consumer or retail companies—have a track record of expanding their product portfolio through acquisitions. That's a great way to acquire innovation, just as we see happening in the tech world. But we need more from large consumer companies. We need them to acquire innovation from both external and internal sources.
Here Is Why That Innovation Isn't Happening Internally
Large incumbents are often blind to disruptive innovation—as Harvard professor (and CircleUp investor) Clay Christensen explains, innovation that transforms a market by introducing simplicity, convenience, accessibility, and affordability where complication and high cost are the status quo. Large consumer packaged goods companies looked at Chobani and didn't see the demand. And look what happened: Chobani created the Greek yogurt category in America in 2005, and by 2011 Greek yogurt was 20% of all U.S. yogurt sales.
Similarly, Incumbents Shrugged Off 5 Hour Energy Drink
Why, they asked, would that product grow when Red Bull had the market dominated? If we were to apply one of Christensen's theories, it's because it does the job well enough, and it's easier and cheaper to use. Comparing 5 Hour Energy to Red Bull when it was released, you'd see Red Bull was more expensive, it came in a larger container, and it didn't fit in your pocket. 5 Hour, on the other hand, did Job One—it provided energy—and it was easier to use and less expensive. So it won over consumers and expanded the market.
It's clear that the innovation teams at large companies are challenged from above to spend their time only on massive ideas that have a clear path to becoming billion dollar brands. In consumer and retail there is very rarely a culture that promotes the types of moonshots that a company like Google will take. Think about how crazy self-driving cars sounded 10 years ago. If that's possible, is it really crazy to think that we could invent a product to put a baby to sleep in a healthy way? Or soap you can eat?
This editorial originally appeared in NewHope360 Magazine.