A Look Inside the World of Bedding
Historically, sheets were plain white cotton, but over the years an array of patterns, synthetic fabrics, and natural and organic manufacturing processes have all made their way into the mainstream bedding industry, with colorful offerings from emerging DTC brands leading the charge. In recent years, leading bedding startups have become household names thanks to both Gen Z and millennial consumers. There are seemingly limitless bedding options available to online shoppers, who are increasingly more than happy to spend on quality sheet sets, especially post COVID-19. One company leading the bedding startup boom is Brooklinen. The company, launched in 2014, considers itself "The Internet's Favorite Sheets," and is now worth over $30 million according to Inc. Magazine.
As entrepreneurs, corporate product buyers, innovation teams, and investors think about future endeavors in bedding, it will be essential to consider growing families and what parents look for when it comes to their kids' sheets. More than 40% of U.S. households include children under the age of 18. That's a lot of purchasing power. Now pair that purchasing power with parents' need to accommodate their child's seemingly unstoppable growth rate throughout the first few years of life; there is a robust market of parents buying multiple sheet sets to accommodate cribs, toddler beds, and eventually children's first big-kid beds!
What's Popular in Kids' Bedding & Sheets Today
To understand what's trending among emerging brands that sell kids' bedding, we looked at top attributes year-over-year (YoY) from March 2021 to February 2022.
"Cozy," "Neutral," "Muslin," "Personalized," and "Innovative" all saw the largest increase in brand count YoY, while "Absorbant," "Hypoallergenic," and "Machine Washable" all saw the biggest decrease at 67% YoY, suggesting a move towards style and away from practicality.
Additionally, "Cotton" decreased by 21% while alternatives to cotton including "Muslin," "Bamboo," and "Organic (fabric)" all increased in brand count YoY, hinting at a general trend away from cotton.
Top Things Parents Look For in Kids' Bedding & Sheets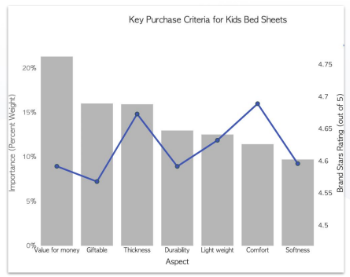 'Value for Money,' "Giftable," and "Thickness" ranked as the most important purchasing factors to consumers according to online reviews. The blue line in the above graph showcases the average online customer rating (out of 5) of all ratings that include that attribute. As you can see, while "Comfort" may not be the most important factor to purchase, reviews that mention it have the highest average rating. Similarly, reviews that mention "Value for Money" and "Giftable" both have low review ratings relative to their importance, meaning there is an opportunity for companies to focus on bettering these attributes.

One interesting thing to note is that five of the seven top purchase criteria allude to the product's fabric. Combine this with the fact that brands using cotton alternatives have significantly increased over the last year, and it's clear that the biggest takeaway is that consumers care about what your product is made out of.

Value for Money

The number one factor consumers value when purchasing kids' sheets and bedding is "Value for Money." Parently purchase multiple sets and sizes of sheets in a few short years, so it is understandable that value is an important factor in their purchase decision.

Giftable

Baby showers, registries, and gifts oh my! "Giftable" is the second most important factor for consumers looking to purchase kids' bedding and sheets. Interestingly, it is also the attribute with the lowest average review rating. This showcases an opportunity for businesses to prioritize the giftability of their products, and fill a gap in the market.

Thickness

"Thickness" is the third most important factor for consumers, almost tying with "Giftable." This attribute acknowledges the quality of the fabric in which the product is made. Many consumer switch their sheets as the seasons change from heavier to lighter fabrics. As such, it's important that packaging accurately reflects sheets thickness.

Durability

Similar to "Thickness," "Durability is next on the list of factors consumers look for when purchasing kids' sheets. Kids' sheets should be easy to clean, last through many washing cycles without fading, and should be durable enough to use for multiple years for parents with multiple children.

Light weight

"Light weight" is next on the list, and also alludes to the type and quality of fabric used in the product. Heavy sheets can be uncomfortable for children.

Comfort & Softness

"Comfort" and "Softness" both align with consumers' concerns about the type of fabric used in the bedding they purchase. Companies should focus on ensuring kids' sheets will feel comfortable and soft to the touch and do not cause any irritation to the skin.

Top Kids' Bedding Brands by Tacked in Helio by HGP Score

1.

Graced Soft Luxuries

|

HGP Score: .98
2.

Rookie Humans

|

HGP Score: .97
3.

Moonlight Slumber

|

HPG: .93
4. Saturday Park | H

GP: .92
5. Coveted Things | HGP: .92
Curious about what consumers want from your product? Reach out to the Helio team today!