By: James Michels
Brands are the single most valuable asset many consumer-facing companies own, accounting for nearly 30% of stock market value of companies in the S&P 500 according to market research firm, Millward Brown.
So it's unsurprising that companies maniacally protect their brands with trademarks for words or designs that are unique to their business—including logos, company names, tag lines, product packaging, service names and descriptions. And sometimes even sounds and smells. A bit much, right?
So before spending significant time and money building your brand, it's critical to conduct proper due diligence upfront. Take heed of the current troubles of North Carolina craft brewer Natty Greene's Brewing Company.
Case Study: Natty Greene's Brewing Company
Naty Green's brews wickedly tasteful Ale's and IPA's—and has a great brand to boot. Here are a few of their offerings:

But when the company filed a federal trademark application for NATTY GREENE'S last year, it was hit with an unexpected result—the filing caught the attention of industry behemoth, Anheuser-Busch. In June this year Anheuser-Busch filed an opposition to the trademark application, claiming superior rights in all NATTY trademarks for beer based on its pre-existing NATTY LIGHT trademark registration.
Here's a typical point of purchase display of Natty Light: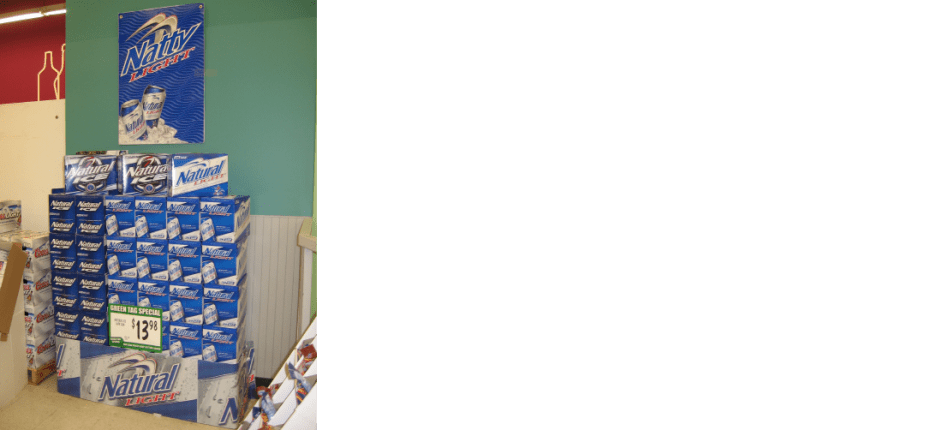 To maintain its trademark rights Anheuser-Busch sprung into action. Which for Natty Greene's meant getting dragged into an expensive and enormously distracting legal proceeding that may result in requiring them to change their name along with all marketing and packaging materials.
Avoiding Trademark Troubles
To avoid a trademark disaster, you should conduct a preliminary screening search to identify any obvious conflicts between your trademark and a pre-existing trademark owned by someone else. If you find an obvious conflict, then avoid the trademark. Preliminary searching is a two-step process:
Conduct a free trademark search on the USPTO database. This will help you find registered trademarks and prior pending applications that may prevent registration due to a likelihood of confusion. Likelihood of confusion exists between trademarks when the marks are so similar and the goods and/or services for which they are used are so related that consumers would mistakenly believe they come from the same source. If confusion is likely, then you should not use the trademark.
Conduct a Google search. You need to do a Google search because many trademark owners with valid and protected trademark rights do not register their marks with the USPTO. You still need to consider these "common law" marks because trademark rights are based on first use in the United States. A trademark owner obtains rights by being the first in a given market to use the mark. Once the owner obtains such rights, it can stop newcomers from using similar marks that are likely to cause confusion.
Conduct a brand search Knowem is a great tool for seeing where and how your brand is being used across the social web. It allows you to check for the use of your brand or product instantly on over 500 popular and emerging social media websites.



Additional Considerations
Even if the preliminary search does not disclose any obvious conflicts, there still might be obstacles to the use of the trademark. The USPTO database contains millions of records, and the searcher will need to make some judgment calls in developing a search strategy. This will result in a margin for error – especially when it comes to consumer brand names since they do not always follow established rules of spelling, grammar, construction, punctuation or meaning. There are similar limitations with a Google search.
For these reasons, preliminary searches are only used to eliminate trademarks that are clearly unavailable. To reach a definitive answer on the availability of a trademark for use and registration, it is advisable to obtain a comprehensive search report from companies like Thomson CompuMark and Corsearch that specialize in trademark searching.
A comprehensive search report will cover federal and state trademark registers, trade and business directories, domain name registries and proprietary databases. A trademark lawyer can help you order and evaluate a comprehensive search report. If the search report shows that trademark is available for use, then you should file a federal trademark application so you can stake your claim in the mark before someone else does.
I hope this helps you avoid future, and unexpected, headaches. If you have any trademark questions I'd love to hear from you — let me know in the comments below, or find me on Twitter at @Trademarkology.
James "Randy" Michels is a partner in the Nashville, Tennessee office of the Stites & Harbison, PLLC law firm. He helps clients protect their brands through the selection, clearance, registration, maintenance and protection of trademarks. He also has extensive experience litigating intellectual property disputes. In addition to his litigation practice, Randy advises clients on copyright and domain name issues. Randy co-founded the Trademarkology blog to provide insight on trademarks and branding issues. He can be reached at randy.michels@stites.com.