Our team first met Chris Hunter in 2017, early in his journey in making Koia the leading plant-based beverage company in the United States. His story is an inspiring one – from founding Four Loko at the age of 25 to selling Not Your Father's Root Beer to Pabst to becoming a spokesperson for a dairy-free lifestyle as the CEO and co-founder of Koia, the maker of functional plant-based beverages.
Today, we're excited to welcome Chris and the entire Koia family to the CircleUp Growth Partners portfolio.
Our Diet is Becoming Increasingly Plant-Based
At CircleUp, we are believers in a plant-based future. A diet rich in fruits, vegetables, whole grains, and legumes has been shown to have a significant impact on broader health and wellness. These foods are full of fiber, rich in vitamins and minerals, free of cholesterol, and low in calories and saturated fat. According to the Physicians Committee for Responsible Medicine, people who eat a plant-based diet have a lower risk of heart disease and diabetes. Plant-based diets lower body weight, improve insulin function, and help to regulate blood sugar.
And, we aren't just believers in this trend; we are seeing this trend play out in data. Consumers are paying attention.
Below we can see the distribution growth of "plant-based" brands in Food and Non-Alc Beverage from 2018 to 2020.
Source: Helio
Plant-based alternatives are driving the growth of many categories in grocery stores, including milk, cheese, yogurt, creamer, and meat. We have seen sales and products increase significantly from "plant-based" brands in all of these categories.
But, it's not that easy to adopt a plant-based lifestyle – convenience, portability, and speed still matter. That's where Koia comes in.
Koia is Building a Platform for Function Plant-Based Beverages
The global plant based protein supplement market size is estimated at $4.1Bn in 2017 and expected to reach $7.7Bn by 2025; "demand for plant based protein supplement is likely to witness a high growth on account of rising popularity of Ready-to-Drink (RTD) product among millennials."
This is a big market. But, where does it make sense to invest?
We use Helio to help answer that question. It's our data platform that helps us gather evidence and build conviction for the companies we invest in. We discovered that Koia is the leader among plant-based protein beverage competitors from a distribution and velocity perspective.
Koia's distribution is as good as or better than some of the most successful new launches in recent years. In 2019, Koia added over 4,000 new points of distribution across many different types of retailers, including Publix and Safeway.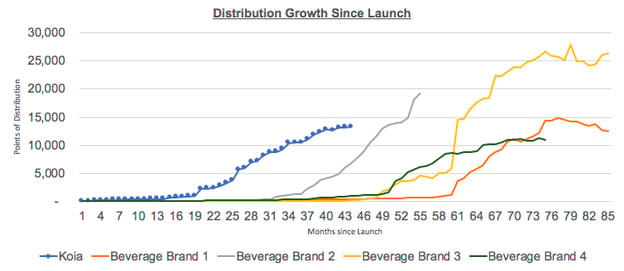 Source: Helio
Furthermore, Koia's velocity (average number of units selling per store per week per SKU) has held steady, despite increasing the number of items offered.
We believe that Koia has the ability to innovate, expanding the addressable market size. Koia customers have given the brand permission to go beyond a single product (as evidenced by the launch of the keto product and the functional coffee).
Leading With Attributes That Matter
Koia's product portfolio and innovation is driven by its most important attributes, while maintaining an accessible price point and recognizable ingredient deck.
Let's start with protein. Koia beverages have 18 grams of protein in each bottle. Why? Protein is one of the most important attributes that consumers are seeking in food & beverage (according to NPD, 71% of consumers say they want more protein in their diets).
Secondly, freshness is becoming increasingly important to consumers. However, there are a limited number of protein beverages available in the refrigerated section of the store (most are merchandised within the shelf stable section). Being in the refrigerated set matters because it's associated with being/eating fresh. This freshness has allowed Koia to have a better taste and flavor profile, when it comes to protein shakes.
Last but not least, keto is a growing area of interest for consumers. Koia recognized the importance of keto beverages and launched the first plant-based keto beverages with approachable flavors in 2018.
So, how does Koia rank on these attributes? In analyzing the most common words in Koia reviews, we noticed that protein is the most frequently occurring term, followed by keto. Flavor and taste are not too far behind. This analysis helps us show that Koia is delivering on the things that matter to consumers.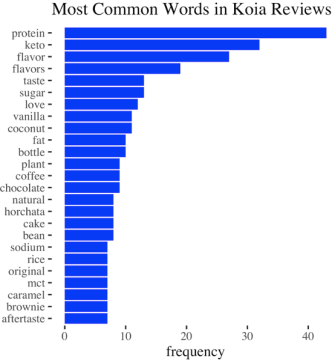 Source: Helio
We're excited to partner with the team at Koia on their mission to unleash the power of plants (in a craveable, on-the-go format)!