nutpods marks one of the earliest examples of the impact Helio can have in surfacing young brands with strong conviction early in their trajectory. When Helio found nutpods a few months after the brand launched, nutpods had generated less than $50,000 in revenue, but showed exceptional brand growth, largely driven by outstanding product reviews. Fast forward to today, CircleUp Growth Partners is excited to announce our investment in nutpods, acting on the data-driven conviction Helio revealed to us in 2015.
When the CircleUp team first met Madeline Haydon, founder and CEO of nutpods, we were immediately impressed by her passion for her product, unwavering plant-based vision and courage to build her brand differently. Fittingly, Nutpods was born in a less traditional way. The product, originally developed by Madeline to solve her own dietary needs, became a viral sensation on Kickstarter in a 2015 campaign. Shortly thereafter, it launched in the market and was initially sold exclusively through e-commerce channels. The nutpods product, an unsweetened, plant-based alternative dairy creamer which is now available in both a fresh and shelf-stable format, immediately resonated with consumers.
nutpods has grown at a 500% compound annual growth rate in the past two years. A major driver for the growth has been nutpods' social media presence, which provides a platform for affinity, category and brand education, and real-time referral from the individuals and "tribes" (such as Whole30) who purchase the creamer regularly. nutpods' consumers consider the product a true solution and not just an "alternative" to being lactose intolerant, or to avoiding the cholesterol of dairy creamer, or to improving dietary habits.
The nutpods brand is still in the early innings and 2018 is off to an impressive start. In addition to strong performance across e-commerce and natural channels, nutpods has recently increased its footprint in strategic conventional accounts. We are excited to see the brand continue to grow at a rapid pace as awareness exponentially increases.
Aside from Madeline's leadership and the brand's compelling growth, there are three powerful market trends that nutpods uniquely sits at the intersection of:
1. Health and Transparency Trend
People are increasingly conscientious about their health and they demand transparency from the brands and products that they purchase. Ingredient labels have become the central focus, and the longer the list is of hard-to-pronounce ingredients, the more dubious a consumer becomes.
Within the creamer category, the largest incumbent brand, Coffee Mate, has been on the market since 1961 with an unchanged ingredient label riddled with inputs hard to decipher, specifically artificial ingredients such as phosphoric acid, corn syrup solids, mono- and diglycerides, carrageenan, added sugar, and partially dehydrogenated vegetable oil. By contrast, nutpods is a dairy-free alternative made from heart-healthy almonds and MCT-rich coconuts. The product was developed to ensure that people valuing health and transparency do not have to sacrifice quality.
2. Plant-Based Movement
The popularity of the flexitarian movement continues to increase. While many consumers are not necessarily looking to remove all animal products from their diet, they are looking for ways to use animal products less. According to Nielsen data compiled by the Plant Based Foods Association and The Good Food Institute, sales of plant-based food and beverages rose 8.1% to $3.1 billion in the past year. We believe the growth in the plant-based movement will continue as consumers make a concerted effort to substitute away from animal-based products. Given the highly ritualistic behavior of coffee consumption, nutpods has an opportunity to be the plant-based substitute that will still allow consumers to look forward to their daily cup of Joe.
3. Third Wave Coffee Evolution
The way people buy and consume coffee has changed dramatically in recent years. We now dramatically favor fair-trade and full-flavor beans. People want coffee that is not only made ethically, but also tastes great. As we demand to know more about our coffee and its supply chain, we are also more intentional about what goes into our coffee. It doesn't make sense to pay a premium for a unique roast only to have the flavor spoiled by an artificial sweetener or a plant-based milk that can be watery in texture. nutpods has more reviews on Amazon than any other creamer, including long-standing incumbents, and people overwhelming laud the delicious taste and creamy texture that pairs well with any coffee roast.
Below you can see the growth of nutpods on the Consumer Reach Index ("CRI"), a tool that CircleUp built in Helio to measure the omnichannel growth of a brand across all tracked channels. nutpods' growth in consumer reach has accelerated at a rapid pace, particularly over the last few months, and more specifically, door growth in natural and conventional retailers has grown 400% in the last 4 months.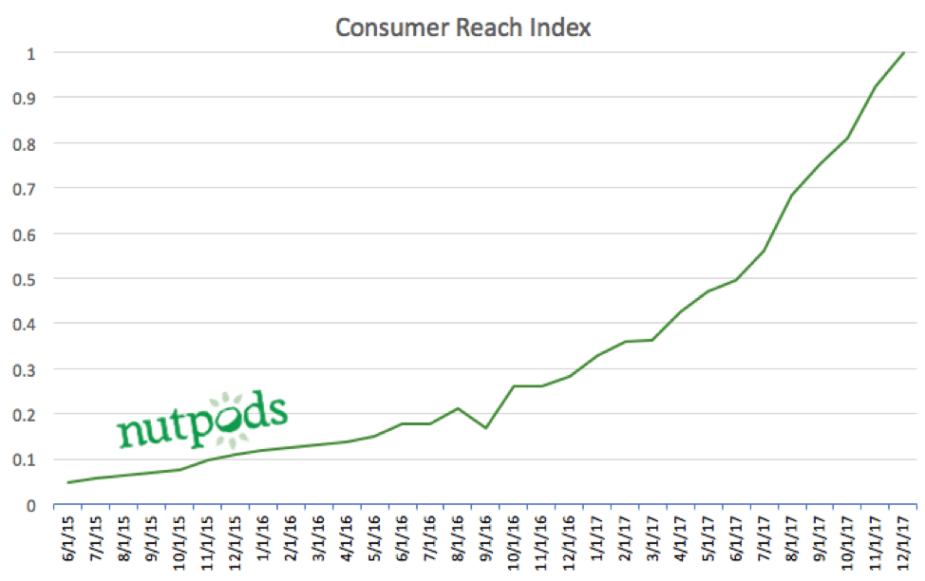 For relative context, nutpods still has only 1/25th of the consumer reach of an established alternative dairy incumbent, Silk, indicating that there is still significant runway for the brand to continue to grow as its ACV increases. We are excited to partner with the nutpods team for their next chapter of growth and we look forward to getting the product in the hands of what will be more loyal nutpods' fans.