---
We are excited to announce our recent investment in Mented Cosmetics, founded by KJ Miller and Amanda Johnson who first met as friends at Harvard Business School. Mented is based in Harlem and is the everyday beauty solution for women of color. Mented, short for pigmented, is designed by women of color for women of color, celebrating shades that perfectly complement darker skin tones. As KJ and Amanda told Allure Magazine, "We started Mented because we believe every woman should be able to find herself in the world of beauty. No one deserves to be an afterthought, and our products celebrate the beauty of all hues."
Our investment thesis below aims to articulate why we are so excited about this investment:
Underserved Demographic
In an effort to understand the competitive landscape, we used Helio, our machine learning platform, to help us validate the market opportunity. Our technology tracks thousands of color cosmetic brands on a number of dimensions, many of which we can analyze within larger categorical populations. In the case of cosmetics brands designed for women of color, we were able to use Helio to identify brands within that subset so that we could zoom in on potential competitors and understand the state of the current market. After further research, it became clear that the existing competitive landscape is dominated by two insufficient alternatives: 1) incumbent prestige players that only offer a limited assortment of products to women of color, but do so with inauthentic messaging and 2) mass market brands that focus on women of color, but do so with lower quality formulations that have not prioritized removing toxic inputs. This leaves a unique whitespace for Mented to be the high quality color brand, committed to creating vegan, non-toxic and cruelty-free products, that serves as the everyday beauty solution for women of color.
Strategic Direct-To-Consumer Model:
When KJ and Amanda first launched, they made the strategic decision to build Mented as a direct-to-consumer brand despite early interest from retail partners. Their authentic story as women of color who struggled to find their go-to beauty brand provided a strong foundation to develop a direct relationship with their consumer and has allowed them to build a growing community that is constantly engaging with the brand. This has resulted in more than fifteen hundred organic reviews on the site. Furthermore, Mented's direct model captures invaluable data that has helped to personalize the customer experience. We believe that Mented's vast data trove will help to inform key strategic decisions including new product launches and the development of offline experiences.
Loyal Brand Enthusiasts:
Today, more than 70% of Mented's sales can be attributed to organic or low-cost channels, largely driven by brand enthusiasts who have shared the brand with their family and friends, resulting in incredibly efficient customer acquisition and strong unit economics. When Mented launched their Everyday Eyeshadow palette this spring, it sold out in a month, and 40% of initial orders came from repeat customers. According to Nielsen's Insights Report from February of this year, African Americans currently hold buying power of $1.2 trillion, and in terms of dollars, African Americans spent considerably more money in the general beauty marketplace last year. Brands such as Mented are well-positioned as beauty spend continues to increase amongst women of color who are looking for brands that are culturally relevant and made for them.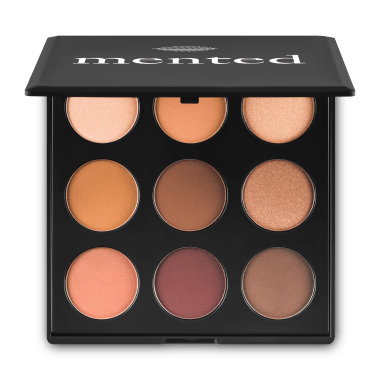 Best-In-Class Founders:
As part of every investment we make, we spend time learning more about the team behind the brand. Getting to know KJ and Amanda has been the highlight of our diligence process. They are passionate, thoughtful, strategic and highly charismatic. They personify the Mented woman. In an effort to highlight their unique perspective, we wanted to include a brief Q&A that we recently conducted with them. This recent Forbes article also includes the fantastic background story behind Mented.
What excites you about the current state of color cosmetics and what are you looking forward to changing or improving?
Independent brands are fueling the growth in beauty right now, and I love that. I love that customers are finding brands like ours – brands that prioritize their specific needs – and falling in love with them. I'm excited that Mented is giving women more choice, and making it abundantly clear that no one deserves to be treated as an afterthought. – KJ
You have built an incredibly loyal set of enthusiast customers. What has this community taught you along the way?
We're so proud of the community we've built around the idea of everyday beauty for women of color. We understand what it feels like to be "othered" in beauty and we wanted to change that. Our community constantly reminds me that doing good and standing up for others matters. We are so thankful for the gratitude and excitement we hear from our customers about the difference Mented is making in their lives. – Amanda
Throughout the process of getting to know Mented, we have been so impressed by you two, both in terms of your individual strengths, but also your ability to balance each other as co-founders. How do you two maintain this dynamic?
Amanda and I have been friends for a long time, and we love and respect each other immensely. Our respect for each other, and our shared goal of ensuring every woman can find herself in the world of beauty, is really the foundation of our relationship. We also spend A LOT of our time laughing… – KJ
We came into this partnership honest about who we are, what we want to achieve, and our strengths. We share a huge vision for what this company will become and what it will mean to so many. Through hard work and honesty our dynamic thrives because we want it to. We choose to be in this everyday. – Amanda
What is one of the biggest lessons you have learned, either through success or failure, since launching Mented?
One of the biggest lessons I've learned is the importance of asking for help. I have a Type A personality and I'm used to figuring things out on my own, but the reality is running a startup requires expertise in a million different things. I'll never become an expert in a million things, but I can recruit those experts and ask for the help I need: I'm happy to say it's a lesson I learned early. -KJ
Mented serves as an unmatched solution for so many women of color. What do you want your community to know about you?
We want our community to know that we are both the customers and owners. We are making products that we use and a community we're excited to be a part of. We're putting our customers first and prioritizing them in a way they've never experienced. We see you, we hear you, we celebrate you. – Amanda
We could not have said it better ourselves. We are incredibly excited to partner with Mented in this next chapter of their story and honored to do our part in supporting their mission to ensure that all women can find themselves in the world of beauty.