By: Jonathan Sandlund
Zero to One is a series that explores the origin stories of entrepreneurs fundraising on CircleUp. Who are they? What inspired them? And what challenges did they face going from idea, to product, to market? From Zero to One.
I'm joined this week by the founder and CEO of Joia All Natural Soda, Bob Safford. Joia's fundraise is open to accredited investors on CircleUp. Learn more.
Bob, tell us a little about yourself. What was your inspiration for starting joia—the "a-ha" moment that pushed you to dive head first into building a new company?
I have had a long career in marketing and over the years have had many ideas for new products and I have never been in a position to pursue them. In many cases, I saw some of those concepts go on to be successes in the marketplace. As a result, I have always had the dream of taking one of my idea/concepts and turning it into a reality. The occasion presented itself in 2010 when I left a corporate gig and for the first time, was in a position to go after my dream.
The inspiration for Joia stemmed from more than 15 years of abstaining from alcohol and a constant frustration of finding anything interesting and dynamic to drink, particularly when everyone around me is having a cocktail or a glass of wine. I was in a Twin Cities restaurant one evening with friends in the spring of 2010… a restaurant that is known for its elaborate mixology. The server brought a taste of a drink to the table as their version of an amuse bouche and I took a taste of it. It was an example of what we'd call today a culinary cocktail with a strong influence from the food world in its use of herbs and spices. At that moment, I guess my "aha" moment, I thought why couldn't a soft drink be created to be similar….something using the more complex flavors starting to appear in all sorts of food categories. After all, my favorite ice cream at the local ice cream dip store is coconut with cayenne pepper and we all love sea salted caramels, not to mention crackers with exotic flavor combinations like sun dried tomato and basil. So how about a soft drink?
Idea in hand, what next? What were the first questions you set out to answer?
I guess the first major thing that happened was a realization that I needed to better understand the beverage category. Despite a 30 year career in marketing during which I worked on brands and services of all kinds, I have never worked in the soft drink category. I also needed to spend some time convincing myself that I was cut out to be an entrepreneur…..particularly at 50+! Fortunately, I was able to network my way to a gentleman named Joe Heron. Joe had created Air Force Nutri Soda in the early 2000s and then sold that early, functional beverage to the Pepsi organization. Following that, Joe started Crispin Cider, which was subsequently sold to MillerCoors. Joe was both an expert on the category as well as an expert on being an entrepreneur in the space. Joe was happy to share his perspective and through our interactions, I got comfortable with the idea of moving forward.
Then came the initial founding team, which, through pure serendipity, came together over the summer of 2010. Steven Walker, a good friend, decided he would join me in helping fund the company through its first year. Carleton Johnson, another Twin Cities marketing guy that I have known for years decided he was willing to join the team to give it a year and then very importantly, I got connected to Dan Oskey, a prominent Minneapolis bartender/mixologist who joined the team as well.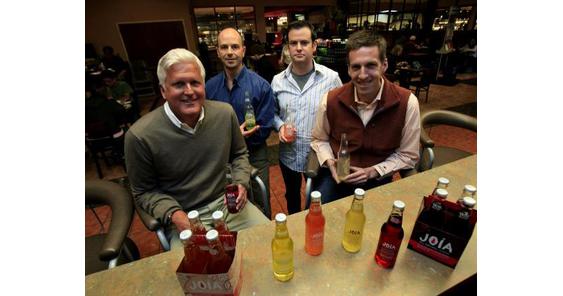 How did you develop the first batch of product? In-house, outsourced?
We developed the first prototype product ourselves. We studied cocktail menus from around the United States to see what fruit, herbal/floral and spice flavors were appearing in cocktails with the greatest frequency. Dan, the mixologist, then started creating our versions just the same way he would have created cocktails for his bar……making syrups and extracts at home in his kitchen. For example, for a grapefruit flavor, we'd use a combination of grapefruit juice but then also super concentrated grapefruit juice that had been boiled down to what was essentially a natural flavor extract. We developed dozens and dozens of variations and then used focus groups to narrow down the possibilities.
We used the first set of focus groups of about 75 people total to evaluate the appeal of the concept as well as to give us direction on varieties. We tested ten or twelve different versions in this first round and in each case, taste tested it up against what we judged to be the closest competitor in the market for that particular variety. The concept was a hit and people loved the prototypes. Generally, we beat the competitive product by 8 to 1 or more, against such brands as Izze and Reeds. So we knew we were on to something.
We then partnered with a commercial flavor house/beverage development group….Flavorman out of Louisville Kentucky…..to make the commercial version of our prototypes. Their job was essentially to match what we had created in the kitchen with a commercially viable product. Over the next six months, Flavorman developed the final four varieties that we launched the brand with in July of 2011.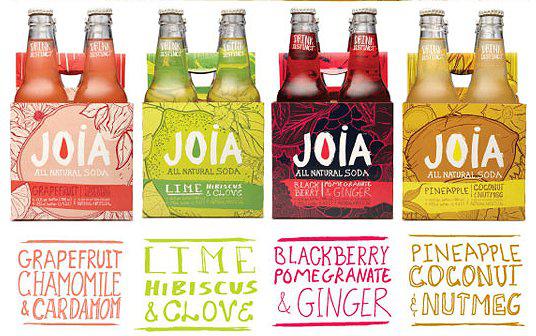 My brothers and I used to order boxes of Jones Soda online. It developed quite the cult following. Grew to more than $40M in sales before IPO'ing. But then in fizzled out. Sales plummeted, and it was ultimately delisted from the Nasdaq. Where did they go wrong?
That's a good question and I'm not sure I know the answer to that. I would imagine though that it had something to do with being a little too "fadish"…a fad that they created really. I'm not sure that their flavor profiles could have persisted for the long run. Is a bacon flavored soda really good tasting, refreshing? I believe that the majority of beverages that are consumed will always be about taste and refreshment…..and that's where Joia excels.
Right now, there is a lot of focus on functional beverages. Obviously energy drinks are here to stay, but they're the cold, sugared version of coffee, which has been around for a very long time. Coconut water will likely have a long life as well because of its strong hydrating characteristics. But there are other many other functional areas that right now are hot, but in my opinion may not last, particularly if the product doesn't taste good, which many of them do not.
One of the things that makes Joia unique is its versatility. It is a great tasting soda that's amazingly refreshing. But it's also a phenomenal mixer that can easily make the type of cocktails at home that people are going crazy for in high end bars all over the country. If you think about the mixer category, there hasn't been much news in that space since tonic was invented. We think it fits perfectly into bars and nightclubs where service can't be slowed down by taking ten minutes to make a fancy cocktail. With Joia it's just as fast as mixing a gin and tonic. It's ideal for caterers to make fancier drinks at catered bars. We also think it's a perfect solution for hotel mini-bars where the hotels are trying to sell larger sized bottles of spirits but guests are wondering what they can mix it with.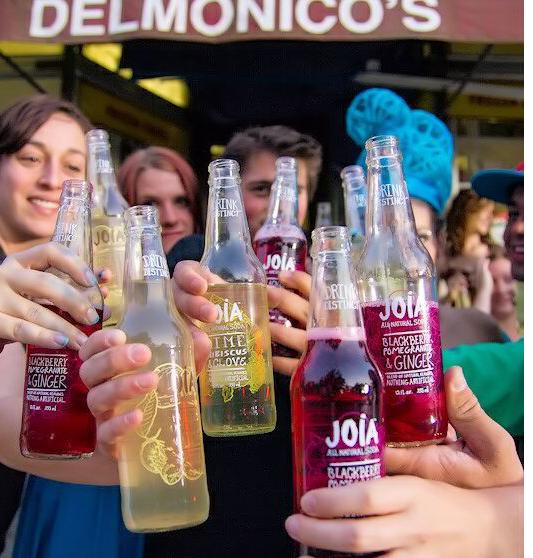 Who was your first retail account? How'd you land it?
We were lucky. The Twin Cities is a perfect market for testing a brand like Joia. So we were able to launch right in our backyard with a brand that made perfect sense for the consumer in Minnesota. The Twin Cities is the second most developed natural foods market in the US so that fit perfectly with the Joia positioning of all natural. It's also a more upscale market demographically than most with higher income and education levels than average so that also fit perfectly with the Joia target consumer.
Lastly, from a retail perspective, this market has always had a significant presence of high end independent grocery stores and a diminished presence by more mainstream traditional grocery chains that might not be as committed to a high end premium soda such as Joia.
Initially, the founding Joia team made all the sales calls along with our DSD partners that covered the Twin Cities. We were fortunate in that retailers such as Lunds/Byerlys and Kowalskis were receptive to meeting with us… likely influenced by the fact that we were a local product.
The meetings usually went like this: "intriguing concept, love the branding….and then they tasted Joia and it was done deal." By the end of 60 days we had virtually all of the relevant distribution for Joia that we sought. Whole Foods took a bit longer, and as we've expanded into other markets, we've definitely learned that it may be a little tougher than it was here in our own market!
What's a mistake you made in your first year running Joia? How'd you fix it?
I think we were a little too focused on their being only one distribution solution in the market. Historically, brands like Joia relied on large DSD beverage distributors to get their product to retail. As the world of DSDs has consolidated, their interest in helping build smaller brands has diminished. As a result, we have to look at new and different solutions for getting our product to market. Today, we have different solutions in different markets and we are trying to learn the ideal role that each type of distributor can play and how to best manage a hybrid solution in each market.
For the time, you've chosen not to have an e-commerce presence. What are the advantages / disadvantages of owning direct-to-consumer distribution for a young, growing brand?
I think you have to evaluate this specifically from the category that we are a part of. The online grocery business has yet to explode and most of the business that is there is with retailers who then deliver directly to their customers' homes. Fresh Direct in the New York area would be a good example of this. Or Amazon with what they're testing in LA. Not many groceries are bought online and shipped using UPS, Fedex or the Postal Service. I suspect that's for a couple of primary reasons. One, most grocery products are pretty ubiquitous and easy to find, and secondly, they are fairly low priced, low margin items that are either bulky or heavy or both…..or they spoil without refrigeration. Makes it tough. A case of Joia is about 33 pounds and costs anywhere from $25 to $100 to send through the mail to a consumer depending on the service. And a case of Joia at retail price is about $36. That's always going to be a limiting factor.
How do you structure your sales team?
We're a very small company….everyone sells! We have begun to put more infrastructure in place though and as we grow, this will continue to develop with some people focused on managing distributors/brokers and the chain retailers including natural and others focused on selling up and down the street accounts as well as some focused on regional/national food service account development.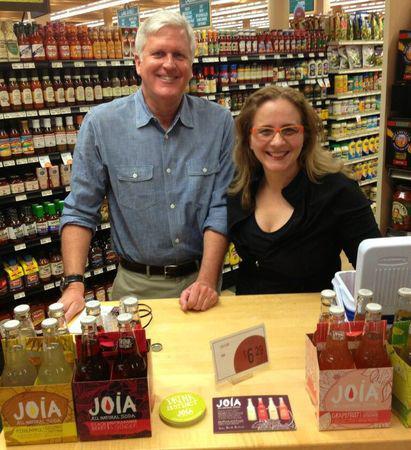 "We're a small company… everyone sells." Love it! What an amazing story. Thanks for your time, Bob! For those tuned in, learn more about Joia Soda's fundraise on CircleUp.
ABOUT THE AUTHOR:
Growth Specialist @ CircleUp. Previously @ TheCrowdCafe. Passionate about helping accelerate the shift of private capital markets from offline to on, closed to open—and opaque to transparent.