What do zucchini, cauliflower, sweet potatoes, and peas have in common? These vegetables have taken on new forms, from baby food to pizza, pasta, and burgers, to make this year's list of CircleUp25 winners for the innovative ways they bring fresh produce and vegetables to commonplace family staples. As plant-based products have continued to capture consumers' attention and fridge space, familiar favorites are being reinvented to stay relevant and deliver across taste, nutritional profile and dietary preference.
Herbivores and omnivores alike have rallied around plant-based alternatives to traditional meat and grain products but the impact of brands like Cece's, Caulipower, Beyond Meat, and Once Upon a Farm extends beyond just an ingredient deck. These brands have not only created products using fresh and healthy ingredients but are challenging the traditional categorizations of these products. In this piece, we'll take a closer look at why these brands stood out to our judges and to our machine learning platform Helio.
Burgers – Beyond Meat
Since Beyond Meat came onto the scene in 2009, the producer of plant-based meat has led the movement around "The Future of Protein." Offering an alternative to hiding peas in your kids' food or traditional veggie burgers, often inconsistent across taste and nutritional value, the company has pursued the goal of reconstructing meat from plants to a point beyond distinction from animal protein itself. If it's any indication that they are well on their way to achieving this goal, Beyond Meat has begun to see their plant-based patties outsell traditional beef patties in several of their retail locations.
Part of Beyond Meat's competitive edge is the brand's ability to sit outside of the veggie burger set and compete against traditional meat offerings, attracting not just vegetarians and vegans but omnivores seeking cleaner sources of protein. "We were the first meat-free burger to be stocked in the meat section at Whole Foods," Beyond Meat chairman Seth Goldman told the Independent. Beyond Meat made this placement not only a priority but a prerequisite for placement in store. "We made a rule that if they weren't going to put it in the meat case, we weren't going to sell it to them," said founder Ethan Brown in an interview with Forbes.
This rule has served Beyond Meat well as they continue to gain new points of distribution and earned the brand the strongest brand score of the 81 companies tracked in Helio in the meat and seafood alternatives category. Through Helio's brand model, we look at things like the size of their followings on social media, how often they share content, consumer engagement with that content, the rate of growth of followers, and a combination of other point in time values and historical growth. All of these are controlled for the category that the brand belongs to and adjusted to different rates of digital brand engagement that we have seen across different categories:
Meat & Seafood Alternative Distribution of Raw Brand Scores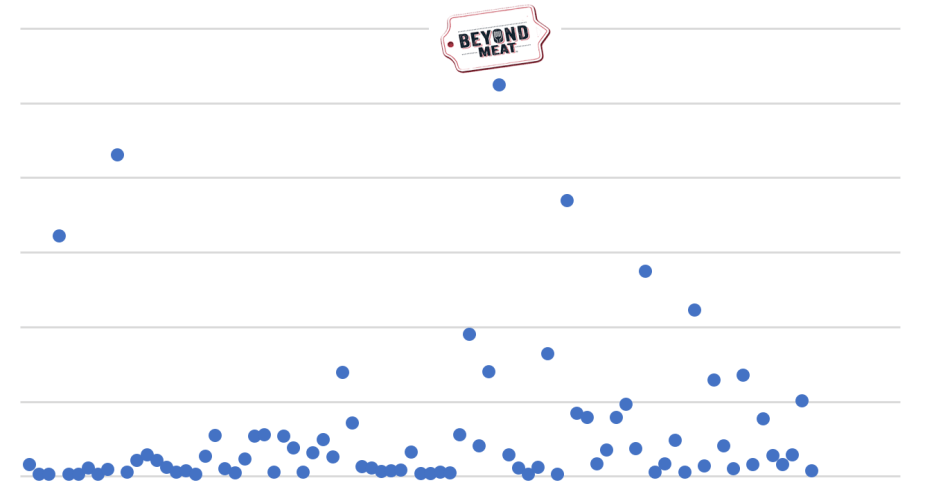 Meat & Seafood Alternative Decile Brand Rank

On a composite basis, Beyond Meat stands above the rest of the field. What sets it apart can be seen in the breakout by the subscores; in particular it is well ahead in its engagement with its audience. Positive engagement rate measures engagement per post while positive engagement volume assess the total volume of engagement. We also see that compared to the rest of the category, Beyond Meat scores in the top decile of total volume of content when normalized against the rest of its category alongside strong social following that is eager to engage with the brand.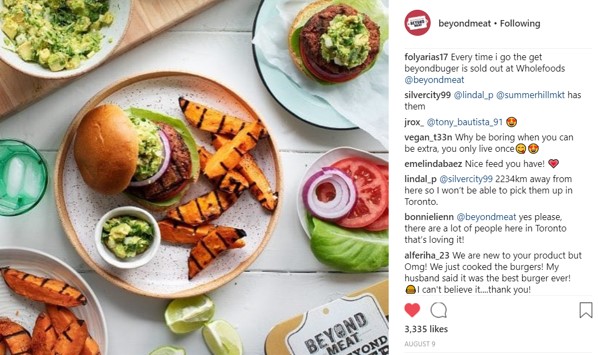 As they have challenged the definition of meat and broken outside of the veggie burger category so often relegated to a singular fridge in the store, the impact of Beyond Meat's innovative offerings extends across both vegetable-based and traditional animal protein offerings.
Baby Food – Once Upon a Farm
With industry veteran John Foraker and household name Jennifer Garner at the helm, Once Upon a Farm has reimagined baby food and raised the bar in terms of freshness and quality. Compared to its category, Once Upon a Farm boasts an 100% organic ingredient deck with ingredients cold pressed through high pressure processing (HPP).
% of Organic Ingredients in Once Upon a Farm vs Baby Food Category Average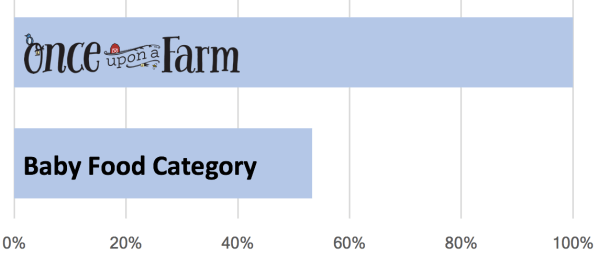 Through this manufacturing process, Once Upon a Farm is able to maintain the quality, nutritional value, and freshness of their ingredients as research has continued to educate parents on the presence of heavy metals in other baby food brands. With plans to grow their own produce on Jennifer Garner's revitalized family land in Oklahoma, the company has prioritized transparency around where and how their ingredients are grown. This strong emphasis on fresh extends to their unique position in the store as well as the tagline, "From the fridge, not the shelf."
For brands in traditionally shelf stable categories moving to the refrigerated section of the store, the challenge is pushing the consumer away from where they have typically found the product towards a new part of the store. Yet there is a clear advantage for brands like Once Upon a Farm when the consumer takes a look at the fridge and doesn't have to choose amongst a sea of sameness but is instead presented with a highly curated set of fresh options. Such an advantage has provided Once Upon a Farm with continued traction online and off. The company has conducted tests with retailers like Kroger to place the product within its competitive set but in a new, standout way and more importantly, shelf space nearly all to itself. Once Upon a Farm has seen strong growth in distribution and social reach shown here in Helio's Consumer Reach Index ("CRI") growth. The CRI measures things like the presence and growth of a brand online (e.g. social media) and offline (e.g. grocery stores) and it provides a top down time-series view of consumer reach to see how it has changed over time or how that reach compares to competitors or legacy category leaders. A value of 1 is the peak point of reach in a brand's history or the peak point of all measured values if more than one brand is included on the index. Here, we look not only at the current CRI score but also how each brand's score has grown over time against Sprout and Amara, two other organic baby food brands:
Once Upon a Farm Consumer Reach Index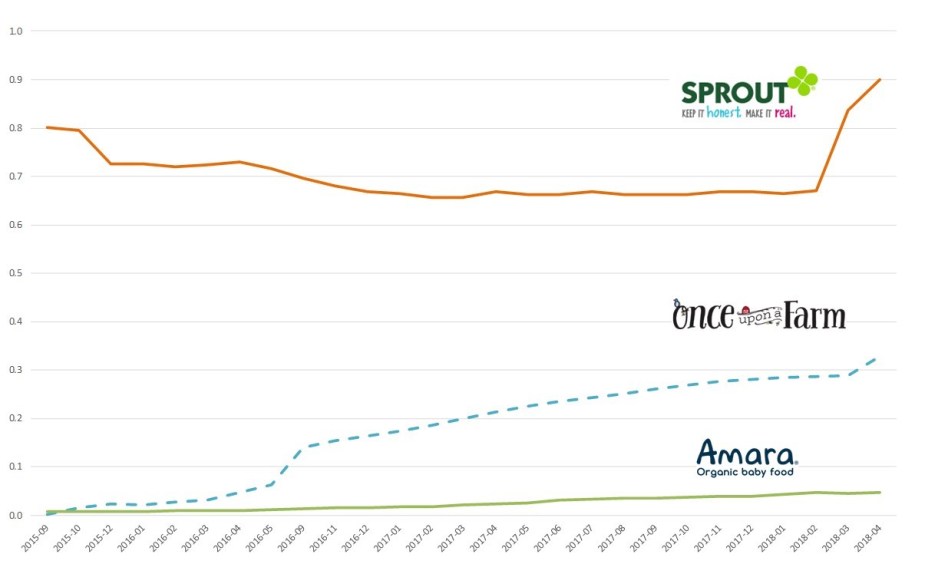 Pizza – Caulipower
Caulipower is "revolutionizing America's favorite comfort foods," starting with their cauliflower crust pizza. Naturally gluten free and lower in carbohydrates, their pizza addresses a number of dietary and allergy concerns while also offering an alternative for those whose dietary preferences are driven primarily by the desire to live a healthier lifestyle. Compared to competitors that offer traditional frozen pizza, as well as allergen-focused brand platforms offering pizza in addition to products like dairy-free cheese or gluten-free cookie dough, Caulipower's pizzas have seen continued growth into 2018:
Caulipower Consumer Reach Index

CRI only includes doors in which each brand's pizza SKUs are sold
With Caulipower's extension into baking mixes and the brand's momentum over the past year, we expect they'll continue reinventing family favorites and comfort foods with the power of their super vegetable.
A year ago the brand had almost no offline distribution, but here, Helio shows how the brand has grown quickly and spread to major distribution areas across the country.
Caulipower Major Distribution Areas July 2018
Pasta – Cece's Veggie Noodles
With the demand for gluten-free, low-carb and foods free from allergens and intolerances, a number of players have emerged with pastas made from alternative ingredients such as chickpeas, quinoa, and even yams. The latest trend in pasta that has taken over consumers' kitchens (and Instagram feeds) is turning raw vegetables into noodle or spiral form. What began as a trendy health hack for home chefs with vegetable spiralizers has grown in popularity, in part thanks to Cece's Veggie Co. Celebrating the versatility of vegetables, Cece's has created a fun and appealing brand around common produce items like zucchini while offering a convenient and easy way to incorporate these pre-spiralized vegetable noodles into meals.
Following in the footsteps of CircleUp25 2017 winner Banza, we see Cece's capturing consumers' attention online and off through their CRI. In this CRI, we can see where Cece's began to gain traction against other alternative pasta brands:
Cece's Consumer Reach Index

Following a similar pace of growth to Banza and outpacing other low carb, alternative pastas, Cece's offers consumers a convenient way to make vegetable based spirals, rice, and "veggicine." By offering this alternative, Cece's is truly unique in that they sell out of refrigerators alongside produce versus shelf stable pastas that sell in the center of the store. This placement has allowed the brand to stand out to consumers who may not be even looking in the pasta aisle at all.
Celebrating CircleUp25 Through The Power of Helio
As consumers have already begun buying noodles from the produce section or vegetables in pizza crust form from the freezer, we expect that innovations from brands like the ones on this list will continue to reshape how the consumer sees familiar favorites. We'll continue look at CircleUp25 winners through other Helio models to celebrate the innovation across the spectrum of consumer brands and demonstrate why data is so powerful in navigating and understanding an industry like this one. For more information, please feel free reach out to insights@circleup.com.