The beauty of Helio, our proprietary machine learning platform, is its versatility in generating valuable findings at the company and category levels which we can use to source the next breakout brand or key strategic insight. Sometimes that approach can be very nuanced and granular, but sometimes we simply ask Helio for a shortlist of high potential diamonds in the rough. This past winter we found one in Liquid I.V..
Fast forward and we are very excited to announce our investment in Liquid I.V.. Founded by Brandin Cohen and based in Marina del Rey, CA, Liquid I.V. is the product for health-conscious and busy people who want to stay hydrated and be at their best every day. Based on science pioneered by the World Health Organization, Liquid I.V.'s Cellular Transport Technology (CTT)™ uses a specific ratio of sodium, glucose, and potassium to deliver water and other key nutrients directly to your bloodstream, hydrating you faster and more efficiently than water alone. The result? A powder that when added to water multiplies its hydrating effect by 3x. It has taken the country by storm: growing sales over 800% last year, selling in over 20,000 retail locations and reaching #1 on the Amazon Best Seller List for sports drinks.
If that wasn't enough, below we break down our full thesis about this elegant solution to a true dehydration problem:
Helio's Conviction
Helio quickly flagged for us that Liquid I.V. had a brand rank of 10, meaning that it scored in the top 10% of companies in its category (vitamins & supplements) for the strength, reach, and intensity of its brand. Brand rank matters to us, because we've found it to be a metric that is very predictive of future revenue growth. Companies with a brand rank of 10 have about 16x the expected revenue growth of companies with a brand rank of 1.
Another signal of Liquid I.V. resonating positively with consumers was its great product reviews. Below is a Helio cross sectional of the 1,500 vitamin & supplement companies that have at least 50 product reviews, with each dot representing a different brand. Liquid I.V. was among the strongest brands in this chart, telling us that something exciting was happening here.
Brand Rank and Product Review Cross Sectional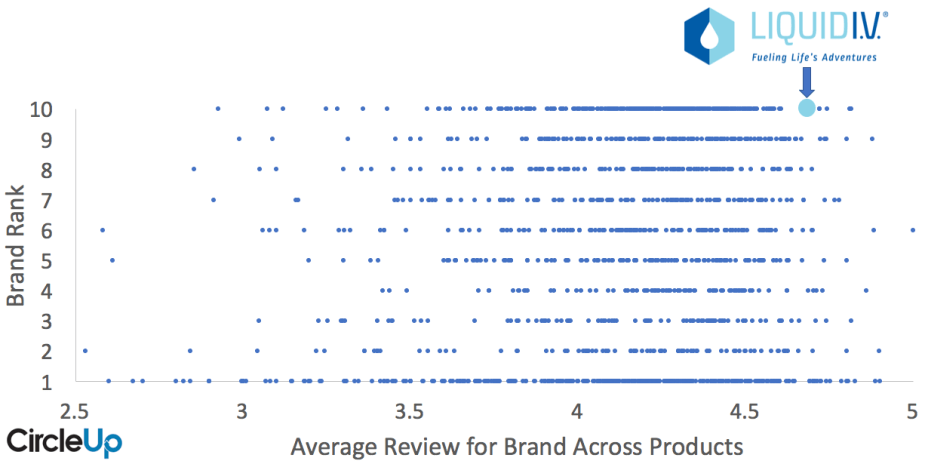 Under Brandin's leadership, the company spent much of 2016 and 2017 growing its retail footprint before reaching an inflection point around back to school season; online sales shot up, Costco came knocking, and the brand began converting consumers to subscribe directly through its website. Sales more than doubled in consecutive quarters, a signal we rarely see. Helio flagged Liquid I.V.'s amazing growth and we knew we had to move quickly.
The Dehydration Problem
Most people are familiar with the importance of hydration and know to reach for a glass of water on a hot day or after a workout; however, there is a key difference between acute and chronic dehydration. In fact, CBS has reported that in the United States, 75% of the population suffers from chronic dehydration, the condition resulting from not getting the necessary 10-12 glasses of water every day. Most of us acknowledge that we probably don't get enough water on a daily basis, but it's the resulting health consequences that are often the most surprising. Hydration does not just fuel your recovery time and quench your thirst, it drives your energy levels, immune system, mood and mental alertness. Ironically, hydration solves many of the symptoms that people instead attempt to treat with our favorite dehydrator: coffee. The science is intuitive — your body is made primarily of water, so fueling it with water is necessary for peak performance. We expect that as more people learn about the symptoms of chronic dehydration, they will turn towards products that help give their bodies the hydration it needs.
An Elegant Solution
When we asked Brandin about the catalyst for Liquid I.V., he told us a story of working for the Arizona Diamondbacks and watching the players opt out of Gatorade in favor of a hydration formula meant for young children. If the best athletes in the world were starring in commercials for sports drinks but consuming children's medicine to stay hydrated, then there was clearly an untapped market opportunity. With CTT, Brandin combined powerful science and a high quality brand to educate the consumer of a key health problem and provide an efficient solution. At its core, Liquid I.V. stands for everyday hydration; whether you're coming off a long flight, fueling up for a big workout, or just needing to be alert and on your A-game for a big day of meetings, Liquid I.V. helps make sure you're feeling and performing at your best.
The Road Ahead
We could not be happier that Helio led us to Liquid I.V. Getting to know Brandin over the past year, watching the team grow and witnessing consistent validation from key critics has us more and more excited every day. Not only has Liquid I.V. impressed the Costcos and Whole Foods of the world — it's in 25% of NBA locker rooms and being used by United States Marines overseas. We're excited for what's next as the team battles dehydration for many years to come.