"Craftsman and Wolves is, more or less, a patisserie and café," says William Werner, the chef and one half of the team that owns and runs the fantastically named San Francisco pastry shop. The other half is Sarah Werner, who adds, "But we offer something that's not really available with other pastry shops." That something is hard to pin down, yet it's at the core of Craftsman and Wolves' success.
The most famous item on the Craftsman and Wolves menu, The Rebel Within, is an apt example of that inexplicable something else: a savory muffin, made with asiago cheese, sausage, and green onion, all gently hugging a soft-cooked egg that is, somehow, perfectly embedded at the center. It is both practical — a balanced breakfast that can be consumed on the go — and a marvelous example of artistry and culinary skill.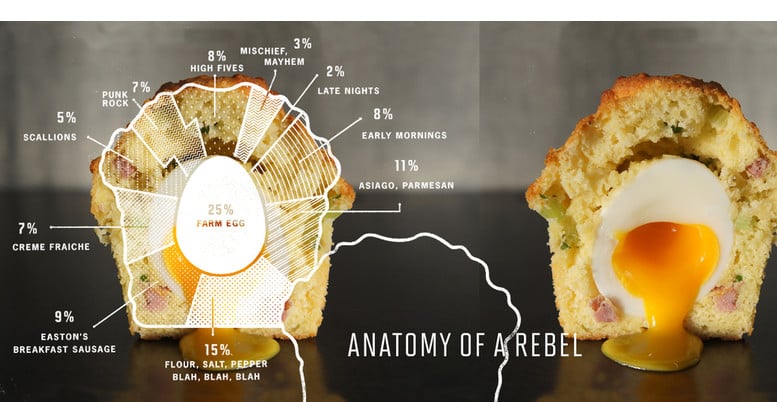 As soon as you walk into the shop this pull between two (seemingly) opposing worlds is everywhere you look. The old and the new, the traditional and the innovative. Warm, exposed brick comfortably rests next to sleek, black counters. The pastries that sit atop, are ornate and often have an exotic twist, yet they're filling — at their core the breaded treats you've been eating all your life: croissants, muffins, cakes.
This clever take on the traditional patisserie has gathered Craftsman and Wolves plenty of acclaim and word-of-mouth buzz. So much so, in fact, they're expanding into two new locations this year alone, one in Russian Hill and the other down in L.A. Currently raising capital to fund expansion on CircleUp, we took the opportunity to pepper the Werners with questions about this unusual combination of American fast food and the more leisurely style of French cafes, how they plan to keep the local feel as they expand, and what they're doing differently this time around with the new stores.
You're in an extremely competitive category. How do you differentiate?
William: If you look at Paris, there's a pastry shop on every street corner, and they're each very chef-driven and personality-driven. Around us there are a lot of other bakeries and things going on, and I think it's a good, healthy competition. Part of our way of staying competitive is just staying true to our brand; Our customers expect a refined, chef-driven, farm-to-table product and consistently great customer service.
But having a strong social media presence and a community of loyal customers is important too. One of our main strengths is just constant innovation. Continuing to surprise guests, but also continuing to offer the items that they've come to know and love. Innovating also keeps us interested and keeps employee turnover low. We're constantly trying new techniques, new flavors, new displays, presentations, and ideas.
That kind of marketing and constant innovation can't be cheap.
William: I wouldn't agree that constant innovating has to be expensive. I think we can actually make things more efficient. We keep food costs low by managing the menu well, crafting an experience. We only do one type of sweet muffin, but it's a glorious blueberry, salted butter, caramel muffin. When we notice blueberries aren't in season, we'll do another muffin. We're able to innovate but also use innovation as a tactic to streamline labor, and make things more efficient, which makes it possible to get our products in the hands of more people.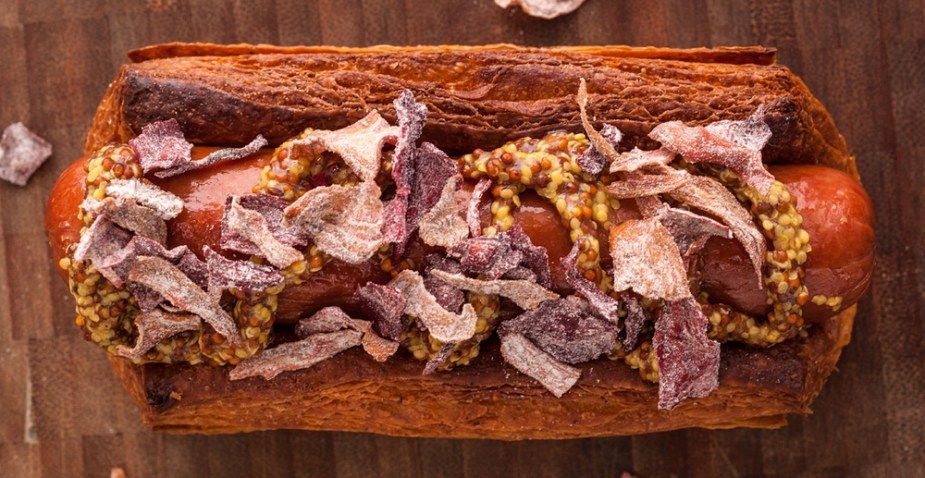 How do you guys create customer loyalty? How do you keep it?
William: One of the places to start is with providing great service for different kinds of customers — creating an equally great experience for customers who come in to grab a croissant and those who come in to immerse themselves in the entire menu. Those are different experiences. One just wants to get their food and go, and the other wants to know where the blueberries grew and how The Rebel Within is made. The staff is encouraged to be quick and efficient, but to spend that time with guests whenever they want that. I think that's something that has given us a lot of brand loyalty.
Sarah: People have fun following our social media accounts; We embraced it from day one. William takes great photography, which works really well for us — he's created this whole loyal following on Instagram, behind the scene shots in the kitchen. When the team is working on a new recipe he'll take a photo of it, and say, "Testing," or, "This is going to be in the shop this weekend," and people will show up almost immediately, asking about "that thing posted on Instagram."
Are you approaching your second and third locations differently than your first?
William: Totally. I mean, there's a big learning curve just figuring out the flow of the shop. When we opened the first shop we didn't expect to sell a lot of coffee. We didn't necessarily put in the strongest barista station to accommodate these sales, but it's extremely popular. Just the way the customer comes in and approaches the counter leading up to the actual transaction area has been fine tuned.
The first store is your first baby, and it looks beautiful and perfect, but then you find yourself wishing you would've put this area two feet closer to the cash box. It's very specific, how we're approaching the guest experience. With the second store, we straightened the case, just a little bit, so as soon as you walk in the door you get can clearly see everything we have to offer before you get up to the cash register. We've also moved the coffee counter to almost the opposite end of where it sits in Valencia. So you can order coffee immediately and by the time you pay, your coffee is hot and it's there waiting for you.
Sarah: For our L.A. location the architectural team has built this separate and enclosed barista station, so there's no bottlenecking. Guests can easily move over to where the barista station is and grab their drink and go, or they can sit — we have an amazing amount of space outside with a window so you can hear your order called, even if you're sitting outside.

Let's talk about hiring. How do you maintain a low turnover rate?
William: It's funny. We're in San Francisco, so we hear all these fantasy tales about the Google campus, and Twitter, and everything else. I think that's something that we strive for. We're not building fancy campuses, of course, but we're getting employees involved and innovating — feeling like they really have a voice here. With social media we really let people see the story and they want to come work with us, learn the skills and techniques that we're using.
Does your hiring process change now that you're hiring for multiple locations?
Sarah: We've recently hired an operations manager, which I think will be key in helping us with the interview process immediately. Going forward it will help us maintain the right standards at each location, making sure we never feel like a chain. Just keeping up that feel and culture of Craftsman and Wolves is tricky. But then also making sure things are really efficient and the team is happy, is critical — making sure they can have the tools they need so they can concentrate on just the customer service, that's important.
Did you always know that you wanted to have more than one storefront?
Sarah: Yes. We always knew we wanted to have more than one. The way that we set up our secondary kitchen — i.e. separate from our actual pastry shop on Valencia Street — was done purposefully so that we had enough space and equipment and staffing to stock another location when the time came.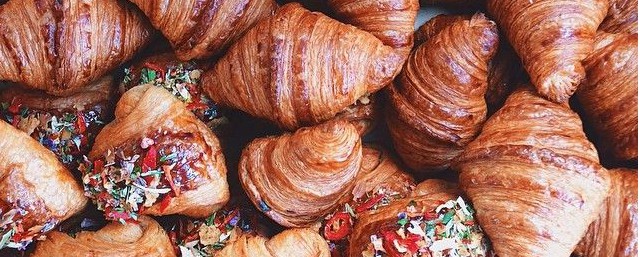 What made you decide to go to L.A. next?
Sarah: The L.A. location has been in the back of our minds for awhile — opening down there is a little bit more manageable for us than something farther away, like in Chicago or New York. And we had a fan base brewing in L.A.; Many of our online orders come from L.A. and there are all the people who come up from L.A. to spend a weekend in San Francisco. They stop in and tell us how much they enjoy it.