By: Steven
If your friend told you that you have to try this great new superfood, and then handed you a banana, you'd probably give them a perplexed look.
But that's just what superfood brand Barnana is doing—taking the humble banana and elevating it into a superfood snack with a cause, reinventing food waste. But the growth of Barnana's line of chewy banana snacks is anything but humble. Between 2012 and 2016, it became the fastest-growing snack in its category, with a compounded annual growth rate of 139%.
So how is the Barnana team making this household staple "super"? And how is the trend redefining our perception of superfoods as ancient grains, elixirs and Amazonian berries?
Sustainability Leads The Brand
Barnana leads with a very specific mission: "to end food waste."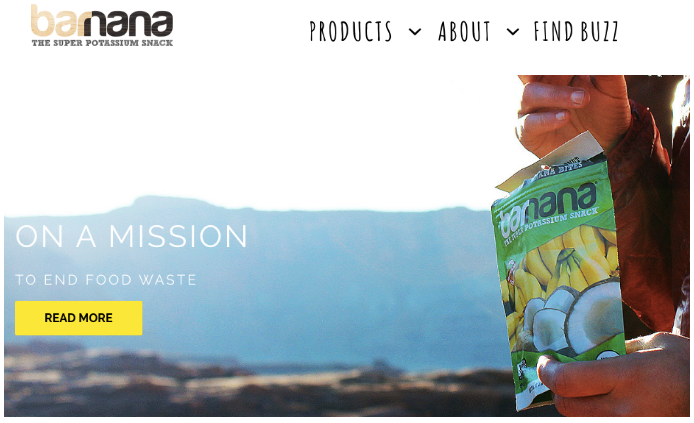 Source: Barnana website
According to its website, 20% of bananas are wasted because they're "imperfect" — that's a fifth of one of America's most prominent fruits. Barnana's product offers a direct answer—take these wasted ingredients directly from organic banana farms in Latin America and "upcycle" them to create potassium-rich snacks.
This mission has also become Barnana's defensible business model. It allows them to rely on existing manufacturers of bananas rather than needing their own infrastructure. This means they can invest more heavily in spreading their word and supporting the food waste reduction cause. It's a virtuous cycle.
Athletes Are Top Notch Ambassadors
Barnana founder Caue Suplicy was a pro triathlete before turning his hand to entrepreneurship. He had natural insight into what's needed for "fuel foods" to be adopted by athletes into training routines. He knew the athlete community was immune to fads. What these people care about is the energy they're getting that fuels them better and longer.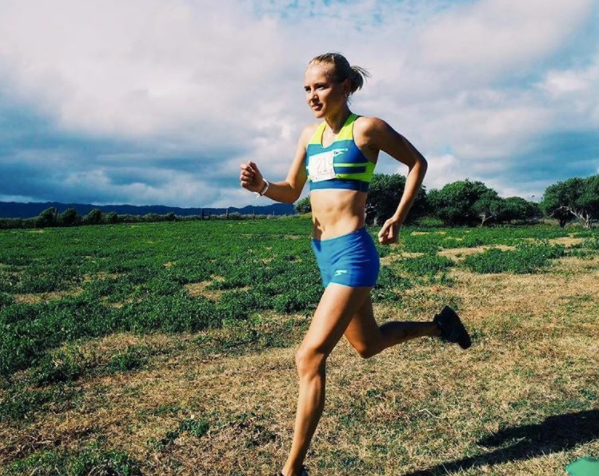 Source: Barnana, Instagram
Barnana engaged the athlete community from the start. It got its community team on the ground, distributing product to gyms and athletes via social media. Now, Barnana works with pro athlete ambassadors, like distance runner Polina Carlson (pictured), to keep validating their product for the health-conscious and active.
This is a proven strategy — we've already seen it work for products like coconut water and Clif Bar. In the health food space, what works for athletes will soon pass down to "regular" people.
Simplicity Often Beats Exotic
To adopt a superfood into day-to-day lives and diets, people need to understand what they're eating. That means exotic foods face an uphill battle when educating consumers about their merits. But Barnana, by staying simple, is able to sell a product most of us have been eating and browning in our kitchens all our lives.
The banana is a genius ingredient to turn into a superbrand, because people already know and love it. Barnana's simple elevator pitch led to a breakout success at their first trade show, Expo West. It also led to their successfully-closed $1m round of capital on CircleUp in 2014.
Often, the simplest CPG products win over customers — IRI's list of 2016's most successful CPGsshows that customers are favoring products with fewer ingredients. Barnana's original snack includes just two.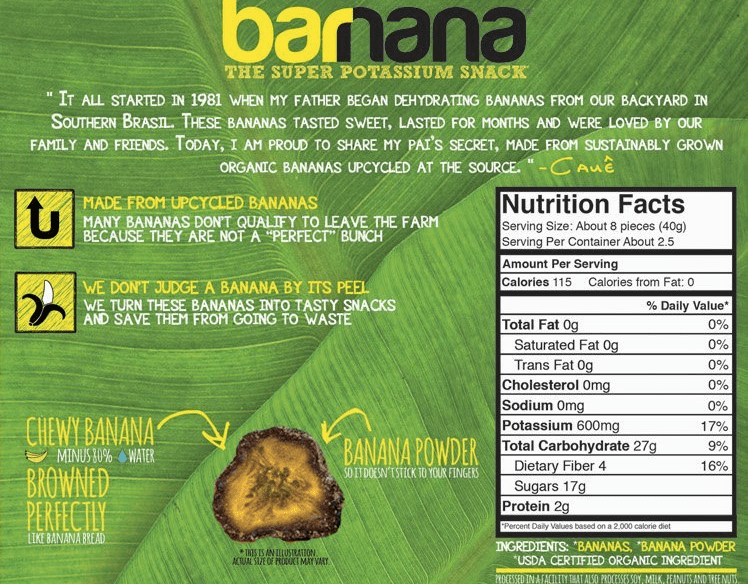 Source: Barnana
Ahead of the Curve
Barnana is predicting where the health food space is going. The superfood category is out of the honeymoon stage now—people are over the myths, and want the facts. They're going back to basics, and the "super" qualities of our ordinary foods will become some of the best branding campaigns.
What's more, people want pay for a products genuinely addressing a social, ethical, or environmental need. Simple yet super products could very likely comprise the pantry of the future.
ABOUT THE AUTHOR:
Steven Vigilante is a Business Development Associate at CircleUp, the platform providing capital and resources to innovative, early-stage consumer brands, and opportunities for sophisticated investors to participate in their growth. At CircleUp, Steven focuses on sourcing and evaluating premier brands and coaching entrepreneurs through the fundraising process. Prior to CircleUp, Steven spent time in Consumer Investment Banking at Cowen and Company. He graduated from Penn State with degrees in Finance and Economics.