Amazon Launchpad is a store on Amazon.com that showcases "unique and unexpected" new products. Here, startups are the preferred vendors.
Source: https://www.amazon.com/Amazon-Launchpad/b?node=12034488011
The Amazon Launchpad storefront is a catalog of innovative products — from reading glasses to road bikes to ski boots to toddler snacks — each with something to say for itself.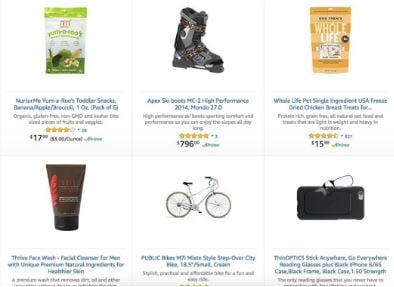 Source: https://www.amazon.com/Amazon-Launchpad/b?node=12034488011
Through CircleUp's relationship with Amazon Launchpad, CircleUp-funded brands have a leg-up on the platform.
The most notable merchandising tools Amazon Launchpad provides are free enhanced product detail pages with HTML and video, free credits to send product to reviewers, inclusion on the Amazon Launchpad storefront and CircleUp collection, in addition to the native Amazon search and categorization.
With this extra support, the makers of Amazon Launchpad are treating startup vendors more holistically, to help promote their unique products and build the e-commerce arms of their business.
Here's how brands are making the most of Amazon Launchpad, and how you can too:
Craft a Narrative With an Enhanced Product Page
Amazon Launchpad vendors aren't just selling their products, they're selling their story. Being able to craft a narrative is super important for new brands. It allows them to differentiate themselves and build authority with customers.
Amazon Launchpad product pages look more like pitch decks. Rows of product images are backed up by videos, recipes, and Q&As with the founders. They're visually compelling — laid out to spotlight product and purpose.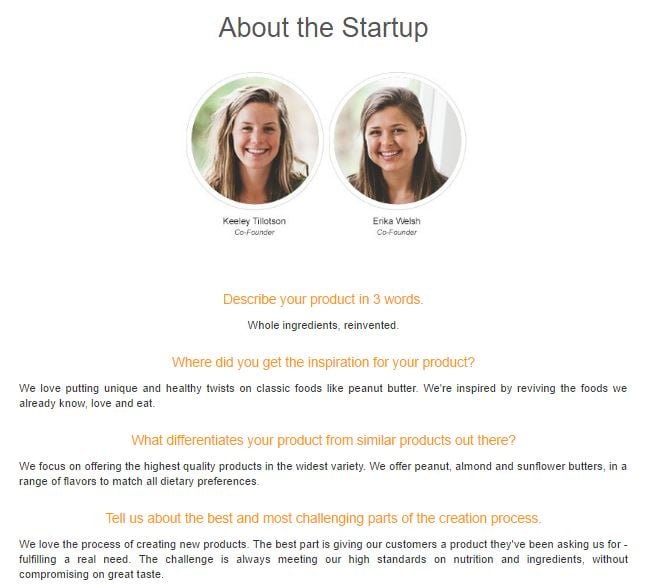 Source: https://www.amazon.com/Wild-Friends-Foods-Sunflower-Butter/dp/B00OMM62KE?th=1
The most important element in driving conversion? The product video.
Amazon Launchpad highly recommends all startups make the investment of putting together a product video. It's a free resource, and an important one for engaging with customers and driving conversion.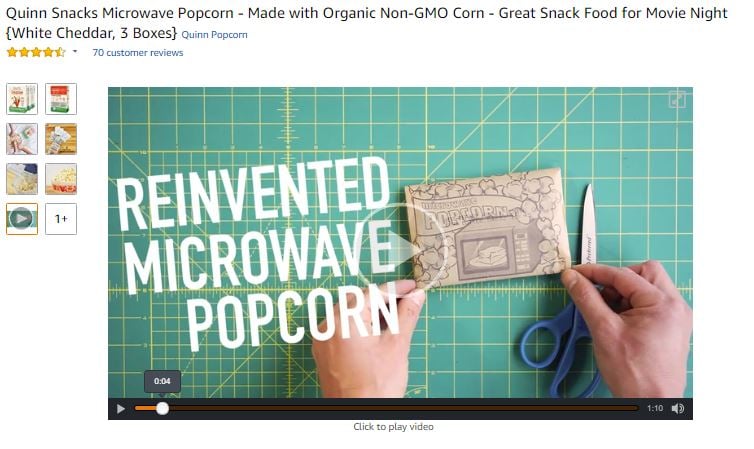 Source: https://www.amazon.com/Quinn-Snacks-Microwave-Popcorn-Organic/dp/B01EVZDNIU/ref=lp_3277718011_1_1_a_it?srs=3277718011&ie=UTF8&qid=1494966804&sr=8-1
By taking advantage of this opportunity to craft a brand narrative through the enhanced page, startups are using Amazon Launchpad to propel their sharability. See how Quinn Snacks puts their product video right at the top of their vendor profile, along with a row of social icons. Ease of discovery is backed up by ease of sharing, providing crucial momentum to that early organic brand growth.
Follow Amazon Into International Markets
As brands scale their distribution after a funding round, they'll start thinking about how wide their scope should be. But there are many risks and costs to be assessed in order to even think about going global. From translating packaging, coping with inventory management, to managing relationships with international shippers, finding vendors overseas, and so on.
Amazon Launchpad can be very helpful in opening the doors to different international markets.

Source: https://www.amazon.de/Rumpl-Blanket-Baby-Iron-Charcoal/dp/B01BZ2W5OU/ref=sr_1_1?s=boost&srs=9418395031&ie=UTF8&qid=1489081600&sr=8-1&keywords=rumpl
This is how blanket brand Rumpl appears on Amazon Launchpad in Germany. With Amazon's infrastructure, the Rumpl founders don't have to worry about translating their product information for new audiences.
Amazon Launchpad vendors' global reach increases as this global program is now present across Europe and Asia, and getting started in one market paves the way for other countries. In fact, if a company launches in the UK, France, or Germany, their offer can get listed across all of these marketplaces at once through European fulfillment and localization.
In July 2016, Jeff Bezos announced a $3 billion investment in India, seeing "huge potential in the Indian economy." By December, Amazon Launchpad was live in India. The storefront includes a "startups from India" section, helping to promote home-grown businesses. According to Deepak Bagla, MD and CEO of Invest India, programs like Amazon Launchpad "act as catalysts for innovative Indian startups to go to market and leapfrog them to the next phase of growth."
By expanding the Amazon Launchpad program into new markets, Amazon is enabling companies to scale quicker overseas with a system of support behind them.
Turn E-Commerce Into a Massive Farmers Market
For CPG brands, growing on the ground is important. Hosting product demos in stores, giving out samples at farmers markets, building a local and regional brand presence — it all helps to distill the product offering into its most popular version and build brand recognition and demand with actual customers.
Feedback is the reason why on-the-ground demos are such a well-used strategy. Amazon Launchpad is designed to put feedback at the heart of the online store too. Vendors get to participate in Amazon's Vine program, where trusted reviewers (those with a history of writing high-quality, useful reviews) are invited to review new products.
High-quality reviews fuel organic growth. Brands now also have a library of testimonials to pull from — whether seeking additional funding or shelf placement in a supermarket, these testimonials are valid brand currency.
The brand also has a chance to respond to reviews and engage in a conversation with those reviewers, a level of service not possible in the brick and mortar stores.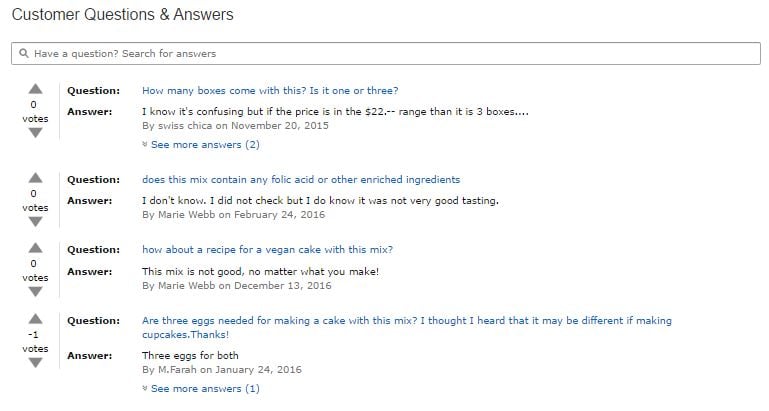 Source: https://www.amazon.com/Simple-Mills-Vanilla-Cake-Ounce/dp/B00TUDFEW2
The Gap Between Brick and Mortar and Online Is Closing
In many ways, the benefits of Amazon Launchpad are comparable to those of traditional retail. Direct connection with customers takes the shape of reviews and live product conversations. Marketing, too, benefits from a personal touch, with profile pages that focus on founders and their products, putting faces to names. While startups are able to think more and more globally, e-commerce increasingly focuses in on their brand stories. The best of both worlds could be around the corner.
*Companies that launch on CircleUp can fast-track their application for Amazon Launchpad. To learn more about CircleUp's partner offers, email us at partners@circleup.com.