Understanding Consumers' Expectations of the Shifting Maternity & Postpartum Apparel Market
Maternity clothing has come a long way since Lane Bryant sold the first ready-to-wear shirtwaist dresses designed specifically for pregnant people in 1900. For more than a century, maternity clothes faced criticism for being poorly constructed, expensive, unflattering, and alternatively shapeless or too constricting. However, the way that consumers shop and engage with brands today is starting to change all of that. In previous decades, a woman looking to purchase maternity clothing would have been aware of a handful of large chains at her local mall with unfashionable offerings, and perhaps several catalogs or high-priced local boutiques. Today, with the rise of highly-targeted digital advertising, it is now possible for DTC brands to greatly extend their reach to expectant mothers.
Sounds interesting? Schedule a quick demo with us!
As a result, there has been an explosion of more niche maternity apparel brands in recent years. And both new and existing brands have greatly expanded the category, which now includes offerings ranging from workout apparel, lingerie, outerwear, formal wear, organic /natural fiber, breastfeeding/postpartum, and more. According to Future Market Insights, millennials' heightened awareness via social media of fashion trends, influencers, and celebrity endorsements, led the maternity apparel market to grow to 3.5% Compound Annual Growth Rate (CAGR) between 2016 and 2020. It's expected to nearly double to 6.7% CAGR by 2031.
With this new glut of maternity options, expectant moms are becoming choosier.
Maternity and postpartum apparel needs to be able to support a woman throughout the length of her pregnancy and beyond. This includes adapting to her changing body throughout each trimester and postpartum, accommodating breastfeeding, and providing physical support where needed. For many first-time moms, it's hard to know exactly how the body will change, so finding maternity clothing that supports any change that may come is a high priority.
Brands that not only meet these needs but go above and beyond to offer support, comfort, and joy to their customers will be best poised for growth in the coming years.
Top Four Things Expecting Moms Want in Maternity & Postpartum Apparel
We looked at Key Purchase Criteria rankings according to online reviews to understand what mamas-to-be care about most when shopping for maternity and postpartum apparel. Here's what we found:
'Fit,' 'Comfort,' 'Durability,' and 'Value for Money' ranked as the most important purchasing factors to consumers according to online reviews. Reviews that discussed 'Comfort' had the highest average reviews compared to 'Fit,' 'Durability,' and 'Value for Money' suggesting that these are all areas where newcomers can disrupt the market.
Fit
'Fit' was the most important factor for consumers. This makes sense considering women's changing bodies require clothes that fit and adapt to their changing bodies. Clothes that are continually too large, or don't stretch to accommodate a growing third-trimester belly don't lead to positive online reviews from customers.
Comfort
Comfort is the second most important factor. Soon-to-be mamas deal with a number of symptoms throughout pregnancy that may cause discomfort including lower back pain, swelling, and insomnia. Comfortable clothing is a top priority to help reduce pain and make their day-to-day as enjoyable as possible throughout the last few months of pregnancy and beyond.
Durability
Durability is the next most important factor for maternity and postpartum apparel. Maternity clothes should last well past the entire pregnancy and postpartum period. According to Pew Research, 79% of moms in the U.S. have more than one child. As such, maternity clothing should not only last through one pregnancy, but each additional pregnancy thereafter.
Value for Money
Value for money is the next highest valued factor when purchasing maternity apparel. Because pregnancy only lasts nine months, and many women don't begin "showing" for some time, maternity apparel likely isn't being worn as much as one would wear non-maternity items. As a result, consumers are looking for great value when buying these items.
Maternity & Postpartum Brands in Helio
Helio tracks 259 emerging Maternity and Postpartum brands. Looking at the door count relative to the online traffic, this market has a heavier online presence compared to in-store. In fact, only six percent of the 259 tracked brands are available in stores.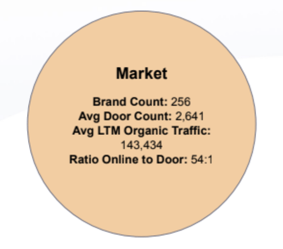 Top Emerging Maternity Apparel Brands in Helio
Plush | HGP: .99
Preview Plush's Helio dashboard
Proof | HGP: .99
Sounds interesting? Schedule a quick demo with us!
Preview Proof's Helio dashboard
Knix | HGP: .99
Preview Knix's Helio dashboard
Interested in learning more about Helio? Schedule a demo today!