By: CircleUp
Condoms are an $11 billion global industry according to researcher Key Note. Between 2007 and 2017 sales are projected to double in the U.S., reaching $1.8 billion. Currently three brands (Trojan, Lifestyles, and Durex) control 95% of this market and they do it without putting any emphasis on sustainability, fair trade practices, or processing without carcinogens—three areas that are increasingly gaining consumer interest. Jeffrey and Meika Hollender (a father-daughter team) co-founded Sustain Condoms in 2013 to address this market gap—growing the brand to more than 3,000 U.S. retail stores by the end of its first year.
When we talk about condoms, we tend to focus on all the good they do. Condoms are a cheap, effective form of birth control and the only form that also prevents the spread of STDs. These facts are incredibly important, but there are areas of the condom industry that desperately need to change, including environmental degradation, rampant child labor, poor health, and low pay on the plantations that source latex, says Jeffrey Hollender, co-founder and CEO of Sustain Condoms.
Hollender is best known for his long tenure as CEO of Seventh Generation. When he left the company in 2010 he decided it was time to to pursue an idea he'd been tossing around for awhile. "15 years ago I trademarked the name Rainforest Rubbers with the idea of developing a line of condoms that would help protect the rainforest," says Hollender.
These days most natural latex is procured from Hevea brasiliensis, or the rubber tree — a plant that's native to South America, but cultivated more often in Asia and Africa. Rubber plantations don't usually officially hire minors, but often have quotas that their adult employees can't meet without the help of their children.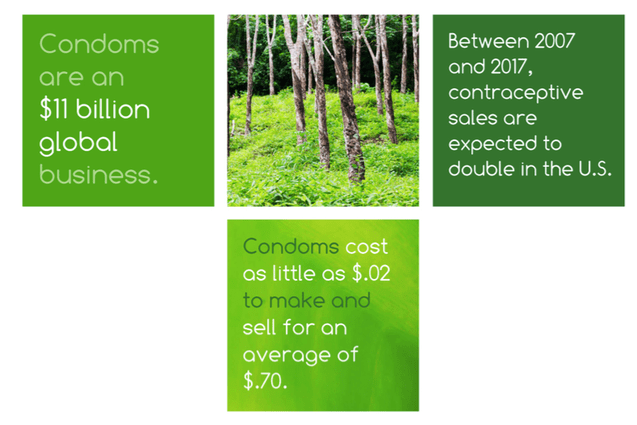 Together Hollender, his daughter, Meika—an MBA with experience in marketing and sustainability—and his wife, Sheila—a lawyer and women's health advocate—traveled the world in search of a plantation that provided workers with a living wage, educational opportunities, health care, and reasonable quotas that enabled their children to stay out of the workforce and in school. Once they found a plantation that met all these needs, and was certified by the Forest Stewardship Council, a key factor, they got to work developing a condom that would particularly appeal to women, a demographic that makes up almost half of condom buyers yet has been largely (and quixotically) ignored by the industry.
Before launching, Sustain interviewed more than 450 women about their condom preferences. Shipping its first batch to retailers in the summer of 2013, Sustain condoms are now sold in nearly 3,000 stores.
Sustain recently closed a growth equity round on CircleUp. We asked Hollender about the safe-sex taboos that still linger in retail, his advice for entrepreneurs trying to bring sustainability to a new industry, and what he would change if he had to do it all over again.
What made you want to go from toiletries to condoms?
So many sustainable businesses and green products are better than their traditional counterparts, but really aren't creating products to solve big problems. Condoms are a great example because they have such a small negative footprint and such a large positive footprint. We call this a net positive impact.
How widespread is child labor within the condom industry?
Few studies have been done, but most have found that child labor is an issue on the large majority of rubber plantations. They've also found that many of the rubber cappers are paid below the minimum wage.
Part of the challenge we face is educational because people don't know what the conditions really are on most typical rubber plantations: child labor, terrible health conditions, and a lack of educational opportunities. Consumers don't know why it's so important to have Fair Trade rubber, so we have a significant educational challenge to explain to people why this is important.
How difficult was it to get retailers onboard?
We've had pretty good success; Seventh Generation gives us a lot of credibility. I think the other part is that we're the first condom that's positioned for women, and that really resonates with retailers because they know that 40 percent of condoms are purchased by women, but there really hasn't ever been a brand successfully positioned for women.
Why haven't condom manufacturers gone after the female market?
Trojan did try about five or six years ago. They introduced a brand called "Elexa," which didn't succeed, and the reason it didn't succeed is because they created a really girly-looking condom. Women found the idea of bringing that home and asking their boyfriend or husband to use it uncomfortable. Up until now, I don't think anyone's really done it right.
You launched with retailers immediately. Did you go direct-to-consumer immediately as well?
We did. We launched our website at the same time that we launched in stores. I would say we've invested the vast majority of our money in supporting our retail business, so we're just now in the last 30 to 60 days starting to really work on building volume in our direct business. People who came to the website, that was great, but we just started to spend some advertising and marketing dollars against our own site. Obviously, buying them online is a much more discreet purchase than retail.
What brought you to CircleUp?
Honestly, I thought it would be really easy for me to raise money given my track record with Seventh Generation. What I discovered was it was going to be a little bit more of a stretch than I thought it would have been to raise the $3,000,000. After I was part way into the process I started looking for partners to help and CircleUp was the best fit.
It was a great experience. I love working with the CircleUp team. It was just a more efficient use of time; The fact that you can get 10 or 15 investors on one phone call saves me a lot of time. I didn't have to do the traveling and the face-to-face meetings that I typically have to do when I'm raising the money myself.
What's been the biggest challenge on the retail side?
There are two main challenges. One would think that given the fact that 80% of single women aren't using condoms, there would be a huge opportunity to market condoms to women, but you run into many retailers who won't let you advertise the fact that condoms are available for sale in their store because they're afraid of the image that presents.
Our research found that women would prefer to buy condoms in the types of stores where shoppers and employees are mostly women—clothing and cosmetic stores. But those stores don't want to sell condoms because they're afraid of what that will say about them as a retailer.
The other challenge is that condoms are a relatively small category compared to the large categories that I was selling at Seventh Generation: laundry detergent, paper towels, etc. Most condoms are actually given away, not sold. When you're in a smaller category, you have to be in a lot of retailers. If you were selling Seventh Generation's line of products, 3,000 stores would generate lots of revenue, but we have to be in closer to 10,000 stores in order to generate the kind of volume that will get us to profitability.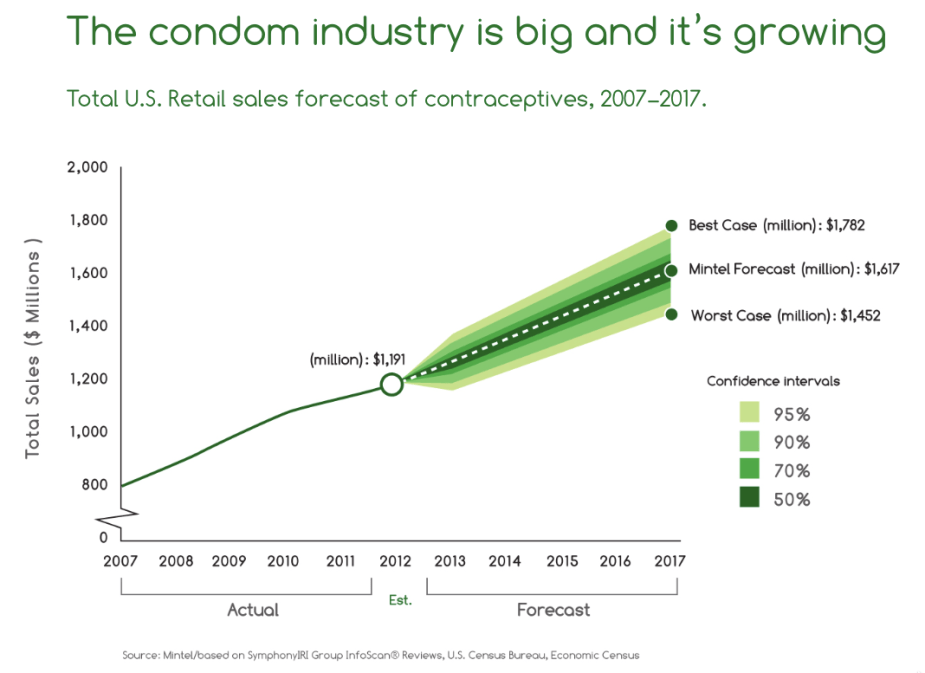 Have you had any success with the clothing or cosmetic retailers?
We have two chains that have committed to work with us. We can't announce those yet, but they will be doing something with us in the next 90 days. That was hard. We talked to 100 retailers to find just two that were brave enough.
If you could go back and change one decision you'd made at Sustain, what would it be?
In retrospect, we should have built a strategy that was much more e-commerce focused than we originally did, because part of the challenge with a retail distribution strategy is you have an intermediary that limits and decides what you can say to potential consumers; when you're selling direct to the consumer, you have the freedom to say whatever you want. We might have even been better off starting with a strategy that was designed 50% for e-commerce and 50% for retail.
What kind of advice would you give an entrepreneur going into an industry without a track record of sustainability?
First of all, you have to understand why other people haven't developed those sustainability benefits and features, and which sustainability benefits and features consumers really care about. And don't get sucked into the belief that consumers are going to spend more money because you have a more responsible or sustainable product. Despite what consumers tell you, outside of food they will rarely pay more because the product is healthier or more sustainable.
What's in store for the future of Sustain?
We'll keep adding retail stores, focusing on e-commerce. We'll be significantly expanding our product lines this summer. In June, we're introducing a line of lubricants and after-sex wipes. Those three things will be our focus: e-commerce, more retail stores, and adding products to our portfolio.