Today, we are welcoming Rowdy Energy to the CircleUp family. We're thrilled to support their bold vision of building the leading better-for-you energy drink brand.
Rowdy pairs natural caffeine with electrolytes and a plant-based amino acid for long-lasting, hydrating energy. To boot, Rowdy's products are keto-friendly with low or zero sugar and no artificial sweeteners.
We first learned about Rowdy through our proprietary data platform, Helio, which identifies, classifies, and evaluates early-stage consumer companies to shine a light on breakout brands. Helio includes 2 million brands tracked over time across 18 billion data points, which amount to 700TB of data. Within the sports & energy drink category, Rowdy was in the top decile of brands in terms of predicted distribution, social, and online traffic growth — putting the company in the 99th percentile in terms of overall propensity for growth. The data alone warranted our learning more.
After speaking with the company's founders, NASCAR star Kyle Busch and Jeff Church, the co-founder and former CEO of Suja Juice, we knew we had found the right partners to address a large unmet need in the energy drink market. As energy drink consumers themselves, Kyle and his wife Samantha dealt with the dilemma that many consumers face when going to buy an energy drink. Namely, they had to choose between options that were full of sugar, artificial ingredients, or both. They teamed up with Jeff to develop a great-tasting product with natural ingredients that delivers a lot more than just a jolt of caffeine, and we believe Rowdy will lead the revolution in clean energy.
We are in the early stages of the clean energy megatrend.
The growth in energy-related beverages is a longstanding trend, and energy drink consumers are becoming increasingly focused on sugar content and other benefits. Better-for-you (BFY) energy drinks with no/reduced sugar, functional benefits, and/or clean ingredients have grown about twice as much as traditional options since 2017. Representing only a third of total energy drink sales today, the trend has room to run. But the leading BFY brands are still loaded with artificial ingredients and sweeteners. Go the next step and strip out that junk while continuing to deliver on the other things that matter to consumers like taste, value, energy, and you've got the potential to disrupt a massive market that's growing fast.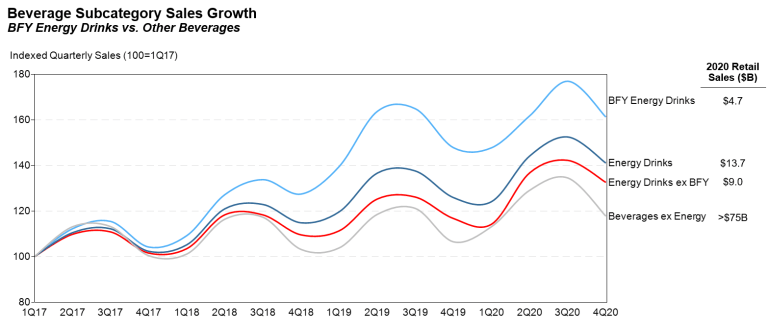 Source: Nielsen
Rowdy is uniquely positioned to move the category forward.
No energy drink subcategory delivers all the benefits that Rowdy brings to the table. Rowdy combines natural caffeine from green tea with a plant-based amino acid called L-theanine to deliver natural energy without jitters or crashes. While other brands with comparable energy blends rely on artificial sweeteners or sugar to flavor their drinks, Rowdy offers natural, low or zero sugar options. Rowdy also contains more electrolytes like potassium and magnesium than leading sports drinks and comes in delicious flavors like Strawberry Lemonade and Cherry Limeade at an affordable price.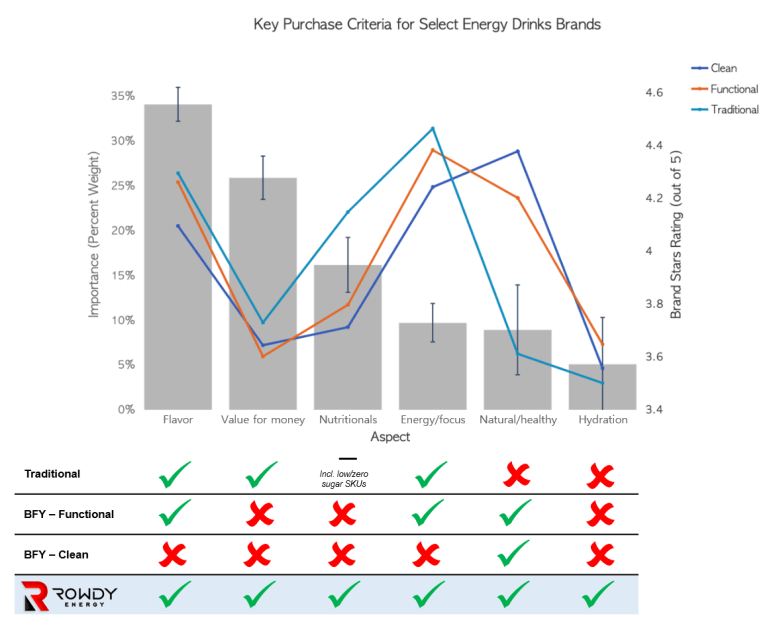 Source: Helio
Rowdy is resonating with consumers.
We believe that Rowdy's great taste, healthier nutritional profile, natural ingredients, and functional benefits truly differentiate the brand, and people are already noticing. Relative to 14 competitor brands, Rowdy has the second highest proportion of reviews that are 5-star. Going a level deeper, consumers are talking about Rowdy's taste and high-level macros most often today. Functional benefits like focus and hydration are mentioned less, but we believe we are still in the early days of consumer awareness around these attributes and we expect demand for these to increase.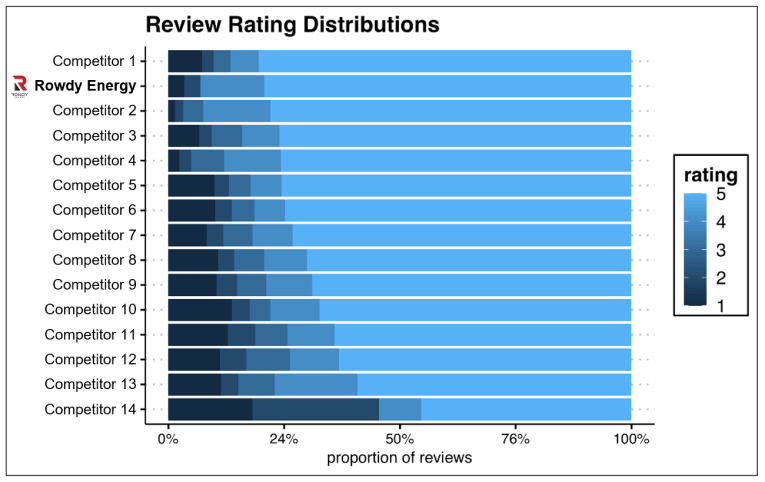 Source: Helio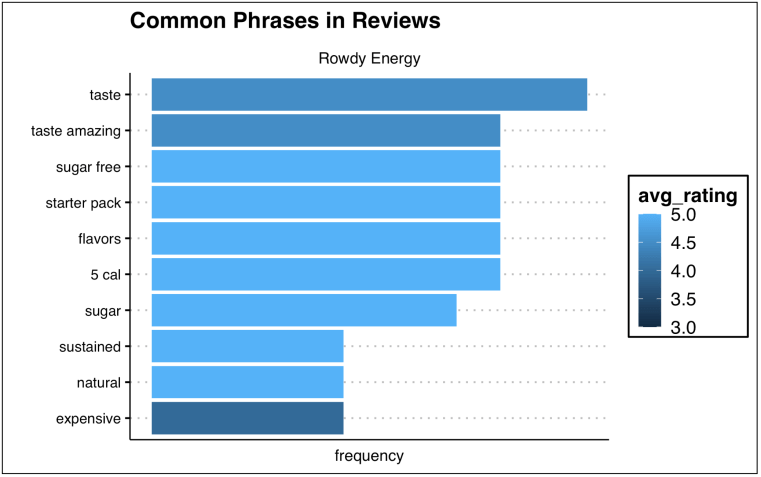 Source: Helio
Rowdy has achieved unprecedented distribution gains.
Supported by the brand's unique ability to deliver on what the modern energy customer wants, Rowdy has secured unprecedented distribution gains since launching in 2020. In the coming months, the product will be on shelves in more than 25,000 stores, including at five of the top ten grocery chains and five of the top ten convenience store chains. Less than 1% of brands across sports & energy drink and related beverage categories have achieved similar distribution gains in the first 12 months post-launch. Rowdy's success getting on the shelf is a testament to the differentiation of the product and the team's execution.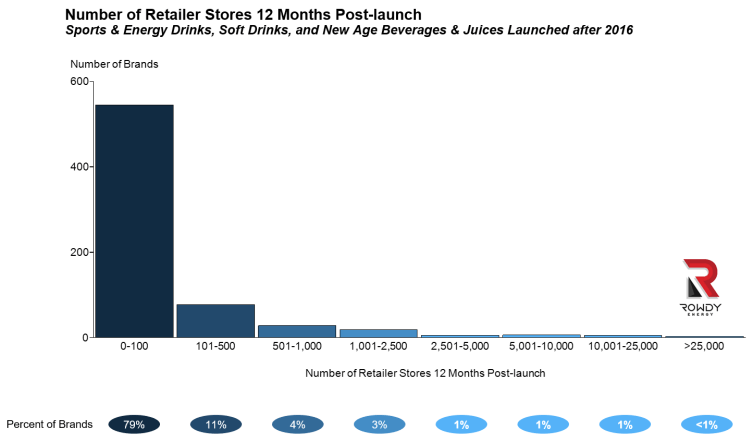 Source: Helio
Rowdy combines a great product with an extraordinary team, and the traction they are seeing with consumers and retailers speaks to both. Trends are pointing in the right direction, and we are only just beginning to see the extent that better-for-you, clean options will shape the energy drink market. We are thrilled to join Kyle, Jeff, and the Rowdy team on this exciting journey.