By: Ryan Williams
About a week ago, I ambled into my building's cluttered mailroom after a busy day to find my name on two unexpected boxes. Onto the elevator and up to my mailroom size Brooklyn apartment they went. I took my key, sliced open the first box and…
I'd forgotten about a silly Twitter exchange (see graphic below) I'd had with Livio Bisterzo, the CEO of Green Park Brands, the holding company behind Hippeas.
What?!?!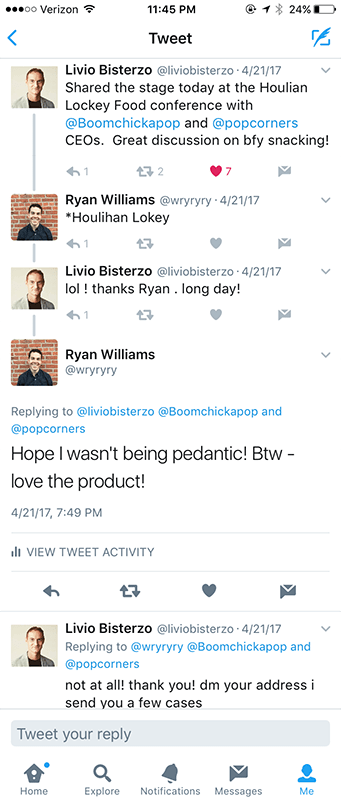 As the screenshot of our conversation shows, it does seem rather pedantic, in hindsight, to correct someone's spelling on a platform focused on instant exchange, not pandering for Pulitzers. My reply presented three options:
Ignore and move on. 🙄
Take offense at my pettiness. 😠
Make lemonade. 🍋 → 🍹
Bisterzo choose lemonade.
In the succeeding days, can you guess my top-of-mind story? You bet: how two free boxes of delicious, healthy, organic chickpea puffs arrived at my door from a superstar CEO whom I'd jested on Twitter.
I gave a few to my co-workers (who loved them), shared a bag with my roommate (also now a fan) and let him take a pouch over to his girlfriend's (new customer #3) before bringing a backpack's worth to a buddy's backyard bash. In all, I'll likely share the story or the goodies themselves with 40+ friends accompanied with an unmatchable sense of brand advocacy.
How many puffs to spell out "Thank you!"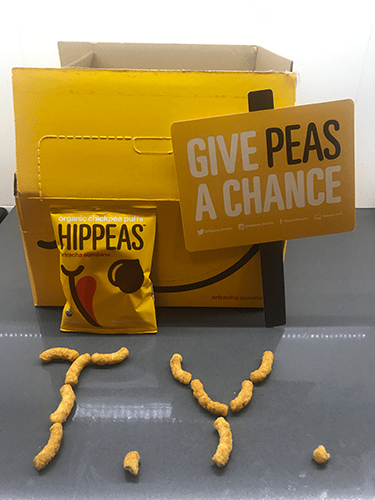 The economics are just as surprising as the gesture. With a few reasonable assumptions, it's possible to calculate the Surprise ROI. Assuming:
$15: Cost including shipping of each case containing 24 1 oz. mini bags.
2: Number of cases given.
40: Number of people I share the story with.
15: Number of people who become new customers.
$3.19: Retail price of a 4 oz. standard bag.
55%: Gross margin on bags.
12: Average bags purchased per customer per year.
4: Average customer lifetime in years.
Based on the above inputs, Hippeas will earn $1,263 in gross profit. With a $30 outlay, this implies a 41.1x ROI! Of course, one could argue against any of the inputs above except one — me! I'll certainly be a monthly consumer of Hippeas for the coming years. Even if none of my friends buy a single bag, Hippeas's gift still has a positive economic return.
Brands appear increasingly aware of the viral value of actions like Bisterzo's. From KLM's #HappyToHelp campaign to Morton's delivering a steak to a weary traveler at the airport, they are seizing opportunities to surprise and delight. While those spectacles have garnered valuable publicity, they shouldn't overshadow the off-line, word-of-mouth value startups stand to gain.
McKinsey noted in its quarterly journal, "word of mouth is the primary factor behind 20 to 50 percent of all purchasing decisions. Its influence is greatest when consumers are buying a product for the first time." For startups battling for money and mindshare against myriad competitors, genuine gestures can make the difference between up-and-to-the-right and down-and-out financials. Even something as simple as leaving mints with the check, for example, has been shown to increase tips by 20 percent!
In a zeitgeist characterized by widespread corporate skepticism, humanizing, personal touches separate the top companies. Amazon, the world's 4th most valuable company, aims, "to be Earth's most customer centric company." Outstanding firms embrace the connection between surprise and value and instill it as part of their cultures.
If you don't trust the theory, trust the science. Using magnetic resonance imaging (MRI) to measure brain activity in response to pleasurable stimuli, researchers from Emory University discovered the brain's pleasure center responds more intensely to unanticipated events. This suggests that pleasing your people when they least expect it yields the greatest joy and indirectly, their loyalty and future sales.
Don't be dissuaded by the time commitment. "Do the things that don't scale. In the early stage of a company you have almost no excuse not to…you are doing the kinds of exceptional, crazy stuff people talk about," suggests Alexis Ohanian, the founder of Reddit and Initialized Capital and ranked by Crunchbase as the most well connected Angel Investor.
Your existing customer base provides a good starting point. If you sell direct through Shopify, for example, you can determine your earliest or most frequent customers and send freebies of their favorites along with thoughtful notes. If you often spot customers buying your products in retail, you can introduce yourself and offer to pick up the tab.
Set aside a specific percentage of your marketing budget to ensure you reap the cultural and financial rewards of Surprise and Delight. This helps make it both legitimate and top of mind. On a periodic basis, review the top few wins just as you would the performance of your latest influencer or AdWords marketing campaigns. You'll likely surprise not only your customers but also yourself by embracing this philosophy.
P.S. — If you'd like to surprise me, please address all packages to 17 Monitor Street, Brooklyn, NY 11222. I'd be delighted! 😊
Disclaimer: Testimonials are no guarantee of future performance or success. No individuals were compensated in exchange for their testimonials. In addition, any such testimonials should not be construed as and/or considered investment advice.
ABOUT THE AUTHOR:
After graduating with honors degrees in English Literature and Economics from New York University, Ryan entered Houlihan Lokey, the leading M&A advisor for U.S. consumer, food & retail transactions under $1 billion, as an Investment Banking Analyst before joining Techstars, a startup accelerator and venture capital firm, as an Associate. He subsequently lead Finance and Operations for PANATEA, a leading matcha tea brand and currently works with 2-4 food and beverage startups at any given time, providing financial modeling and operational support.