A few weeks ago, we had entrepreneur and "Get Backed" author Evan Baehr give a webinar on how to build the perfect pitch deck and appeal to investors. We're sharing some of his expertise in a series of blog posts for those who missed it.
Founders drastically underestimate how many investors they'll have to meet with before closing the deal.
Evan Baehr explained that for his company Able, he started with a list of 100 people. From there, through extensive research and several phone calls with his advisors, he narrowed that number down to 45 good fits. Out of that 45, only two ended up interested in investing, and only one ultimately bought in. And a 2% close rate was very high. Based on Evan's experience working with multiple companies, you'll probably be looking at more of a 0.5% – 1% success rate.
You shouldn't be trying to secure capital on an ad hoc basis. Rather, you should know how many investors are still in the running and what steps you need to take to get them to close. In order for you to secure funding, we recommend that you take a systematic approach to finding investors. Here's how.
Create an Investor Funnel
One of the first things that founders nail down is their sales funnel. They obsessively look for a systematic way to find leads, follow up, and close deals as efficiently as possible. They know that the health of their business relies on this, so they try to leave little to chance. But they take a much less rigorous approach to finding investors.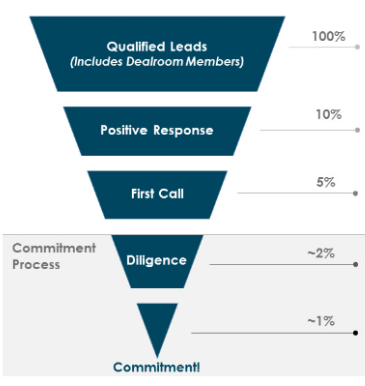 Create a funnel for your investors just like you do for your sales prospects using a CRM. Make sure to separate the stages in a way that makes it clear exactly how far you've gotten with each investor. Your funnel should look something like this:
Qualified Leads. Look for both high net worth individuals and institutions. You can use CircleUp to market your raise to a wide audience and leverage your own personal network as well.
Positive Response. Most investors won't respond positively, and a few won't respond at all. That's completely normal. To keep things moving, however, you should make a decision within 90 days about which prospects have the best potential.
First Call. This will be your first opportunity to tell your story and give your pitch. Make sure you can keep your presentation short and concise.
Diligence. Follow-up with all the investors you had a call with, and be sure to respond to any diligence requests promptly.
Commitment. This will be about 1% or less of your qualified leads. Know your raise minimum so that you can make sure that your closes will get the capital you need.
You can use a simple Excel spreadsheet to track outreach, meetings and followups. Alternatively, you can use a Trello board, which makes it easy to add dates and notes to each card. Also, at just a glance you have an idea of how many people you have in each stage and how close you are to actually getting funded. We even created one for you (click here to get access).

Fill the Top of the Funnel
There's a sea of investors out there, but appealing to the wrong ones is only going to waste your time. Before you start compiling your list of names, make sure you're looking at the right funding sources. To decide which is right for you, you need to consider:
1. How much money you need. It might seem intuitive to get as much money as you possibly can, but with a higher price tag come more terms. Think about how much money you need for your next major milestone.
2. The stage of your business. The younger your business is, the less money you'll be able to raise because of the risk involved.
If you're a consumer or retail brand with less than $10M in revenue, you're likely drawing blanks when it comes to fundraising. Your personal network has limited capital, and your business hasn't quite gotten the traction to be considered by traditional private equity firms.
That's why the community created by CircleUp is incredibly useful to young businesses (sign up hereto learn more). You'll get access to CircleUp's network of funds, family offices, and angels who seek opportunities in early-stage consumer and retail companies.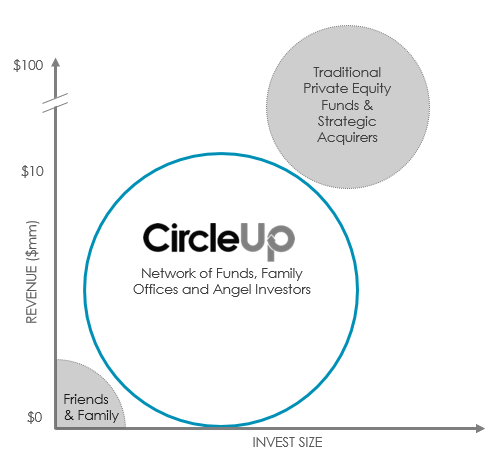 Be sure to also leverage your personal network. See if you know people on social media who might be interested or who might get you in front of the right people. From there, you should feel confident just cold emailing investors with a clear proposal. You can use a business development tool like Clearbit Connect to find investors' emails and contact info.
Many new entrepreneurs shy away from this seemingly-aggressive tactic, but raising capital is a two-way street—investors are equally interested in finding good companies to invest in. As investor and entrepreneur Craig Shapiro says, "Treat cold emails as you would knocking on a stranger's door and interrupting dinner. Do it delicately, quickly, and have something to offer."
Move Investors Through the Funnel
At CircleUp, we help CPG businesses with introductions and provide them with educational resources on what it takes to seal the deal. But you'll only be successful with that info if you approach it with a certain tenacity. It takes hustle and grit to stay on top of all your follow-ups and maintain momentum when moving investors through that funnel. Here's how you can make sure you don't lose steam or get held up.
Be explicit about your goals. You ultimately need enough commitments to meet your raise minimum. Be forthright about asking how much each investor is willing to commit, so that you can see whether a path to close exists.
Set time limits for each stage. At CircleUp, we shoot for 2-3 months for closing a deal. When you follow up with investors, be respectfully upfront about your expectations for timing and do your best to elicit a yes or no (ideally with feedback).
Be proactive. Everything that is in your hands—the research, the due diligence, etc.— should be done as quickly as possible. Don't give investors the time to forget about your business.
We realize that running a growing business and chasing down investors is tough to manage, so take advantage of scheduling tools to make your life a bit easier. Followup.cc is a Gmail extension that lets you draft and schedule a follow-up email at a later time. It also gives you read receipts, and lets you set up canned responses for all of those first calls you're scheduling.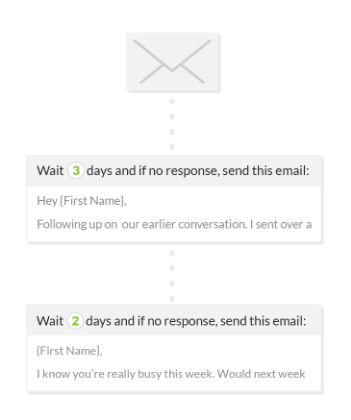 At the end of the day, investors aren't judging your business based on your marketing plan, or your business model (although these things certainly help). They're looking for smart, hardworking entrepreneurs who have the tenacity to follow through and stay on top of things. Not only does this make them great leaders, but it also makes them responsible, trustworthy partners.
Close the Deal
When it comes to closing the deal, we often hear the same old story from entrepreneurs. They meet with a few investors, get wishy-washy answers, and then hear crickets.
As you get investors towards the end of the funnel, you have to be able to separate out the prospects who are actually interested from the ones who are just stretching out the inevitable no. Here's how you ensure that you get an answer and don't waste your time.
1. Bring employees to your meetings. If you're not a numbers person bring a CFO or Controller into the meeting to answer questions that you can't. This way you don't have to schedule another meeting or follow-up call to give the investor answers they need.
2. Request a commitment. Explicitly ask if you can reserve a specific $ allocation from the investor. Institutional investors tend to submit formal term sheets that make this crystal clear, but soft-circling amounts from individual investors is also important (even vital in the case where institutional investors have passed). CircleUp allows you to track these commitments in the form of "reservations" which can be promoted to additional prospective investors as momentum
3. Know that "keep me posted" means no. Don't bother with investors who don't want to meet with you again or don't answer your follow-up email.
Don't be afraid to be ruthless with your investor funnel. You might feel compelled to keep trying to persuade investors who aren't giving you an answer, but in the majority of cases, it's a waste of time. The one or two people who are going to write that check will be interested in your product from the start.