Austin Allan founded his chilled soup brand Tio Gazpacho in 2013 after leaving corporate America.
He was set on pursuing something creative and interesting. That quest led him to the food industry, where he saw a lot of problems that needed to be addressed.
"On the surface, we make a line of drinkable gazpachos. However what we are really aiming to do is transform the eating habits of Americans," Austin explained to Our City Thoughts, "Too much of the 'convenient' food that is out there is highly processed garbage that is literally killing people, ruining the environment and causing the suffering of millions of animals."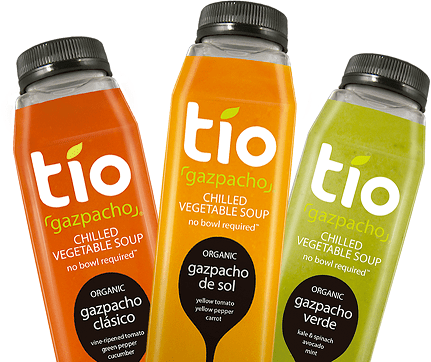 Austin's passion for the business is evident and things have happened quickly over the past few years. He landed distribution partnerships with Whole Foods, Kings Food Market and Shop-Rite. He's launched four SKUs with more on the way. In March of 2016, he finished a $1.25 million raise on CircleUp which was led by General Mills' 301 Inc.
As a first-time entrepreneur, Austin wasn't really sure what to expect when it came time to raise money. The same smarts and grit that helped him get the business off the ground came in handy as he dove into the process. Here are a few of those lessons, which he also shared in a recent webinar with New Hope Network—How to crush your fundraising on CircleUp.
Do Your Homework
Tio Gazpacho is a ground-breaking new product that's creating a new category in the American food market. That's what founders see—but investors see a risky, early-stage company that needs to execute perfectly in order for them to get a return on their investment.
Early-stage companies come with more risk, so Austin needed an investor that was comfortable with that risk, but experienced in the food industry. He also knew that he wanted strategic help, not just capital.
This is why Austin spent time researching how similar companies raised and spent their money beforehe started his own raise. "How much did they raise? How long did it take? Have they exited? Who were the investors?" This information helped him connect with the right investors and have productive conversations from the outset.
Perhaps most importantly, Austin made sure to plan for valuation way ahead of time. There are several ways to calculate a valuation, but CircleUp CEO Ryan Caldbeck recommends that early-stage brands do a comparable company analysis. "If you're trying to raise money and you haven't done a comparable company analysis, you are making a big mistake," Ryan wrote in an Inc article on setting a valuation, "This is the tried and true method for valuing a young company."
Ryan suggests finding at least 15-20 similar companies to see how much they raised and warns against giving away more than 20-30% of your company during any round. The CircleUp industry database is a free tool where you can get your search started.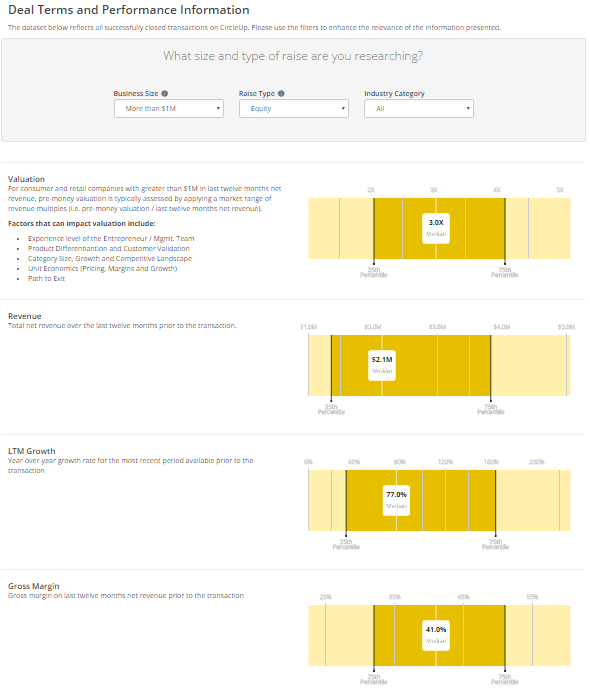 Source: http://www.circleup.com/data
Tell Your Story with Financial Metrics
A lot of entrepreneurs have great stories about how they launched their companies. They solved their own problem, got to work experimenting in their own kitchen and eventually left a full-time job to pursue the startup dream. Austin has a great story too, but as he learned, a great story isn't enough.
When he first launched on CircleUp, he did a great job telling the story, but not a great job presenting the numbers. Sales were strong and the projections looked good, but the calculations were simplified. It gave the impression that he didn't truly understand the financial metrics. That's not the kind of first impression you want to make on investors.
One overlooked trait in entrepreneurs is self-awareness. Austin recognized that he needed expert advice and sought it out. He asked a few investor friends to take a look at his CircleUp profile and they all agreed—the numbers, although strong, didn't accurately portray his strong sales and projections. So he hired a consultant to help get that presentation in order. They fine-tuned the financial measurements and helped him create a new deck that accurately portrayed existing sales and projections.
Once this was in order, Austin started having way more conversations with investors. This is one thing he wished he'd known sooner—it delayed the raise by three months.
Network Like Crazy
Fundraising is the biggest sales pitch of your life. Raising money comes down to grit as much it does strong financials and a growing brand—you have to find the right investors and do whatever it takes to get them on board.
Here are just a few of the things that Austin did during his raise that any other company raising on CircleUp can benefit from:
Create an investor database: You need to reach out to lots of investors and it's easy to lose track of who've you emailed and whether or not they've responded. Use a CRM, spreadsheet or some kind of database to keep track.
Hold conference calls: CircleUp has a feature where you can hold public calls about your company. Austin did this, and though he had no live participants, at least eight investors listened to the recording and reached out.
Hand out tons of businesses cards: This is networking 101, but don't overlook it. Have cards ready at all times.
Give away free samples: Tio Gazpacho is refrigerated so sending out samples is expensive. Still, they sent them when investors asked and it paid off.
Share updates: Your Deal Room is where you can share updates about your company. News about a new distribution region or some good press should be shared to show investors that your business is active and thriving during your raise.
Networking pays off. In some cases, big time. Austin's savvy networking and dutiful research helped him connect with 301 Inc, an arm of General Mills that invests and advises emerging food brands. When he has questions about distribution or packaging, he can pick up the phone and chat with people who have done it before. Access to that kind of wisdom means he can spend more time executing and less time figuring out how to scale the hard way.
It Ain't over 'Til It's Over
Austin initially planned a $500,000 raise, but investor interest convinced him to think bigger about his young business. Those extra funds will help him launch new SKUs at a lower price point—$5 compared to the current $8 price—which is part of his plan to gain broad distribution in conventional grocery stores.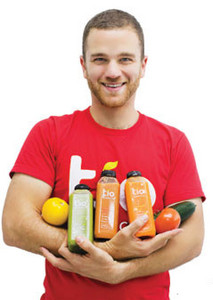 Photo credit: http://www.foodnavigator-usa.com/
But more money also means spending more time fundraising. "Deal Risk" is a term that entrepreneurs learn a lot about quickly. The longer a raise goes on, the more things can go wrong. Even worse, fundraising often drags out for 8 to 12 months, which means the CEO is trying to maintain growth while networking with investors, meeting with lawyers and trying to close the round.
If a deal falls apart near the end, other investors can sniff out the opportunity. "A broken term sheet could be life threatening for a younger company," writes Ryan Caldbeck, "because it's immensely difficult to restart conversations with other investors who faded out."
As a deal nears the end, it's time to go into overdrive. Set hard deadlines and stick to them. Stay on your investors and legal team to get the paperwork completed and filed. Leave no stone unturned in your quest to make the deal happen. The sooner it ends, the sooner you can turn your focus back to the product and growing your company.
Austin's webinar is available for replay on the New Hope Network's blog. His experience is not unlike many of the entrepreneurs we work with. If you're preparing for your first raise, it's 30 minutes of your time well spent.