There's a lot of confusion today about what "better-for-you" means. Is it low carb? High protein? Low calorie? Low sugar? Grain-free? And, the question of "does it taste good?" is often an afterthought. It's not easy to come across a product that has a quantifiably better nutrition profile and is known for its taste. When this happens, people notice; they form a community around the product. Brand ambassadors emerge and the product starts gaining a "cult following". This is what we saw in our most recent investment in Cali'flour Foods, a better-for-you pizza brand that sells cauliflower-based products.
Founded by Amy Lacey, the company is deeply passionate about bringing clean label, grain-free and high-protein products to Americans that — most importantly — taste delicious.
Amy's story is a special one: after being diagnosed with lupus (which often presents alongside gluten intolerance), Amy was on a mission to find food she enjoyed without sacrificing her health or family time. And what food sits at this intersection? Pizza. Thus her first product was born.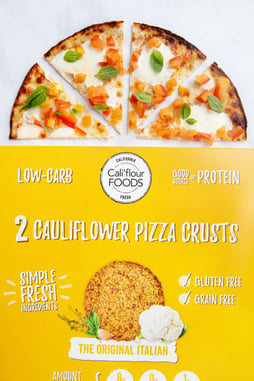 Cali'flour's cauliflower pizza crust contains only 4 ingredients, 24 grams of protein, and just 3 grams of net carbs. After an online launch in 2016, the product was embraced not only by health-conscious consumers looking for keto or paleo-friendly options, but also by those managing health concerns such as autoimmune disease or gluten intolerance.
The explosive growth of Cali'flour Foods has not gone unnoticed. The company's success online demonstrates a strong brand resonance that has significant potential for additional offline growth and distribution. We're incredibly excited to see Cali'flour Foods expand into more retail locations across the country.
Consumers are looking for authentic brands that use simple (and tasty) ingredients to serve dietary needs and create products that are quick to prepare. The gluten-free and keto-friendly communities are leading this charge, but the trends are quickly becoming essential to the broader population. Take a look at gluten-free: 7% of the population must avoid gluten for medical reasons, but over 30% of people are trying to cut down or avoid gluten. And, when it comes to eating, convenience and easy prep is essential. Frozen food is making a comeback – US retail frozen food grew 2.6% in 2018, outpacing total center store food product sales.
Having a delicious and healthy, but quick alternative is increasingly important to customers. Cali'flour Foods is going to be right there with better-for-you, easy-to-prepare, and tasty frozen foods. The massive opportunity in frozen pizza — a $5Bn market in the US — alone is exciting.
We look forward to partnering with the entire Cali'flour Foods team as they fulfill their mission to bring simple, nutritious, anti-inflammatory, and tasty cauliflower products to all Americans.
Sources:
https://www.ibisworld.com/industry-trends/specialized-market-research-reports/consumer-goods-services/food-production/frozen-pizza-production.html
http://www.ift.org/food-technology/past-issues/2018/august/features/gluten-free-is-here-to-stay.aspx
https://www.foodnavigator-usa.com/Article/2019/02/25/Frozen-food-is-staging-a-comeback-says-report-but-many-consumers-still-query-its-healthy-credentials#