To help women thrive. That's the mission of Peach, a direct sales, lifestyle apparel brand focused specifically on contemporary athleisure and it's a big part of the reason that CircleUp Growth Partners made an investment in the business. We are thrilled to welcome Janet Kraus (CEO), Derek Ohly (COO) and the entire Peach team to the CircleUp family.
Gym. Work. Play.
Peach designs and manufactures active-inspired apparel designed to be stylish, comfortable and endlessly versatile for gym, work and play with a change of accessories. They also design a line of perfect basics called Essentials. These are the 20% of a woman's closet she wears 80% of the time.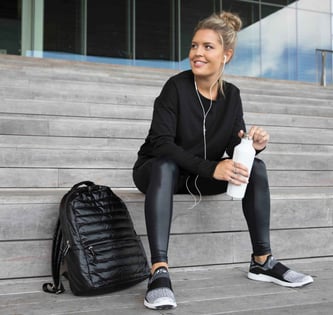 Clients buy Peach products directly from stylists any way they prefer —by text, email, via social media, or in-person. They can also shop online directly.
Anyone can become a stylist. The company provides women across the country with an opportunity to become entrepreneurs. Stylists launch their own fashion business with little to no financial risk. We believe that the side-hustle culture is here to stay, and Peach helps women make it work. Women can make money by becoming a stylist and retain flexibility to work anytime, anywhere.
Tech-Enabled Commerce
A proprietary tech-enabled system provides direct feedback to stylists and allows these Peach entrepreneurs to better track their success. This platform can scale to support thousands of stylists selling to clients across the country. Ultimately, every aspect of the business is designed to help women thrive. It aligns incredibly well with CircleUp's mission to help entrepreneurs thrive by giving them the capital and resources they need.
Americans' clothing choices and shopping habits are changing. Specifically, people are dressing less formally, and they are much more comfortable purchasing new brands they see on Instagram, especially if it's recommended by a trusted friend. Athleisure is the fastest growing apparel sector in the US, driven by health and wellness trends and the casualization of the working dress code.
We believe that Peach is well-positioned to capitalize on these trends; their products function across multiple use cases in a woman's life. Whether she's dropping into a yoga class or running errands after work, Peach's clothes flow seamlessly from one occasion to another.
Why Direct Selling?
Direct selling is polarizing – we get that. We believe that Peach is modernizing direct selling and building a business around the core mission of supporting women. Direct selling of clothing and accessories is a $2.9Bn industry in the US, and over 18 million Americans are involved in direct selling. And, it includes people across geographies and age groups; in fact, 37% of direct sellers are millennials.
Every stylist has a different reason for becoming a Peach salesperson. Some women want to build a massive fashion business without the upfront capital required to open a boutique; others want a supplemental income for fun purchases. Regardless of the motivation of the stylist, Peach helps them accomplish their goals. The company offers a unique, proprietary professional development program called THRIVE, which includes tools, training and peer support to promote success.
Peach is building a modern direct selling company: one that provides the right products and support services to female entrepreneurs. The athleisure category lends itself especially well to peer-to-peer commerce, given the authenticity and passion of stylists. Many Peach stylists are active in fitness communities, either informally or as yoga instructors and gym owners.
We believe that Peach takes the right approach to direct selling, and its metrics rival some of the most successful brands at this early stage. We are thrilled to partner with the Peach team as they work towards their goal of becoming a major fashion fitness brand that uniquely brings products to market in the most personal and convenient way.