Founded by brothers Justin and Tyler Catalana, Fort Point Beer Company is a San Francisco-based craft brewery made up of people who believe the simple things in life can be a whole lot better. Today, we're thrilled to announce that we are joining forces with Fort Point and have made an investment in the company.
Fort Point Stands Out
The growth and momentum of craft breweries in recent years has only picked up speed. In California alone, the number of craft breweries rose from roughly 600 in 2015 to 900 at the end of 2017, according to the California Craft Brewers Association. Craft beer is one of the fastest growing subcategories in beer, capturing almost 10% of the beer industry's $25 billion in annual sales. Head into any retailer and you'll notice the shelves are packed with options. But Fort Point has gone above and beyond to build their community and they did so by flipping the traditional model completely on its head.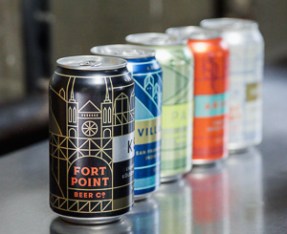 At CircleUp, we look for differentiated products that resonate with consumers in a way that matters. Pick up any Fort Point brew and you'll instantly notice a difference. From the design to the taste, Fort Point stands out, and consumers have taken notice. When Fort Point first popped up on our radar, Helio, our technology that continuously analyzes promising companies, picked up on their high brand rank – meaning Fort Point was one of the top companies tracked in the beer category. Brand score is our way of understanding how a brand resonates with consumers and stands out from the crowd. It's clear that Fort Point hit its mark.
We've also tracked a broader and distinct change in craft beer. Most of the early growth in this industry came from stronger varieties such as IPAs from brands like Lagunitas and Ballast Point. Within craft beer, tastes are now shifting towards lighter flavor profiles. Try any Fort Point brew and you'll find it's more approachable and versatile – the perfect brew for just about any occasion. They are leading the shift in craft beer that is clearly differentiated from the higher alcohol by volume and IBU (measure of hops) found in IPAs.
A great brand and product are important, but you also have to reach consumers. Taste matters, but distribution and getting that product out to the people is equally paramount. Typical beer distributors work with hundreds of brands in a given city or region. Fort Point's solution to building a strong brand in charge of their own growth? Create their own distribution network from scratch. Fort Point bypassed the traditional model – going direct to on premise (bars and restaurants) and off premise (grocery stores) accounts to make sure they could own and manage those relationships. I asked Justin about that early decision to build each aspect of Fort Point's distribution network. "We felt the traditional distribution system was broken, and as a result, we decided to build a distribution company from the ground up which matched the same quality and standards we strive for with the beers we brew."
We believe this unique approach is what gives Fort Point its edge. By tackling their own distribution, Fort Point found its footing in restaurants and bars across the Bay Area, eventually breaking into larger retailers like Whole Foods and Safeway-Albertsons.
You can see below how the brand's consumer reach has more than tripled over the past 3 years. Our Consumer Reach Index (CRI) measures how likely a consumer is to encounter a particular brand or product across a variety of different channels.
Under Justin's leadership, Fort Point has doubled production every year since its inception and produced 32,000 barrels in 2018. And they're just getting started. We are thrilled to be partnering with Fort Point and are excited to help the entire team bring good brews to all.