We're thrilled to announce CircleUp Growth Partners' investment in Partake Foods, a modern snacking platform that leads with allergy friendly products. Denise Woodard launched Partake when her daughter was diagnosed with severe allergies, and she's on a mission to make fun, tasty snacks accessible to all.
"At Partake, our goal is to produce super delicious snacks, made from high-quality ingredients, that people with and without dietary restrictions can enjoy. It's about bringing simple joys to our customers each day. We hear time and again from the Partake community that our flavors deliver on that promise in so many unique ways—their stories motivate us daily. As we expand to more than 5,000 retail doors across the US, we see a great opportunity to strategically expand our offerings so anyone can choose how they 'Partake a Moment' every day," said Denise Woodard.
Partake sells a line of gluten-free, vegan cookies that are free of the top 8 allergens (peanuts, tree nuts, eggs, wheat, milk, soy, fish, shellfish). The brand takes its commitment to being allergy friendly very seriously by ensuring that Partake products are also free of additional additives consumers are concerned about – there's no mustard, sulfite, sesame, artificial flavors, preservatives or GMO's either.
Denise and the Partake team have built a strong brand that consumers and retailers are paying attention to – it's a brand that Helio (CircleUp's proprietary machine-learning platform) loves as well. We're sharing more about why we are investing in Partake, alongside Marcy Venture Partners (MVP), FF2032, Kevin Johnson's Black Capital, Seattle Seahawks' Bobby Wagner, Black Star Fund, CEO of Once Upon a Farm John Foraker and Robyn Rihanna Fenty.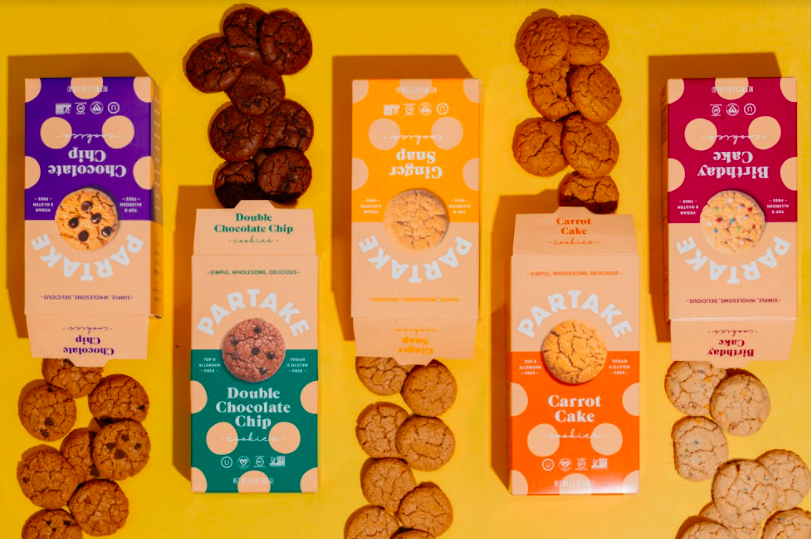 Building Conviction with Data
As data-driven investors, we look to performance rather than personal preference. While our team enjoys Partake cookies, what really gets us excited is what Helio says about Partake.
Our data platform currently classifies Partake as the #1 brand within the Cookies & Desserts category (out of over 2,000 brands). This ranking is based on online and offline performance.
Source: Helio
COVID-19 has accelerated the purchasing of food & beverage online, and Partake has benefitted from this trend. The brand's online traffic growth (99th percentile) and social following (96th percentile) are best-in-class for the Cookies & Desserts category. However, we are big believers in omni-channel brands here at CircleUp – based on our analysis of millions of brands, door growth is the best indicator of future success. In 2020, Partake grew from ~200 doors to 2,700 doors, and the brand plans to expand to 5,500 doors by the end of 2021.
We also believe that Partake Foods has a lot of room to continue expanding distribution – Partake's current distribution map compared to larger allergy friendly brands shows that the demand for allergy friendly products does exist nationwide.
Source: Helio
The Market for Allergy Friendly
One of the most debated topics during our process was whether the allergy friendly market is niche or not. As we thought about the opportunity to build an allergy friendly brand, we learned that the problem Partake solves for families is an important one. The consumer need for allergy-free is growing but few brands are focused on this need. According to McKinsey, 23 million people live with life threatening allergies, and over 85 million Americans shop for products without major allergens.
We can also use Helio to see sales-growth by attribute. While smaller, the "allergy-free" category is experiencing a similar growth to attributes like dairy-free and gluten-free.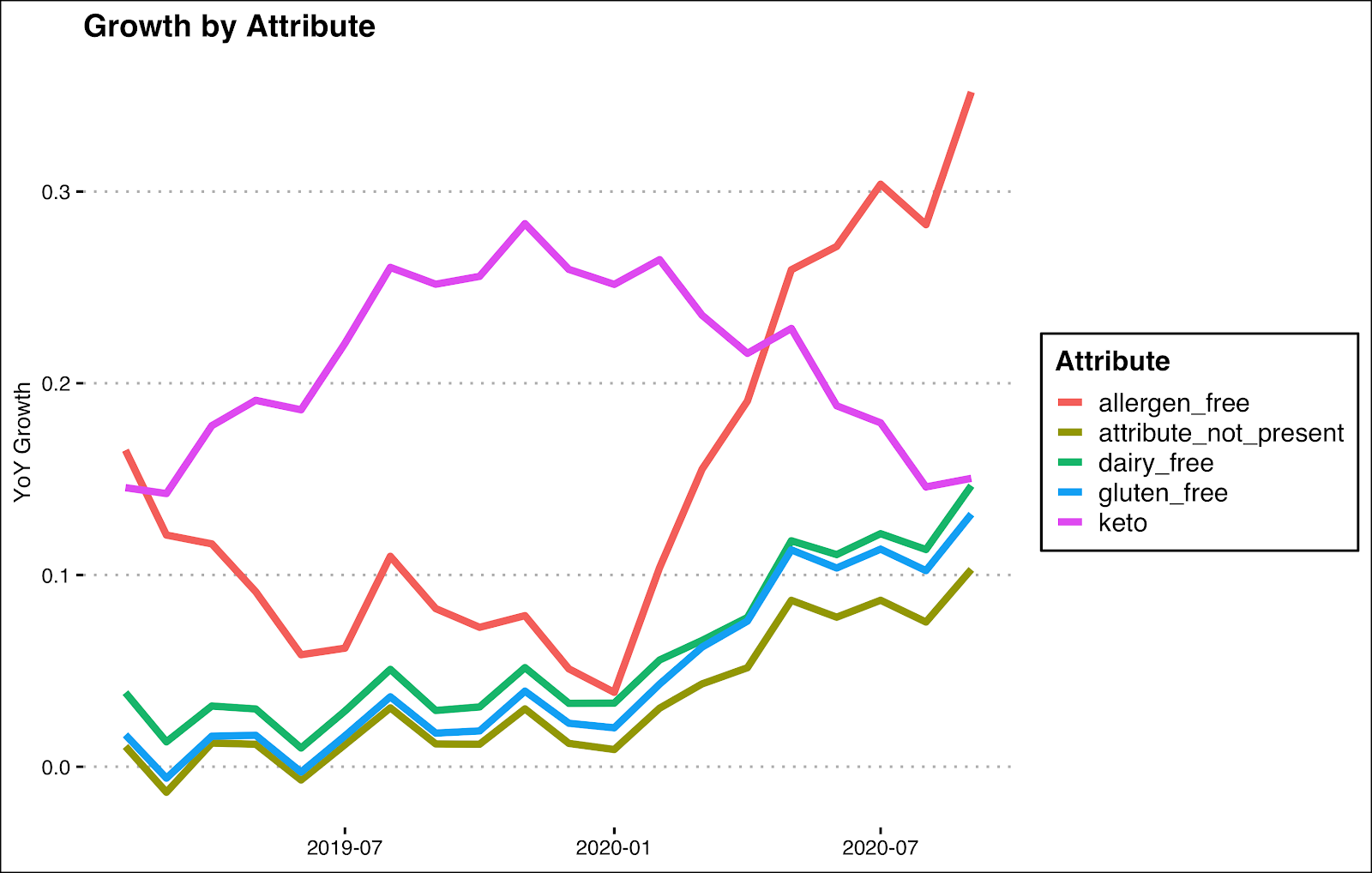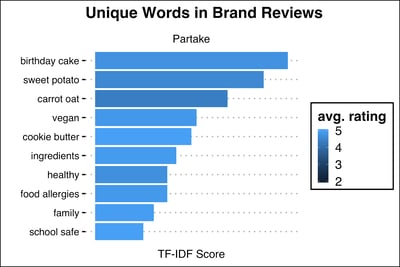 Source: Helio
Partake's approach to the allergy friendly market is fun and inclusive, relative to existing brands. Partake leads with different flavor profiles vs competitors. Using Helio's unique terms analysis, we can see that flavors stand out for Partake. A new flavor isn't a moat, but it's an indication that Partake is delivering on part of the brand promise to bring fun and creativity to the world of allergy friendly.
More than Allergy Friendly
While we value Partake's positioning within allergy friendly, our broader thesis is that consumers will start to associate "allergy-free" with "better-for-you". In early consumer reviews, we can see that Partake is resonating beyond the allergy-free community. We noticed that only 23% of Partake reviewers mention "allergy" or "allergen" in their reviews. The brands' consumers are also concerned with plant-based, health, low-sugar and dairy.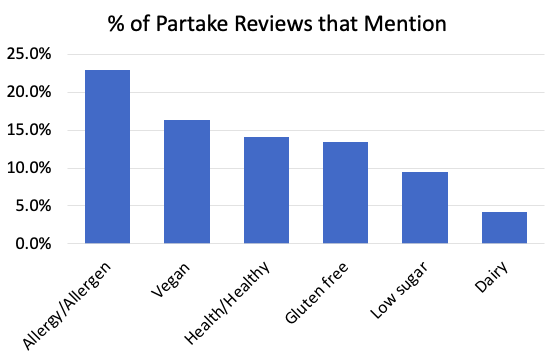 Source: Helio
This opens up a much bigger market. "Shoppers looking to avoid allergens in food spend more than average on groceries—and around $19 billion a year avoiding categories or substituting products—and that number is likely to keep rising."
We believe that Denise and the Partake team are helping consumers re-imagine what it means to live allergy-free, and we are incredibly excited to partner with the team in the brand's next phase of growth. Welcome, Partake!