CircleUp Growth Partners is excited to announce its investment in IQBAR, a nutrition bar brand focused on brain health and function, as well as key dietary trends important to today's consumer. After years of eating sugary, carb-filled snacks that led to physical and emotional highs and lows, Will Nitze looked to create a bar that fit his diet and could fuel his non-stop lifestyle. In 2017, IQBAR – a protein bar formulated with clean ingredients rich in compounds shown to benefit the brain and body- was born.
According to founder Will Nitze: "I created IQBAR to empower the doers. The creators. The get-stuff-doners. Sustaining superior mental and physical sharpness throughout the day requires superior nutrition. Each IQBAR contains 6 brain nutrients and 12g plant protein, while satisfying keto, paleo-friendly, vegan, and gluten/dairy/soy-free diets. Plus, bars are just the start! We'll release new brain and body nutrition solutions in multiple complementary categories over the next 24 months. Stay posted!"
IQBAR is a functional nutrition bar focused on both health for your body and for your mind. In addition to hitting on several important physical health trends (keto, gluten free, no sugar alcohols), the bars also have six brain nutrients including lion's mane (concentration) and MCTs (mental energy). While Will started with bars, he recognizes that brain function should not end there. The company will soon be launching products in hydration and wellness, all designed to support brain + body.
Building Conviction with Data
As data-driven investors, we look to quantifiable performance rather than personal preference. We all enjoy eating an IQBAR as a mid-afternoon snack (especially when needing focus to write a blog post!), but we trust the data generated by our machine-learning data platform, Helio, when evaluating an investment. According to Helio, IQBAR is the 7th ranked brand in the 1,500 nutrition bar set. While focused primarily online, it has taken an omni-channel approach to the business and the company is seeing strong performance in retail and in online marketplaces.
Online marketplace growth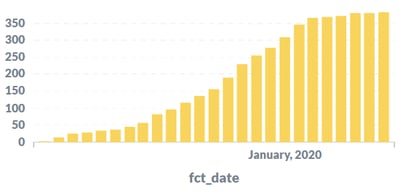 Online traffic growth

Door expansion vs recent bar launches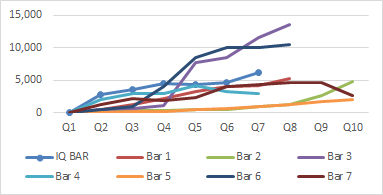 Source: Helio
Brain health is a trend we want to bet on.
Consumers are seeking products to help them optimize cognitive function for peak performance and to remain focused as we adapt to the world's challenges. We saw this trend play out in 2020 and accelerate in 2021 as more people suffer from anxiety and mental distractions than ever before. While food as fuel for your brain is still in early innings, it is a trend Helio has identified as growing quickly both online and off.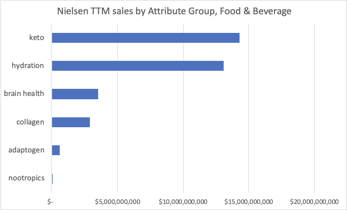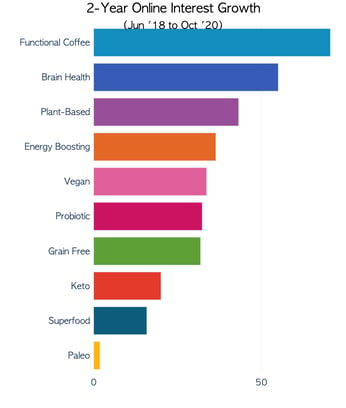 Source: Helio
IQBAR hits on key consumer purchase criteria, and offers brain health as a hook.
Consumers don't yet search for "brain health bars", as we are still very early in consumers recognizing the connection between what you eat and your mental acuity. Instead, consumers search for key dietary trends they are focused on such as "keto" or "low sugar bars". IQBAR beats the incumbents on the key purchase criteria for the bar set (namely taste, nutritionals, texture, ingredient profile and value), and hooks people into the brand using the additive benefits of Brain Health.
Source: Helio
Category dynamics are shifting and IQbar is capitalizing on it.
While we are advocates of an omnichannel approach for consumer brands, there is no doubt that the offline nutrition bar set is challenged. According to Nielsen, the bar category has seen declines over the past few years in retail, driven by increased ecommerce penetration, paring down of sets due to low productivity and category saturation, and COVID's impact on the on-the-go use case, overall transition. By contrast, online interest in bars has been steadily increasing, especially in 2021, as consumers use search terms to find the bar that meets their needs.
Proxy for online growth of bars

Source: Helio
Will and the IQBAR team are acutely focused on winning online. The price point, packaging, and keywords are all geared towards making IQBAR top of the list when searching for key dietary trends. It is not a coincidence that at the time of this publication IQBAR was Amazon's Choice for Vegan Protein Bar and Plant Based Protein Bar. The brand, the consumer attributes and the positioning are easy to understand online. While IQBAR is looking to select retailers to partner with, it is hyper focused on DTC and online marketplaces.
We believe that Will and the IQBAR team will be a force in the food for brain fuel trend. And we are excited to be a part of it. Welcome IQBAR!