Today, we are excited to announce our investment in Los Sundays Tequila, a premium tequila company building a brand that targets the modern millennial, focusing on engaging consumers both on-premise, in-stores and online. Founders Mitchell Hayes and Oliver Williams alongside their all female marketing team of co-founders have done an exemplary job building a unique, millennial focused brand that is incremental to the category. As a result, we expect rapid growth in 2021 as the company will unlocked its valuable distribution relationship to capitalize on the growth of the $7bn Tequila category.
About the Brand:
You won't find a celebrity face or industry partnership behind Løs Sundays' rise to market. The brand began in Southern California by way of a chance friendship between Randy Orozco and two Australian immigrants with no prior knowledge or experience in the spirits industry, and―no money. In fact, the brand launched with Oliver pedaling the first bottles of Løs Sundays from the trunk of his car and Mitchell's bank account overdrawn by $17.
In America, Mitchell and Oliver tasted high-quality tequila for the first time, the drink of choice amongst their newfound friends and became instant fans. However, they noticed many brands shared a serious, mature, and masculine tone which didn't reflect the millennial drinkers they were surrounded by.
They saw an opportunity to create a tequila that went beyond the bottle, a product that was serious on quality & production, but expressed a more relatable, fun & inclusive tone.
They recruited an all-female marketing team of co-founders that placed a focus on engaging new consumers across modern digital mediums which allowed Løs Sundays to organically grow a loyal and dedicated audience of like minded Sundays' people and quickly became the tequila for the people.
"Traditionally an industry dominated with more serious, mature, and masculine advertising, we felt that there was an opportunity to introduce a high-quality brand with a more inclusive and relatable approach to the tequila category and its growing audience of new consumers.
We took traditional values with our tequila production and set out to create a brand that the millennial audience connected with. We decided to go beyond the bottle and into the everyday lives of the modern consumer focusing our marketing on the point of tequila consumption while not forgetting the importance of the quality of our tequila production."
Mitchell Hayes, Founder & CEO, Løs Sundays
Social Engagement Driving Awareness
Helio, our proprietary database which tracks consumer brands, flagged Los Sundays to the investment team because of Los Sunday's consistent social growth and engagement. In fact, Los Sundays absolute Instagram growth ranked in the 97th percentile of the 2,800+ Spirits brands monitored in the category.
It is also important to note that the Løs Sundays following is authentic and real, their followers have not been bought.. The account started at 0 and has grown organically as the brand itself grew. In the highly competitive social space this type of authentic growth is almost unheard of.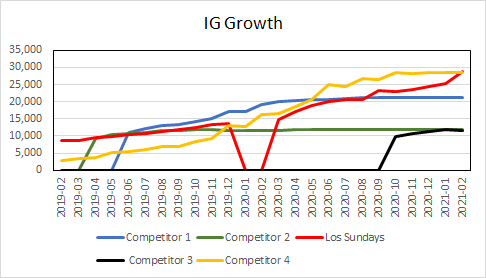 Source: Helio
The tequila category is saturated with celebrity-founded companies (Michael Jordan, Lebron James, The Rock, Bryan Cranston and Kendall Jenner all are "founders" of tequila brands) that rely upon these individuals' personal platforms to build brands. Los Sundays, by contrast, has focused on its edgy marketing and its fun and accessible brand to create buzz around the brand. And it is working.
With the help of Helio, we can quantify how strong Los Sunday's social engagement is. A great benchmark for this is comparing Los Sundays engagement with CompetitorA, a spirits brand founded by a celebrity with 50m+ followers. And while CompetitorA has more than 20x more Instagram followers than Los Sundays, Los Sundays followers are more invested in interacting with and sharing the brand.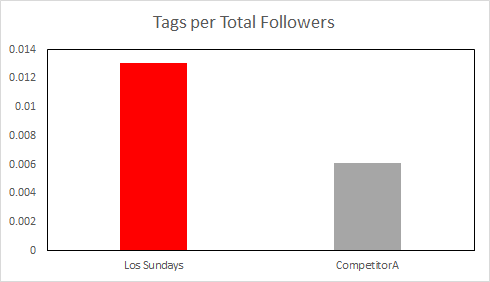 Source: Helio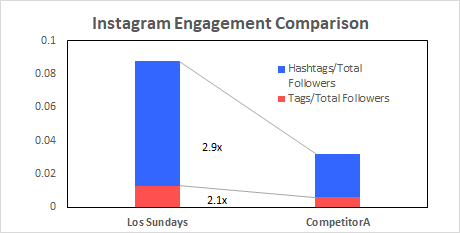 Source: Helio
CompetitorB is another spirits brand with a similar celebrity founder and massive following (and recent exit), yet in aggregate Los Sundays brand continues to resonate more online with its consumers.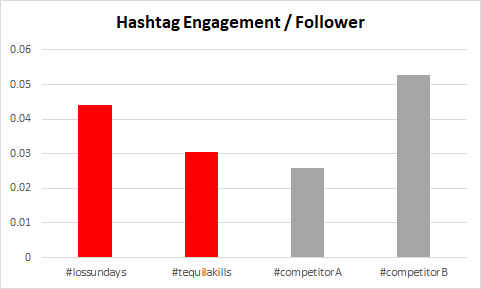 Source: Helio
This stacks up against other emerging Spirits brands, as Los Sundays continues to resonate with its core audience.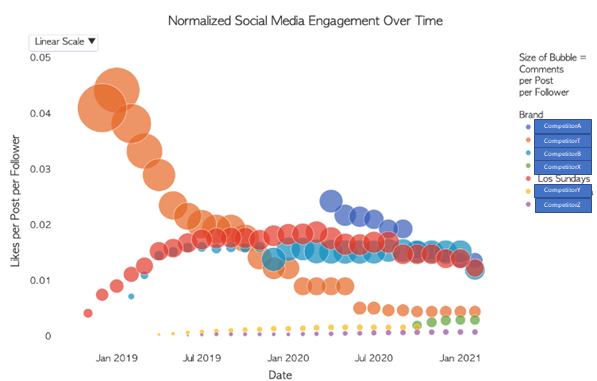 Source: Helio
Bringing a New Customer to the Category
Los Sundays' 'tongue-and-cheek' advertising resonates with a younger, female consumer: 72% of their consumers are female (vs the industry at 50%) and 75% of its customer base is between 21-35 (vs average of 38). This is incremental to a category that has been driven by incumbents focused on older, male consumers.
Comparing this customer base to two of the largest premium tequila brands on the market reveals just how differentiated Los Sundays brand truly is.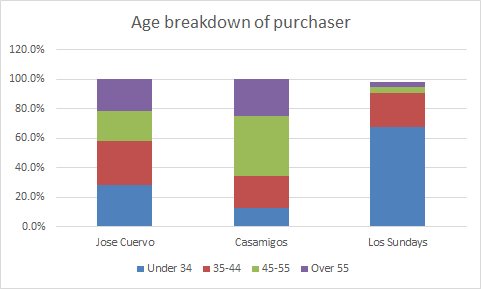 Source: Nielsen
The Gateway Tequila
In the Spirits category, it is hard to differentiate materially based on the product in the bottle. That said, Los Sundays has developed a coconut tequila, or a gateway tequila, that offers a sweetness that is different and less harsh compared to many traditional blanco varieties. And as we can see in the data below, flavored spirits are gaining market share in a meaningful way.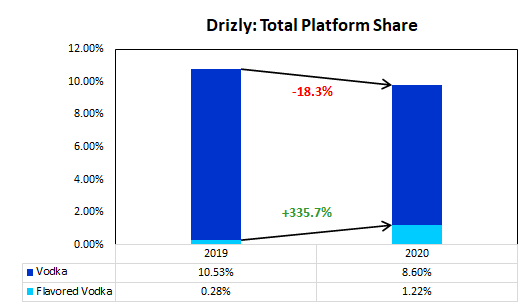 Source: Drizly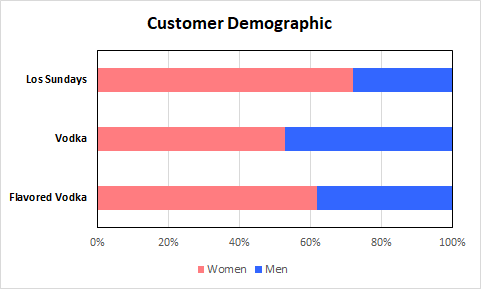 Source: Drizly
Fast Growing, Accelerating Category
In the US tequila is the fastest growing spirits category and is exhibiting significant premiumization. Premium tequila is still a small part of the market (25%), yet it has grown at a 50% CAGR over the past three years. We are excited to bet on this category..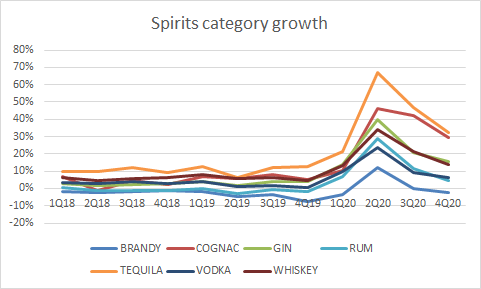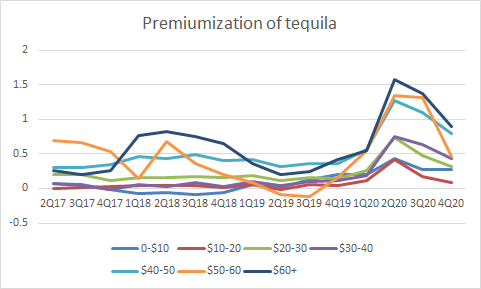 Source: Nielsen
Key Distribution Partners in Place
The name of the game in Alcohol is distribution. Because of the three-tiered system, brands are unable to directly sell to retailers, and must instead sell to distributors who serve as the middleman between the two. As such, these distributors hold much of the leverage within the system, and strategic 'buy-in' on their part is huge.
In the case of Los Sundays, the buy-in is huge. Los Sundays recently secured a strategic partnership with Shaw-Ross International Importers, who provide a sales and marketing platform, a back-office infrastructure, and a distribution network across all 50 markets. This will allow Los Sundays to be more capital efficient and flexible in its use of cash flow as a major OpEx cost (building out a sales team) common in the alcohol category is accounted for. Following this partnership, Los Sundays is now nationally aligned with Southern Glazer's, the largest wine & spirits distributor in the country. Southern Glazers is launching the brand in 27 states in Q2, up from 4 states that Los Sundays was in at the start of the year.
"Los Sundays is taking a disruptive approach to the tequila category, building a community and a lifestyle around the brand from the ground up. The coconut tequila is unlike anything that exists in the industry, and as the flavored and infused tequila sub-category grows we expect Los Sundays to lead the way." Quote from Scott Jove, VP Sales & Marketing Shaw-Ross Intl Importers.
For all the above reasons, and because we love a margarita on the weekends, we are thrilled to welcome Mitch, Oliver and the entire Los Sundays team to the Circleup family.