We are excited to announce our investment in Kosås. Founded by Sheena Yaitanes and based in Los Angeles, Kosås is a botanically-enriched, high-performance line of color cosmetics. Kosås is inspired by natural beauty and aims to offer women unmatched formulations with universal appeal.
There are an overwhelming number of beauty products on the market, and as a consumer, it's increasingly difficult to know which brand, which product line or color, are right for you. Kosås approaches beauty differently. In a sea of options that can often seem similar, three interesting signals of differentiation underpinned our investment thesis.
1- Simplified Beauty: Kosås believes that color cosmetics can and should be simple. As Sheena reflected prior to starting Kosås, "Someone should make a collection of all the necessary products — and that should be a brand." Kosås is inspired by the simplicity of a woman's natural beauty with the goal of enhancing the natural features of her face. Sheena's background as both a chemist and artist gives her a unique perspective on product formulation. She focuses on the same color palettes used by portraiture artists – starting with primary colors as a base versus the blacks and whites which are often used to try to arrive at nude.
In an effort to guide the consumer to the right shade, Kosås interprets colors in pairs, creating the ideal color palette built around two foundational skin tones: warm and cool. For subtle harmony, a woman can choose the color designed for her warm or cool skin tone. For striking vibrancy, she can choose the opposite shade. Instead of offering 30 different shades of lipsticks, Kosås offers 8 – 4 for warm skin tones and 4 for cool skin tones. The collection is intentionally concise but inherently personalized.
2- Functional Ingredients: As the color cosmetics industry has evolved, we have seen the rise of new-age natural brands that have prioritized eliminating unnecessary chemicals, such as parabens and sulfates. This is a part of a broader consumer movement towards focusing on what we are putting both in and on our bodies. While there are several natural-based color cosmetics brands in the market, Kosås takes a slightly different approach.
In the lab, Sheena eliminates unnecessary chemicals from her products while also recognizing that certain ingredients, sometimes excluded from "all natural" brands, can, in fact, be necessary to deliver color pay-off. Sheena focuses on building from a base of healing botanicals – grapeseed oil and mango butter to name a few – that have intrinsic hydration benefits, creating cosmetics that embody characteristics of skincare.
3- The Kosås Experience: We believe beauty connoisseurs, especially millennials, are looking to build trusted relationships with brands. A great brand can be brought to life through an authentic founder story, and we think Sheena's product development expertise and life-long passion for the beauty category, serves as a distinct advantage when building a direct relationship with consumers.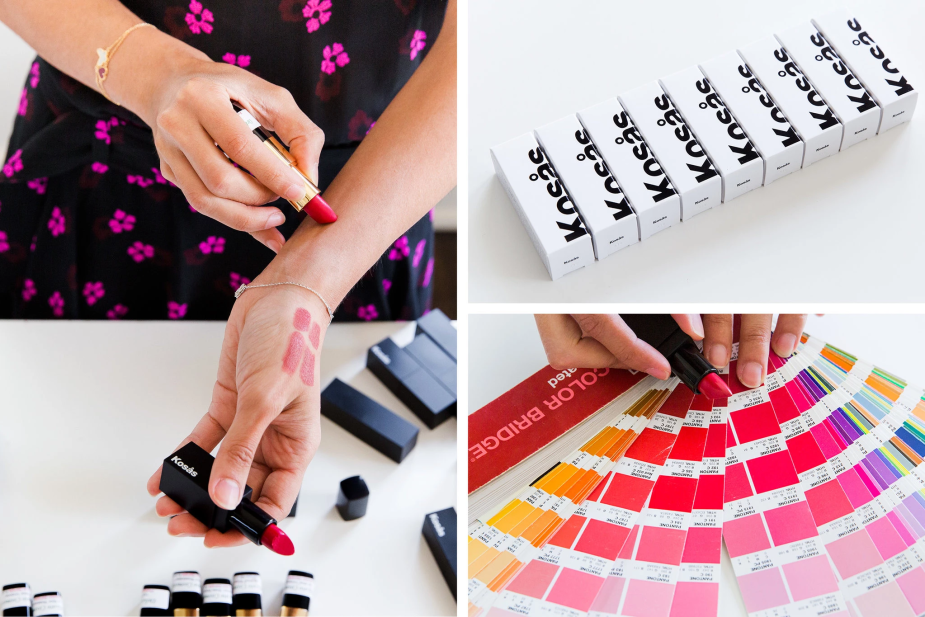 When you meet Sheena in person, her natural charisma is impossible to ignore. As I shared earlier with Forbes, the relevance of her background paired with the intentionality she brings to every decision, leaves you wanting to learn more about her. As we have gotten to know Sheena, we are excited about her gift for storytelling which allows her to create the world of Kosås. It is not simply about the product, but rather, the rich experience the consumer will have with the brand – including all of the details from the minimalist design aesthetic to the buttery, soft consistency of the product itself.
The Kosås brand experience is resonating with consumers. In a world where brand discovery has increasingly moved online, growth in social media followers can serve as a powerful signal of the growing traction of a brand. Helio, our machine learning platform, ranks Kosås in the top 10% of color cosmetic companies tracked on the basis of recent growth in social media followers.
And all of the above is underscored by the fact that Kosås has grown organically to date and doubled in sales from 2016 to 2017. The company expects to triple sales in 2018 through expanded distribution with Violet Grey, GOOP, REVOLVE, Bloomingdale's, Neiman Marcus, Credo and The Detox Market, as well as continued traction on Kosas.com. Kosås plans to launch three new products this year to continue to grow the brand assortment in adjacent categories. We are incredibly excited to have the opportunity to partner with Sheena and the Kosås team in this exciting next chapter of growth.