We are thrilled to welcome Partake Brewing, a low-calorie / low-carb craft non-alcoholic beer, as CircleUp Growth Partner's 21st portfolio company. Partake was launched in 2017 by Ted Fleming after he gave up drinking alcohol due to Crohn's disease but wasn't ready to give up craft beer. While our team first met Ted a few years ago, our proprietary technology platform Helio kept Partake on our radar by flagging new distribution gains and helped us build conviction on the non-alc beer category using predictive growth algorithms. Our analysis, leveraging Helio data, has made us extremely bullish on the category and Partake's ability to win in it. Here's why…
Consumers Shifting Attitude Towards Alcohol
There is a growing movement in the US of consumers making more mindful choices around alcohol consumption, with two massive cohorts pushing it forward: 1. The 30% of US adults who don't drink at all (=77M Americans) and 2. The 52% of US adults are actively trying to drink less (=131M Americans). These groups, driven by a desire for increased physical and mental wellness, are causing a share shift in the market along two key vectors: better for you nutritionals and reduced alcohol content. Nutrition has rapidly become a paramount purchase criteria in the overall alcohol category, shifting share in the market from high calorie beers and ciders to healthier functional sub-categories like hard seltzer, hard kombucha, and light / low ABV beers (e.g., Michelob Ultra). Reduced alcohol content has logically become more important as well since the use cases, social situations, and personal rituals for alcohol still exist, but consumers are actively trying to drink less. However, we haven't yet seen a dramatic share shift along this axis because incumbent solutions (e.g., O'Douls) have historically been inadequate across top consumer purchase criteria of taste, variety, and nutritionals. This dynamic makes for an exciting time to place a bet in the category, as there is pent up demand with less than satisfactory supply.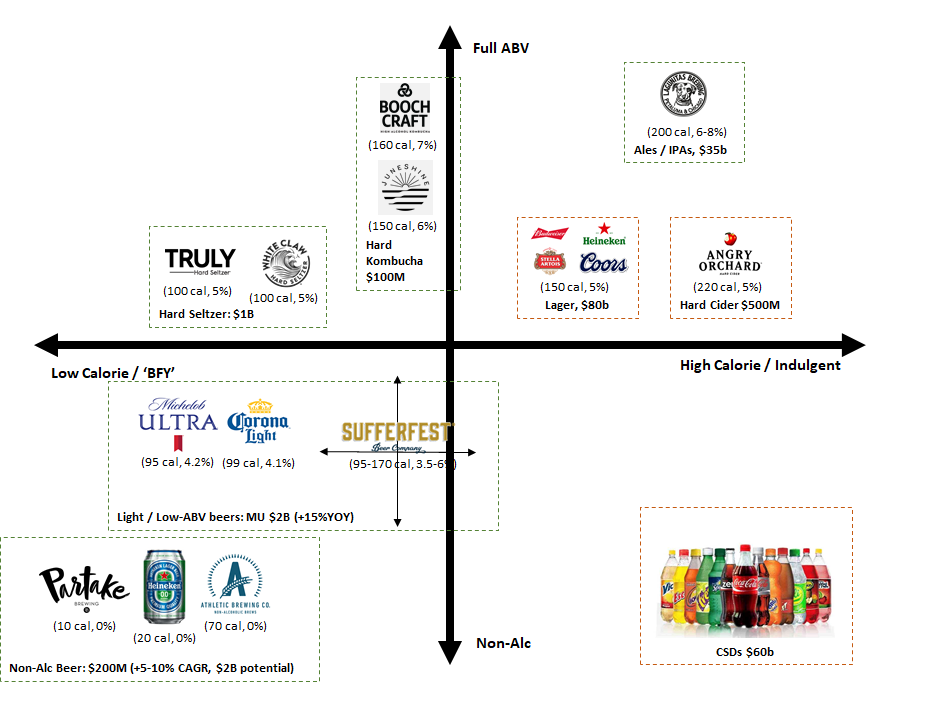 A Marketing Message for the Modern Consumer
In addition to falling short on taste, variety, and nutritionals, incumbent non-alc solutions currently market their products purely to the fully-sober community, as opposed to the new consumer using low or non-alc options to be more mindful with their drinking choices. This disconnect creates an opportunity for emerging non-alc brands to not only convert existing non-drinkers with a superior product but to provide a solution for regular drinkers to flex in and out of the category without sacrifice.
A sound comparison can be drawn to the plant-based meat market → incumbent solutions that have been around for a long time (e.g., Boca Burger, Lightlife) had products that fell short on flavor / nutritionals and were marketed strictly towards the vegetarian community. Upstart brands Beyond Meat and Impossible Foods tinkered with the product to make it a viable alternative for all consumers and marketed it towards meat eaters trying to reduce their intake and make more mindful nutrition and life choices. All of a sudden, the $200M plant-based meats category that had been stagnant for a long time took off on the back of product innovation and a shift in brand narrative.
Similarly, a wave of non-alc beer challenger brands have emerged to capitalize on this rising opportunity in the US and have all seen tremendous growth over the past few years. Based on our internal Helio Growth Predictor Score, a unitless metric that measures a brand's likelihood to grow, it is abundantly clear that within the beer and 'beyond beer' category, non-alc is one of the highest growth potential segments (non-alc are the orange bars in the chart below).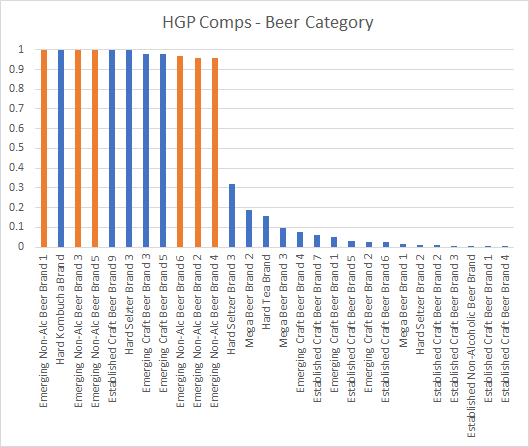 But which brand to choose?
Product Differentiation in a Way That Matters
At CircleUp Growth Partners, a central tenet of our investment process is to pursue businesses with differentiated products that solve problems for a large subset of consumers. To figure out what matters to consumers in the non-alc category, we used Helio to pull out common words from online reviews. Beyond the obvious criteria of taste / variety, we observed that nutritionals are most important to the consumer, corroborating our hypothesis and aligning with the trends we see in the overall alcohol category. This makes even more sense in non-alc, as health conscious consumers who are making more mindful choices about drinking are likely more aware of the calories and carbs in their drink of choice.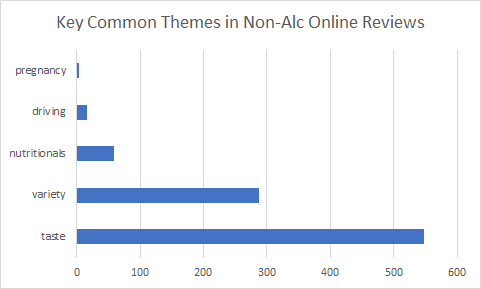 As you can see in the below competitive chart, Partake's nutritionals are far superior to other non-alc and full-alc competition, aligning the brand with the purchase criteria of the non-alc consumer. For reference, the 10 calories in a Partake is less than a Grapefruit Spindrift. These nutritionals do not come with a sacrifice on taste or variety either. Partake now has five varieties and has won numerous taste awards at acclaimed beer competitions (including the World Beer Awards). Partake spikes across all three of the top purchase criteria in the category, positioning it to win amongst its competitive set.

Last, but certainly not least, is the team. Ted is a driven and inspiring leader who is on a mission to own the non-alc beer category and help consumers everywhere make more mindful drinking choices. We can't wait to roll up our sleeves and join him!