An Icelandic man wants to recreate the hearty yoghurt of his childhood. A woman from California decides she shouldn't have to carry around homemade dairy-free cream whenever she wants to go out for coffee. A Wall Street broker has a heart condition that gives him a lot of time to think about hospital food.
CPG companies are as unique as their founders. It's not just stories and ingredients that set them apart. Successful companies craft their own place in the world by building processes unique to their products. Supply chains must be shaped around the demands of specific store shelves, the challenges of particular locations, weather conditions, ethics and brand values, and a gazillion human relationships.
While it's easy to see how every supply chain has its own set of challenges, it's not always easy to turn those challenges into points of differentiation that can help your company succeed. Here are three classic issues that every food and beverage CPG will run into, and how to find your own way through them:
Finding a good co-packer
You've honed your product. To keep growing, you need to make the move into your first stores. But to retain that honed quality as you scale, you need a co-packer, and how can you find a good one when their minimum order is five times the quantity you can currently produce?
Innovative ice cream brand Phin & Phebes struggled to find a co-packer willing to handle less than 300 gallons of ice cream base at a time. And it's not just a frozen aisle problem. When Quinn Popcorn tried to distribute to its first three stores, co-packers were looking to make five times the quantity that Quinn could afford to produce.

One strategy that has been working for CircleUp alums is to take a personal approach to meeting co-packers. The founder of Forte Gelato, Adrian Pace, searched for a co-packer by networking in person. He would ask anyone he met in the industry who he respected, he'd call and meet people one-to-one, he'd even fly out to tour facilities in other regions. "One was a protein factory in Wisconsin," Pace says. "They drove me around Wisconsin for fifteen hours, meeting with ice cream co-packers and vouching for me. We're still working with that team today."

The personal approach can be expensive but you don't have to jet around like Pace. Keeping your search local can make it easier to communicate once your working relationship is up and running. You can also easily oversee the production line in person, and keep your product informed by the ingredients and culture around you.
Making a scalable, sustainable recipe
When you've focused so much on your ingredients on the small scale, thinking about changing your recipe is intimidating, especially if it depends on local or rare produce. How will you retain your product's essential identity as you grow?
Rhythm Superfoods was making kale chips before kale chips were a thing. Though they had no problem finding enough kale to scale, they had to confront their recipe as competitors started crowding into their shelf space. CEO Scott Jensen had to decide whether to double down on his original recipe or try and diversify.

Jensen chose to transition selectively but confidently into other vegetable chip products, and the move was highly successful. Why? Because Jensen had built testing into his business model. The Rhythm team dedicated time and resources early on to validating their recipes, giving out samples in 200 stores every week, and using the insights gained to home in on their best flavors.
This refinement process has added benefits on top of recipe scalability. Focused brands, especially those that have health claims, tend to appeal more to consumers. Drinks brand REBBL, which brings adaptogen herbs to a mass market, has found that their elixirs, which promote single ingredients and single health benefits, are flying off the shelves at double the velocity of products with less focused branding.
Not burning out
In the early days of growing your CPG business' supply chain, you're wearing every hat in the store. You're developing your product to meet demand, you're talking with co-packers and brokers and store reps, you're strategizing and fundraising for the future.
Burnout is a real problem for founders. New parents and new founders, Brian and Jackie Cuscuna of Ample Hills Creamery knew they couldn't afford to wear many more hats as they tried to grow their ice cream brand. So they sought to create a team around them early on. Not everybody began with a defined role, some got involved just to help scoop ice cream, but soon became managers and creatives.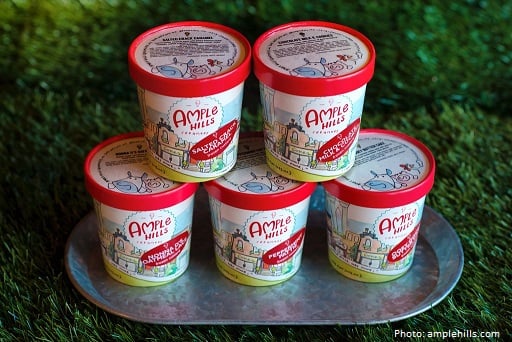 Building a team doesn't have to mean building a recruitment process. You don't need an HR team in place to find great individuals. You can mobilize friends, investors, mentors, bloggers, and per-hour freelancers.
Allowing your brand to grow at its natural rate often means letting go of some responsibility and trusting that your brand is strong enough to be upheld by others. When Ample Hill Creamery announced a $4 million equity raise last year, they knew that sharing their brand with equity investors would provide the space it needed to grow geographically, while focusing their own energy on brand and product.
Your vision's still a thing
Overcome each hurdle to make the best version of a supply chain you can for your brand's current moment. And as you do, make time to reunite with your original vision. Whether it's by knocking on a co-packer's door with a tub of freshly made yoghurt, or asking a potential CEO to describe what makes your product special. It's still all about the goods.