You can't start a maple water business without first tapping a tree and seeing what comes out.
Ari Tolwin was working as a consultant at McKinsey when he discovered his new passion. One weekend, he decided to visit his brother, Chaim, in the Catskill Mountains. Chaim was making maple syrup and asked Ari to help.
While Chaim was preparing a fire, Ari was tasked with collecting buckets that were hanging from the trees. He noticed that water was collecting in the buckets, instead of syrup.
"That's what's harvested from the trees," Chaim said. "It's super delicious and super healthy. Try it."
It was this taste that sold Ari on maple water, not just as a product but as a potential business. "I felt compelled to bring this to market. It made no sense to me why people weren't drinking it."
This eureka moment inspired Ari to quit his job and start Happy Tree. However, he still uses the skills he learned as a strategy consultant to make small improvements and decisions that lead to growth. Ultimately, Happy Tree's momentum relies almost as much on extracting data as it does on collecting maple water.
How to Grow With Data
"McKinsey gave me an appreciation for data," Ari says. "It's one thing to have a good idea, a good brand, and a good product. But the quality of execution is really dependent on your ability to design processes that are measurable and replicable, collect data, and gain insight from the data to improve business decisions"
Happy Tree uses data across its business to monitor and improve processes, then scale them. Of course, they use it in inventory and distribution to test how much to make and how much they should be shelving at each store. But they also gather data in more unusual ways — in the field.
Collecting Data
1. Demos
Taste and data intersect at the demo table. It's one of an early-stage CPG company's biggest investments of time and budget. You pack up samples and wear your brand t-shirts and set up camp in one of your distributing stores. You offer samples of your product and drum up support for it on the ground.
While it's a great way to build demand by giving customers a taste for your product, there are other insights that the demo can provide to a nascent brand. Ari has used data from demos to experiment with many variables, including:
How are demo reps doing?
Who is under-performing? Who's over-performing?
What are peak demo times in particular stores?
Are lunchtime demos more successful than after-work demos?
What's the ideal store inventory level?
More is always better in general – but does inventory levels affect demo sales?
Using data collected at each demo, the happytree was able to optimize their demo program throughout the country.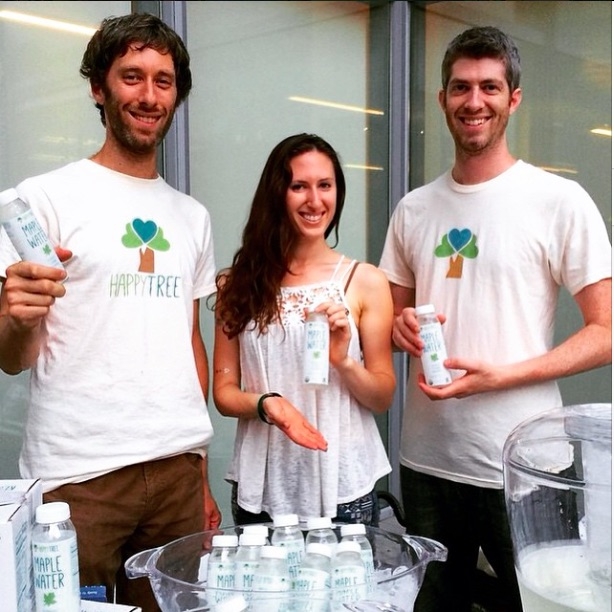 Credit: Crains Detroit
2. Hangtags
When Happy Tree wanted to use hangtags, they used data to measure the impact. They added "discount hangtags" to bottles: little tags around each bottle neck that advertised either a promotion.
Eight stores were selected to participate in an experiment—a group of four stores were merchandised with hangtags while a group of four similar, nearby stores went without. After four weeks, Happy Tree compared the sales in each group relative to the 4 weeks prior to determine the exact lift provided by the hangtags.
"When relevant, we also make sure to adjust for any externalities in the data that could create noise. For example, they made sure to conduct no demos at these stores during this time so we could get an accurate read. Therefore, we were able to look back and see the value of the hangtag investment and be confident in our decisions going forward."
3. Coupon offers
Similarly, Happy Tree tested two types of coupons against each: $0.50 off 1 bottle, and $1 off 2 bottles. If customers are willing to buy two bottles, at the same rate of discount, then that's the deal Happy Tree should use. It means customers are drinking more maple water and will be more likely to build up a routine with it. However, if customers didn't want 2 bottles, then the coupon would be worthless to them and it wouldn't drive any sales at all. "We ran an experiment where they placed the two coupons at different stores in the plastic shelf tracks, so they could see what worked best. Happy Tree also gave the different coupons to our brand ambassadors and measured the relative performance of the demos comparing the two different coupons offers."

Keeping a Data Reserve
Ari knows that until Happy Tree becomes a more established business, some of the data they're collecting now won't be useful. But he keeps it all in reserve.
"Some of the things we do are simply to build up data sets," Ari says. "Some of what we track we know will be beneficial one day. It's not worth analyzing now — we're too small — but we're still collecting that data."
It's a "big business" approach that works on the startup scale. It gives Happy Tree specific motivation for making the small decisions that actually have a big impact on early stage growth. It also enables them to communicate those decisions to others, backed by quantitative data.
Growth Goes Back to Taste
Happy Tree has grown to a national-scale brand by testing and iterating on the small scale, and knows it's a challenger to the tree water space. Coconut Water has already convinced the market to experiment with new kinds of water. In 2016, Happy Tree and Coconut Water did a taste test in a baseball stadium on national TV. Happy Tree's natural sweetness gave it a resounding 8-to-1 lead. This affirmation reminds Ari and Chaim of that first day collecting water in buckets in the Catskills. "I had to share this with others," Ari says. "It's too good not to."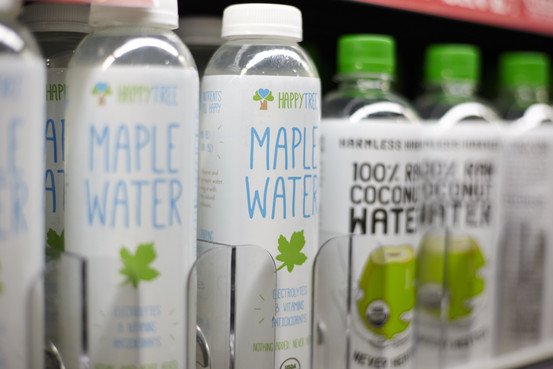 Credit: Wall Street Journal