There were 20 quarts of ice cream manufactured per person in the U.S. in 2010. The market generated over $10 billion in revenue.
That same year Jess Eddy and Crista Freeman decided to quit their jobs in user experience and e-commerce management, respectively, to start an ice cream company, Phin & Phebes.
Ice cream is a massive market. But it's also incredibly competitive and expensive to operate in. Making, storing, and transporting the product while maintaining the very low temperatures required to achieve and keep the right texture requires lots of special equipment, none of which comes cheap. Add to this that co-packers generally require 300 gallon minimums for each base mix (i.e. vanilla/sweet cream or chocolate).
But with clever workarounds and a truckload of tenacity ice cream startups can be successful, and Phin & Phebes is a prime example. Freeman and Eddy are quickly garnering attention for their unique, imaginative flavors that manage to avoid preservatives, fillers, and artificial nonsense. The result is a fresh, rich ice cream with crisp, genuine flavors. Their Ginger Cookie Snap tastes like real ginger because — wait for it — they use real ginger juice. But throwing out all the stabilizers and additives makes creating creamy, shelf-stable, and cost effective ice cream tricky.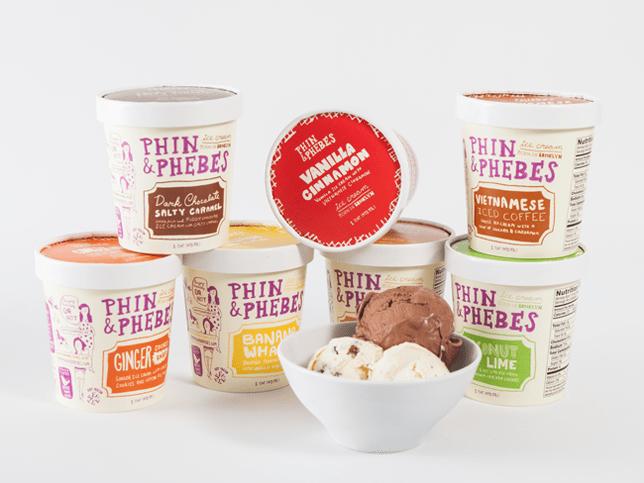 How did a startup like Phin & Phebes bootstrap their way from a home kitchen to the beloved brand that can now be found in stores across 18 states? To find out CircleUp trekked to the Phin & Phebes headquarters in Greenpoint, Brooklyn and peppered Freeman with questions while she dished out samples.
How many flavors did you have when you launched?
Five: Ginger Cookie Snap, Banana Whama, Coconut Key Lime, Vanilla Cinnamon, Vietnamese Iced Coffee.
Why ice cream?
I think we were always going to be entrepreneurs, and it just happened to be ice cream. At the time we were super dissatisfied in our day jobs; We're both creative people, but we had hit this creative ceiling in our careers. I went to art school but I was looking at spreadsheets all day at my job. So we started making ice cream for fun and got obsessed with the creative process. There weren't any limits; We could make any crazy flavor we came up with. Sometimes I wish I'd launched a granola bar business, because the supply chain of ice cream is so complicated, and it's such a headache to bring it to market.
How did you validate demand?
We started out testing the product by selling at fairs and open markets. I was literally making ice cream when I got home from work and then hand cutting labels for our little half-pints. We wanted to test the market, so Jess came up with the idea of giving away two-ounce samples at the Brooklyn Lyceum Fair in exchange for surveys. We asked for demographic data, for ice cream buying habits, brand preferences.
We ended up with a stack of about 500 surveys. Our booth was swarmed. Getting to see people taste the product was really useful. Obviously we were not making any money on it, we were losing money. We had to buy ingredients from the grocery store. We couldn't get stuff from larger suppliers, because we didn't have even the space to store at the volumes they sell.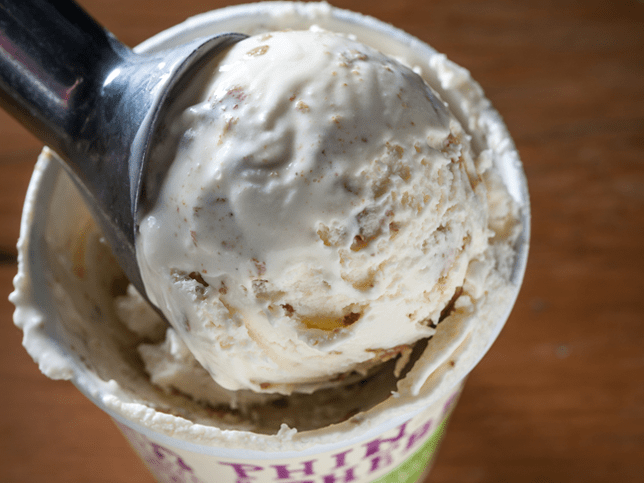 How did you decide you were ready to launch?
In December 2010 we decided to quit our jobs and do it full time. We realized if we waited any longer we would never do it. There was no way to sell at markets and seamlessly scale it up. Ice cream is super complicated. You have to have the right machinery, the proper supply chain — it's not something you can start cheaply and grow naturally.
So we went to Penn State Ice Cream University, where we reformulated our recipes to be scalable and shelf-stable. I wrote a business plan and we got an SBA loan pre revenue, which was really unheard of at the time but I was determined. Jess designed and programmed our website in a weekend. We did everything ourselves.
Was it a challenge to learn the industry coming from different careers?
Absolutely. We didn't have CPG experience; we didn't have food industry experience. We would reach out to people and no one would respond to us. And now I always take the time to talk to new entrepreneurs who ask for my advice, I always help them troubleshoot, because no one would bother with us. At the time no distributors would talk to us unless we had accounts.
They wanted pre-orders, but you can't do pre-orders unless you have a way to get the product to the store. Once we got Whole Foods that changed, automatically distribution got turned on because Whole Foods has so much volume. And as we grow into regions it's still a problem for us, to open up a new distribution center with a distributor we really need a Whole Foods region as an anchor. So it's still a pain point for us even now. Because we can't ship directly to stores like a granola bar business would.
How did you sign on your first co-packer?
We didn't really have a choice, so we just went with the first one who would take us on. We have a really great co-packer now, but our first wasn't so great. I was at the co-packing facility every day they were manufacturing for us, supervising the line, catching mistakes. It cost us a $1.30 per pint packing fee, not including the raw materials. It really ate into our profit margin.
Who was your first door? How'd you get in?
At first we couldn't get storage, and distributors wouldn't even talk to us. And you can't get into stores unless you have a distributor. So I went store-to-store with an insulated bag full of four-ounce samples and dry ice. I would call the store, ask when that buyer was going to be in, and then I would just find them in the stores and get them to taste the product right there in the aisle. That's how we got into our first store, The Greene Grape in Fort Greene, which is still one of our top performing stores. It outperforms many Whole Foods.
We went from being in zero stores to 60 in five months that way: Me traveling around with a bag full of samples. Then Whole Foods came to us and said they wanted us to be in the whole region, as opposed to store-by-store. So that was awesome.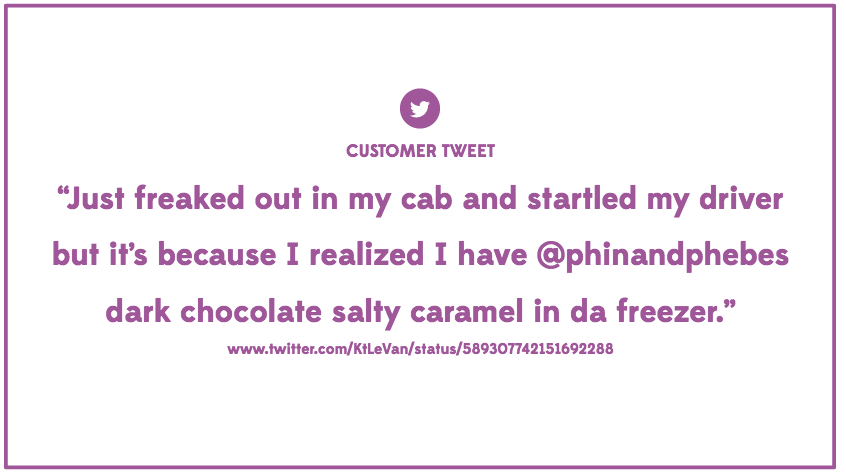 How did you distribute to your first stores?
When we did our first production run we didn't know how we were going to get our product to the stores. With ice cream you usually have to freight by the truck load which means 22 palettes of product. They don't want to do a partial truck load because it can melt.
So we found this guy who used to make ice cream and still had the set-up — he had a freezer truck and everything. He was willing to store and distribute our ice cream in exchange for a percentage of our weekly sale. So I would call the stores each week see what we needed to stock and give him the orders to pack up and bring into the city. I was calling every single buyer every single week — and these guys usually didn't speak much English. That's how we managed until the summer of 2012 when we were able to get distributors.
That transition from a few (often local) stores to hundreds is always a massive challenge for young, growing brands—and can put a lot of stress on early systems and processes. How'd you approach and manage your growth? How many stores are you in today?
From the inception of our business we have always built it to scale. We looked out 10 years and envisioned the business we wanted to have and worked backwards to build it. From the very beginning we implemented the structure and procedures to handle growth. An example of this was our decision work with co-packers that fit our scale at the time and each year we have grown we have moved to a new co-packer that had the right minimums.
In the beginning we worked with co-packers with smaller minimums so we didn't have to sit on too much inventory, this made our product more costly to manufacture, but we were able to not sit on too much inventory and maintain cash flow. Today we are on our third co-packer and we have strategically chosen this co-packer based upon their ability to handle our projected growth over the years, their state of the art facility, minimums and their central location in the Midwest which creates efficiencies for our supply chain and fulfillment of online orders.
Since we have not been heavily funded from our inception we have always been very strategic about the chain of stores we grow into. When given the opportunity to grow into a new chain of stores we evaluate if they fit our current core demographic, our current stage of growth and analyze the opportunity based upon three scenarios to make sure we can afford the opportunity and how beneficial it will be to future growth. This sort of structure has allowed us to grow at a pace of growth that fits our cash flow needs until we raise a sufficient amount of growth capital.
Today you can find our ice cream in over 700 stores across 30 states.
What's the plan after the funding round closes?
We're scaling up production and we're going to be hiring a national VP of sales. I've been doing all the sales up until this point. But to continue growing aggressively, we want someone with a lot of experience in the industry. And we'll also be signing a contract with a national broker. We're not working with a national broker right now, which as you can imagine is pretty time consuming. We're still going after independent stores, but we're also talking to larger chains. I met with Walmart and Target this year. Our goal is to become completely national in 2016.