The idea for Rumpl came about on an ill-fated ski trip in 2014. As longtime friends Nick Polinko and Wylie Robinson burrowed down into their sleeping bags they tossed around a simple idea: Why don't companies use the materials in sleeping bags for bedding?
The high-grade nylon and extra warm synthetic down used in sleeping bags would make a great blanket to have to throw over you while watching a meteor shower, sitting around a fire pit, or at a music festival. The potential uses were endless they thought.
The idea stuck. They started by making prototypes for themselves, and friends quickly began requesting their own. In need of financing the co-founders turned to Kickstarter, where they went on to raise $240,000 by pre-selling 2,200 units. While this was great for validation, they still needed growth capital. After sending out their first 2,200 units the company was left with only $60,000 to build the company.
Polinko and Robinson immediately started looking for larger investments, meeting with dozens of investors. But it quickly became clear that their idea was too young, or they weren't "tech enough." Just because you're in Silicon Valley (and even have real, paying customers) doesn't mean you can raise meaningful startup capital. So Rumpl scaled back. They stopped meeting with investors and focused singularly on growing their sales. If they could sell enough in the first year, they figured, they could validate the brand that way. They managed to do just that: the company raked in half a million in sales in their first year.
In early 2015 the team re-started its fundraising efforts and applied to raise equity capital here on CircleUp. Rumpl's raise is live today and the company aims to raise up to $750,000 to expand its product line deeper into the Outdoor and Home Bedding industries, and finance inventory, product development, and key new personnel hires.
As first-time founders, Polinko and Robinson have done an exceptional job navigating the winding canals of fundraising — all the while continuing to build their business — and present a helpful case study for other entrepreneurs considering raising capital online.
Here's a look at how the company's raise is going, both what they've done right and what they've struggled with.
Know Your Industry
In Silicon Valley, it's tempting to believe that all you need in order to raise a sizable chunk of capital is a novel idea, a strong team, and a prototype.
But when Rumpl started talking to investors in 2014, immediately on the heels of their Kickstarter success, they discovered consumer goods fundraising requires hard numbers, and often a demonstrable history of sales. So they put a pause on seeking out investors and shifted their attention to building their business, and selling more product. By the time Rumpl started their round on CircleUp a few months ago, they had more than just an idea, they had sales.
Once Rumpl decided on raising capital online, they moved fast with the onboarding process. Gathering all the paperwork needed to start a funding round can be overwhelming and take longer than you'd expect, especially if you've never been through it before.
"Right off the bat, I was given a contact who walked me through the checklist of what I needed," Robinson says. "I was instructed on what information my business plan should contain, my financials were reviewed, and someone helped me organize my cap table."
Use the Tools Within Reach
The tools we've created at CircleUp aren't bells and whistles. They've been carefully crafted after observing and studying more than 100 successful online equity/convertible note fundraises and are designed to help improve the process of connecting with relevant investors. When an entrepreneur logs into her CircleUp account she sees a custom dashboard with key metrics, best practices, a list of investors who have viewed their profile or requested access to their dealroom, and outstanding action items to complete— this dashboard view is updated daily and algorithmically surfaces new potential investor matches.
Rumpl actively reached out to investors on CircleUp using our prospecting tool, which allows a company search and filter our investor base for potentially relevant investors, based on industry experience, investment experience, and geography — among other criteria.
In addition to leveraging Rumpl took advantage of a new securities rule — Rule 506(c) of Regulation D — that allows private companies to discuss their private fundraising publicly. (Learn more about Rule 506(c) from our Head of Legal Affairs, Lucas Huizar, here.) Rumpl reached out via email to its customers; posted updates across social media channels; added a custom "invest" page to its website; and invited personal contacts to view the offering.
Rumpl's "Invest" Page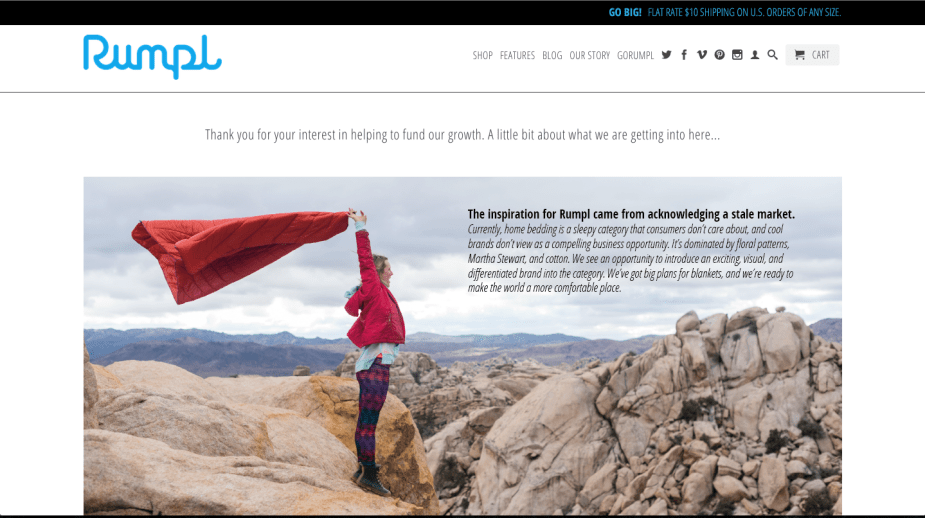 While not all of Rumpl's customers are potential investors —current regulations require individuals to be accredited to invest in private 506(c) offerings (that means they must have an income of at least $200,000 a year, $300,000 combined income with their spouse, or a net worth of at least $1 million not including the value of their primary residence)— some are, and Rumpl made sure to get its proposal in front of them. After all, these were their earliest supporters — the people who believed in them, and their product, from the start.
In part through this outreach, Rumpl has managed to build a healthy and growing list of prospective investors. When consumer and retail brands allow their passionate advocates to invest in the business, those consumers often end up shouting the brand's name from the rooftops.
Be Proactive and Open
To kick off their fundraising campaign and build momentum, Rumpl invited their friends and family to review the offering. Anyone who meets the requirements of an accredited investor is eligible to invest. This was a great way to build that critical early momentum that can be so difficult.
Rumpl launched its fundraise in reservation mode, which allows a company to briefly "test the waters" for investor demand while finalizing its legal docs. But Rumpl didn't just sit back and wait — it reached out to investors to maintain interest. That's key in both online and offline fundraising: be proactive. Think of an online investing marketplace like a ballroom with thousands of investors that might be a great fit. Now imagine if you stood in a corner and never tried to approach any of them. Wasted opportunity.
In addition, Rumpl kept investors up to date on the status of the raise along the way. When the company did switch to investment mode, most investors who had indicated interest invested, with a few even increasing their initial reservation amounts. An impressive accomplishment as anyone who has raised money before knows that there is a big difference between a commitment and an actual investment.
To get investments, though, they needed to show that they were more than just a cheeky bedding brand. By giving investors an example of what a lifestyle brand could do in such a huge market (bedding is a $22 billion industry according to the NPD Group), Rumpl shined a light on a blind spot in the industry. There was no lifestyle brand for home textiles, let alone a lifestyle brand for home textiles designed specifically for millennials — the age group that's the easiest to reach with social media and the most eager to buy direct to consumer. Since they were already selling, they didn't need to prove the demand, only how they intended to expand. Their plans for funding were to introduce new products and improve their online and retail purchasing channels.
Today, the Rumpl dealroom, which investors must be granted access to and contains all relevant offering documents, is hovering at around 110 investors. And, to-date, of these roughly 100 individuals who have indicated interest, 12 have invested $430,000 so far.
Make no mistake: Fundraising is a full-time job. Online and offline, it is intensive. Online is more efficient, but it is not a magic wand. First time founders rarely understand the meaning of that phrase until they find themselves neck deep in emails around the clock for a few weeks (or months) straight. "In the beginning I was sending about 20 to 30 emails daily, as outbound inquiries," Rumpl's co-founder, Wylie Robinson told me.
"Once some of those inquires started to stick and I had my 'core' target group, I [was] sending an average of about 20 emails a day back and forth to potential investors."
This constant communication with prospective and current investors is vital. In addition to bringing in their own network and announcing the raise on their site, they've kept everyone in the Rumpl dealroom up to date every step of the way. Throughout their raise they've regularly posted updates on their forum and immediately announced any business developments (such as new partnerships, or changes to the terms of their raise).
Rumpl's fundraising round is still open and active. As of today, they've raised $430,000 out of $750,000, and aspire to shape the future of active homewear, a term they coined and a category they're carving out themselves. A very millennial thing to do.